Top 11 Places To Get Bathroom Accessories In Singapore (Bathroom Supply Stores)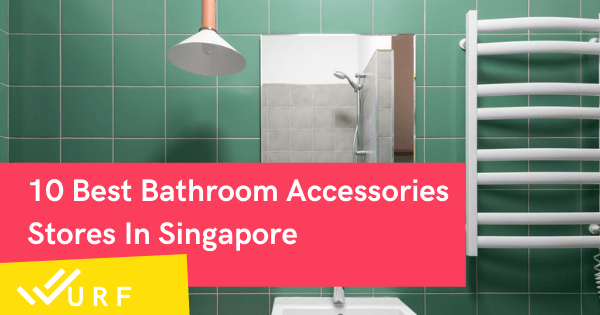 Getting bathroom accessories in Singapore is usually a one-time investment so we advise against stinging out on lower quality goods.
Furthermore, we place a heavy emphasis on acquiring your bathroom supplies and fittings from places that will respond and come when you have a problem with the products later on!
To get you started, here are the top bathroom supply stores in Singapore to purchase the necessities you need to furnish your bathroom (or kitchen)!
Best Bathroom Accessories In Singapore
1. Everyhome.SG | Online Home and Bathroom Supply Store
True to their name, you can find much of what you need for a new home at Everyhome.SG.
This online store supplies sanitary ware like toilet bowls, bidet sprays, water heaters, as well as air conditioners and ceiling fans.
Their website sorts their products into different categories. But you can look through their wares by selecting any of 30+ different brands that they carry too.
Online support is available every day from 9am to 9pm via WhatsApp and this makes it even easier to find what you need or ask more questions about a particular product. Without the fuss and hassle of having to go a physical store!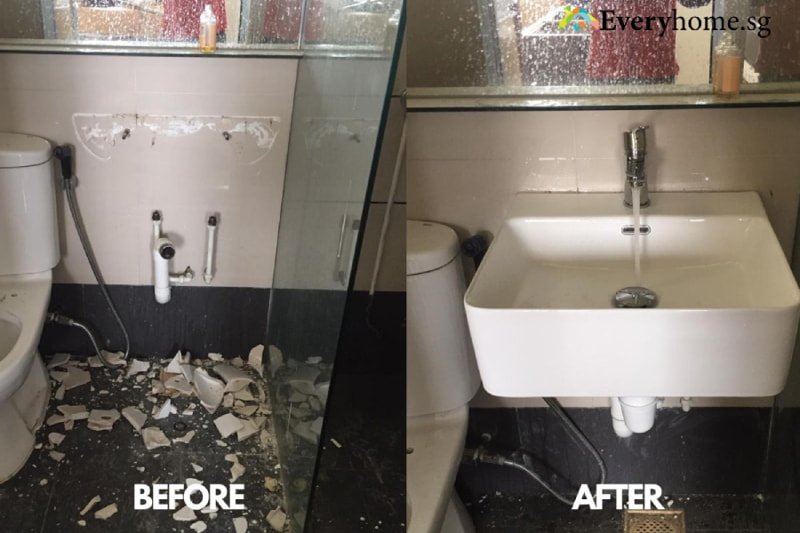 And even though Everyhome.SG is an online store, they do provide delivery and installation services. Their service is timely, professional, and efficient, so they are reliable to call upon if you need an urgent fix.
What's more, their pricing is fair!
Rating: 4.9/5 from 44 Google reviews
Address: 1090 Lower Delta Rd, #04-06, Singapore 169201
Opening Hours: 9am to 9pm
Contact: +65 8241 0032 (WhatsApp) and +65 6232 6612 (Tel)
2. Sim Siang Choon Hardware(S) Pte Ltd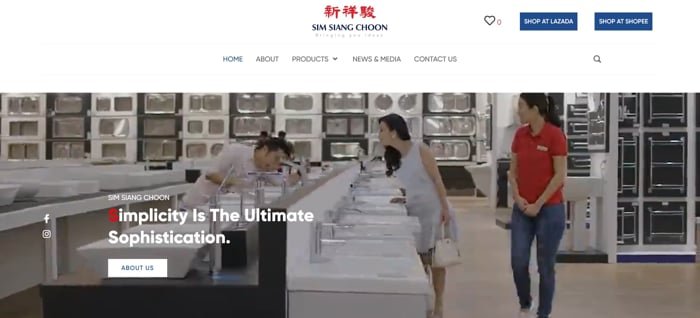 For those on the east coast, Sim Siang Choon Hardware(S) Pte Ltd is a massive bathroom accessories warehouse in Singapore for all things concerning bathroom and kitchen fittings. You can even get water heaters here.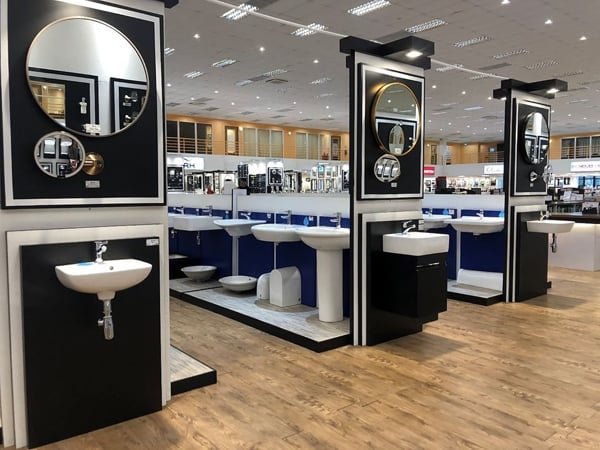 And if the dazzling selection of faucets, basins, tubs, toilet bowls, etc gets confusing, you can enlist the help of the staff (especially a Mr. Steven Lee) for more explanation on the products as well as other related advice.
The prices are reasonable too. As such, this place gets quite busy on weekends.
However, getting here via public transport can prove to be an inconvenience. If you have your own car, no worries as they have ample parking slots.
Rating: 4.1/5 from 425 Google reviews
Address: 42 Changi South Street 1, Singapore 486763
Opening Hours: 10:45am to 8:15pm
Contact: +65 6266 6632
3. Home & Bathroom Building Products Pte Ltd

Trust the team at Home & Bathroom Building Products Pte Ltd to help you make a sound decision on which product to choose for your home. The boss Tongle is very patient, practical, and knowledgeable.
Service in general is highly responsive too, most notably their after-sales attitude. They have their own service team to quickly address issues you may have with the product even after the warranty expires.
Prices are fair and if you're specifically looking for Hans Grohe bathroom fittings, this is the place to check out for bathroom accessories in Singapore!
However, if you can't find the exact product that you're looking for, ask and they just might have it!
Rating: 4.7/5 from 142 Google reviews
Address: 566 Balestier Rd, Singapore 329883
Opening Hours: Daily from 10am to 6:30pm (except Saturday from 10am to 6pm), Closed on Sundays
Contact: +65 6253 4655
4. Heritage Bathroom Gallery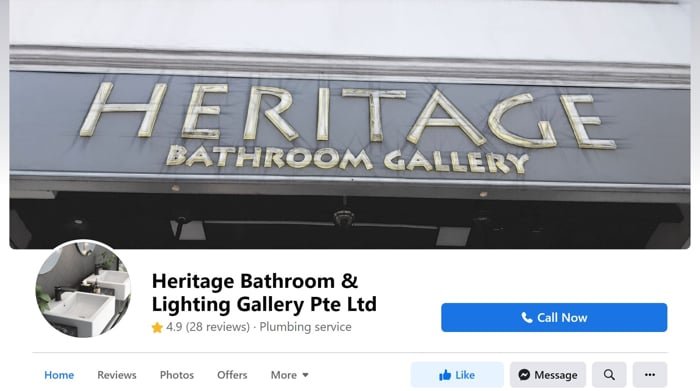 You'll likely want to stop at Heritage Bathroom Gallery to fit all your bathrooms and kitchen – there service (and prices) is wonderful. You can also pick out some lights here.
Shopping here is a pleasant experience that can take up to 2 hours.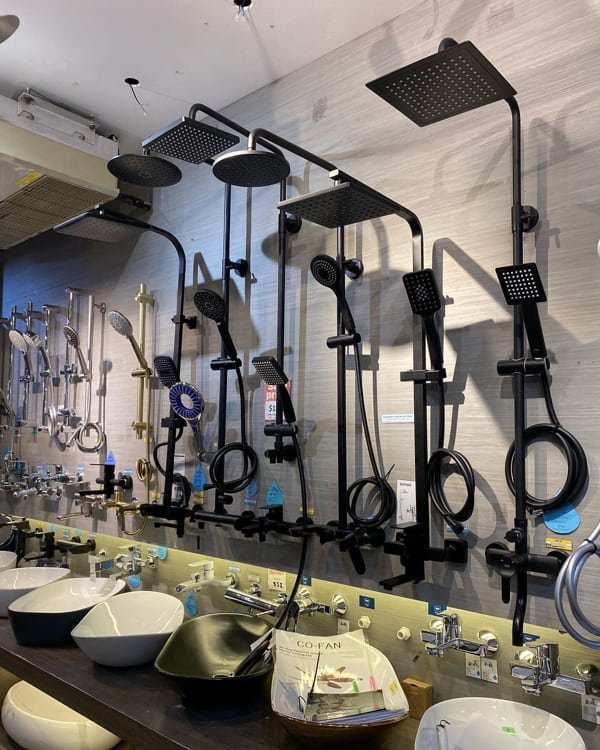 The patient and helpful staff clearly know the products well and respond quickly to any queries too. Including their follow up for delivery, installation and after sales service.
However, if you are only planning to get one or two items, you may not get as much attention from the staff. More so, on a busy day.
Rating: 4.6/5 from 232 Google reviews
Address: 718 Geylang Rd, S389630 389630
Opening Hours: Daily from 11:30am to 8:30pm (except Sunday from 11am to 7pm)
Contact: +65 6846 0148
5. SaniQUO Pte Ltd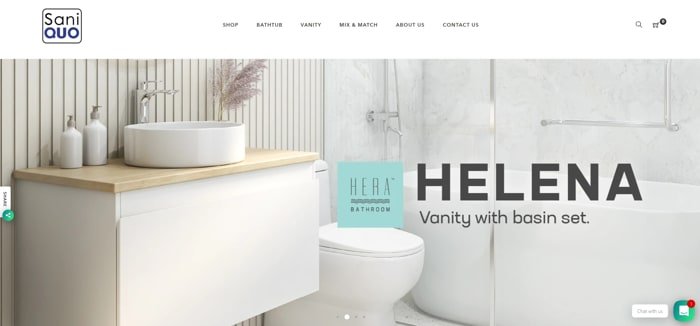 See the products (for kitchens and bathrooms) in person at their showroom. The quality of their sanitary ware and other bathroom fittings befits the price point.
But the team at SaniQUO Pte Ltd really shines when it comes to their experience in professional consultation and installation of the bathroom fittings.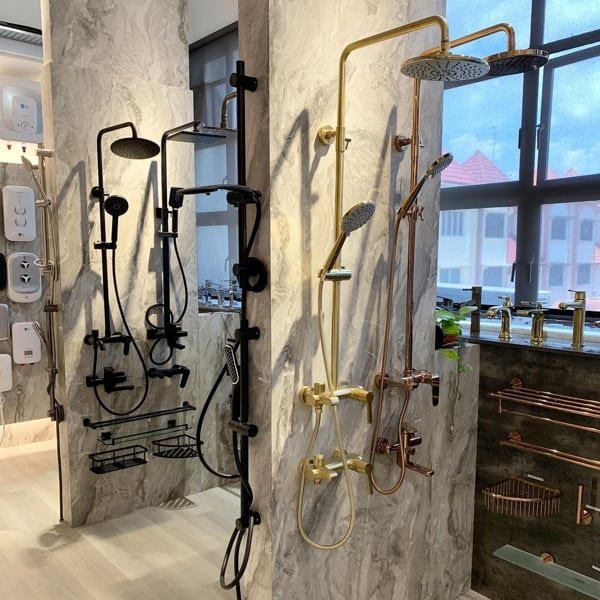 In particularly, bathtubs! Of which, they have stylish options to choose from.
Delivery is fast and after sales service is good too. And if you don't have time to physically go to the shop, they may be able to resolve your issues over the phone too.
Rating: 4.6/5 from 73 Google reviews
Address: 362 Upper Paya Lebar Rd, 02-07 Da Jin Factory Building, Singapore 534963
Opening Hours: Weekdays (10:30am to 7pm), Weekends (10am to 7pm)
Contact: +65 9835 0650
6. Bathroom Warehouse Bukit Merah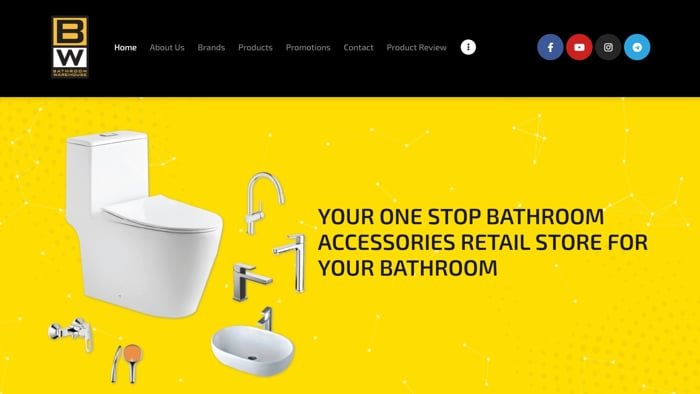 Pick up some stainless-steel bathroom accessories in Singapore for good prices at Bathroom Warehouse Bukit Merah. They have a wide selection of things related to bathroom fittings.
And even if you see something you want that is sold out, they might have extras in store so don't be afraid to ask.
Non-pushy, friendly, and patient staff will assist you at this somewhat secluded bathroom accessories store.
Furthermore, if you have any plumbing issues in your home, they have contacts that can help you out too.
Rating: 4.2/5 from 92 Google reviews
Address: Hoi Hup Building, 16 Jln Kilang, #01-01 Hoi Hup Building, Singapore 159416
Opening Hours: Weekdays (11am to 8pm), Weekends (10am to 6pm)
Contact: +65 6238 0548
7. Bacera Bathroom And Kitchen Connoisseur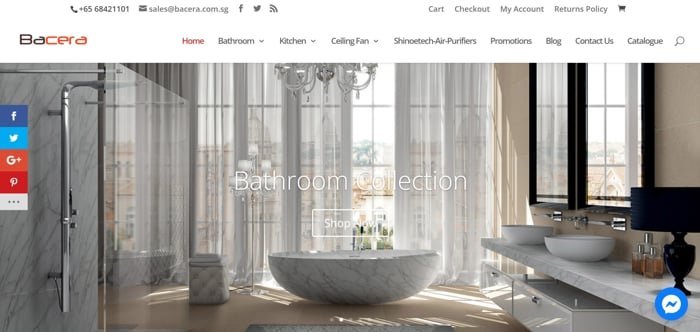 If you're thinking of buying bathroom accessories in Singapore online:
Bacera Bathroom And Kitchen Connoisseur are not it – the website is not updated with their current stock. And still lists many products that they do have.
However, a visit to the store in person will reveal that they do have a broad spectrum of bathroom and kitchen accessories that aren't listed on the website.
Staff aren't pushy and are very patient and helpful. You can also ask them about suggestions on lighting and fans too.
So, if you live in the area, Bacera Bathroom And Kitchen Connoiseur is not a bad place to find cheap bathroom accessories in Singapore if you're on a tight budget!
Rating: 4.1/5 from 58 Google reviews
Address: 714 Geylang Rd, Singapore 389628
Opening Hours: 10am to 8pm (Closed on Sundays)
Contact: +65 6842 1101
8. Lucky Khoon Bathroom Studio
While you can find some of their stock online for cheaper, it's great to see the items in the flesh at the Lucky Khoon Bathroom Studio (A&S Lightings).
They have a variety of kitchen and bathroom accessories, as well as lighting and fan options. It's pretty much a one-stop kind of shop for a new homeowner.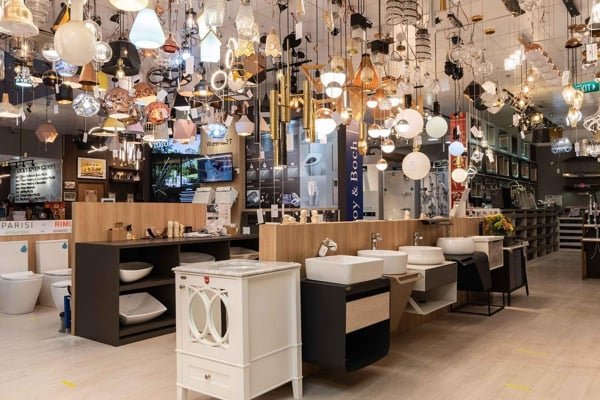 Buying from a physical store is usually more expensive than buying online but the trade-off is the after sales support which Lucky Khoon Bathroom Studio (A&S Lightings) do provide.
Main Branch:
Rating: 4.5/5 from 275 Google reviews
Address: 1 Kaki Bukit Road 1 Enterprise One, #01-01/02/03/04/05, Singapore 415934
Opening Hours: Daily from 9:30am–8pm (Opens at 11am on Sunday), Closed on Fridays
Contact: +65 6346 2172
2nd Branch:
Rating: 4.2/5 from 42 Google reviews
Address: Hakuna Matata Asia Pte Ltd, 24 Boon Lay Way, #01-72 Tradehub 21, Singapore 609969
Opening Hours: Daily from 10:30am to 7:30pm (Opens at 11am on Sunday), Closed on Fridays
Contact: +65 6795 5835
9. Modeste Pte Ltd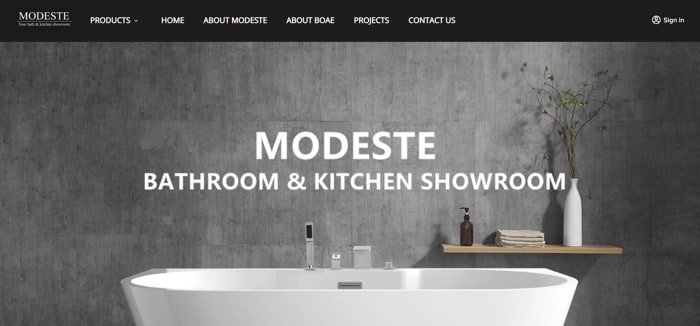 If you're on the hunt for trendy pieces to furnish your bathroom, you may be in luck at Modeste Pte Ltd:
They have gold fixtures, a satisfying selection of exquisite basins, cabinets, and mirrors, as well as metallic fixtures in gold. And at competitive prices too.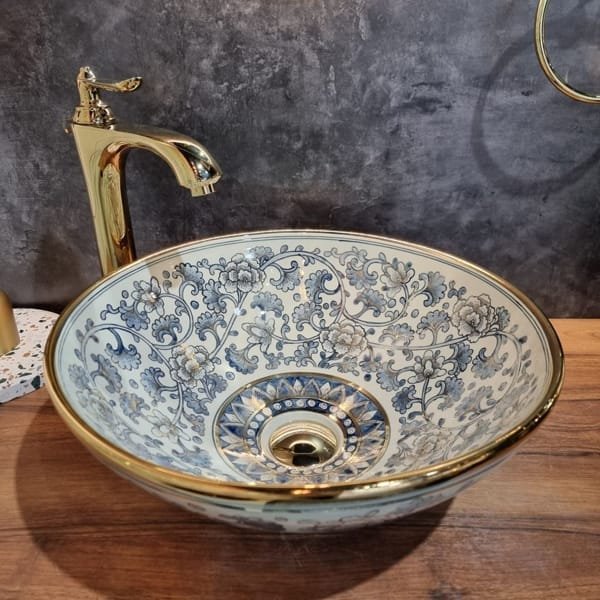 But you'll have to overlook the attitude of some of the staff if you want to shop here. Sometimes, they're just busy with other customers but others are less-than-enthusiastic about their job and don't have much advice to give.
However, names to look out for are Bonnie or Leon for honest explanations, recommendations, and flexible arrangements.
Rating: 4.2/5 from 21 Google reviews
Address: 339 Beach Rd, Singapore 199566
Opening Hours: 10am to 7pm (Closes earlier at 6pm on Sundays)
Contact: +65 6292 0039
10. Ideal Merchandise Pte Ltd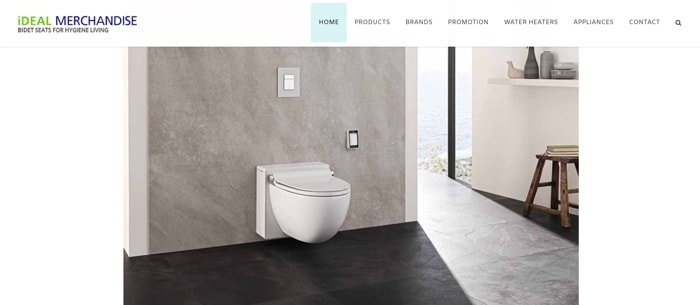 Experiences at Ideal Merchandise Pte Ltd vary greatly but one consistency is the accommodating and helpful service from staff (Jack and Alan) that are well-versed in the products – they have a collection of kitchen and bathroom accessories.
We appreciate that there is no hard sell at Ideal Merchandise Pte Ltd either. The staff are open to suggesting cheaper options too if that is what you are looking for.
Overall, their prices are competitive.
But for after-sales, this is where there you can either have extremely responsive service or a lack of response.
Rating: 4.7/5 from 37 Google reviews
Address: Blk 808 French Rd, #02-21, Singapore 200808
Opening Hours: 10am to 6:30pm on most days except Saturday (11am to 4pm), Closed on Sundays
Contact: +65 6297 9829
11. GR Link Marketing
Looking at their late opening hours, we can guess that GR Link Marketing targets the working folk who can't afford to shop for bathroom accessories in the morning.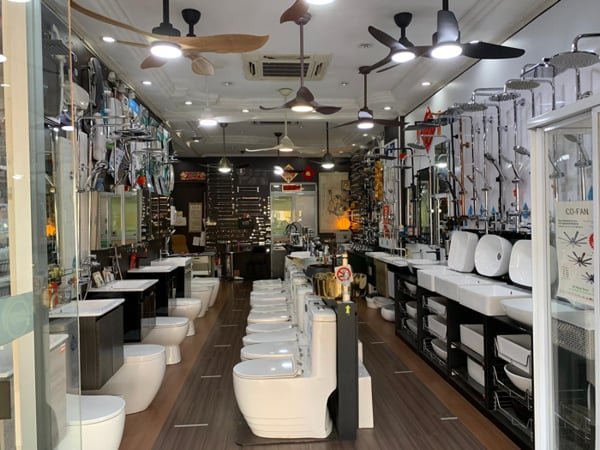 Though they don't have a vast variety of products, the ones they carry are of decent quality and at reasonable costs.
But most of all, they have dependable after-sales service that is truly commendable!
We like their attitude towards customers – the knowledgeable, patient and obliging staff make trustworthy recommendations (without pushing) and are very punctual with delivery too.
Rating: 4.8/5 from 36 Google reviews
Address: 155 Jln Besar, Singapore 208873
Opening Hours: 1pm to 8:30pm (Closed on Sundays)
Contact: +65 9617 3926
Link: Website
Verdict
Don't make the mistake of getting your bathroom accessories in Singapore from a business that only cares about selling the products.
These bathroom supply stores we have listed all have their own good merits like a huge product catalogue, excellent service (including after-sales), fast delivery, expertise, convenient opening hours, etc.
Read more: