7 Best Multi Cookers In Singapore 2022 – All-In-One Cooking!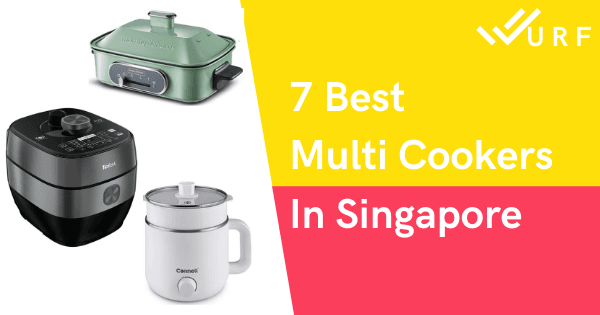 The best multi cooker in Singapore 2022 may be a pricey investment but worth it for the convenience! Just think of the valuable counter space that you can save by having just 1 appliance instead of a few!
However, reliable multicookers above 2L can cost more than $300. So you might want to do some research before getting one!
For starters, you'll be on the right track with these multi purpose cookers in Singapore!
What Can A Multi Cooker Do?
An electric multicooker can essentially take the place of an air fryer, a slow cooker, and a rice cooker! Some even double as a pressure cooker!
They often have a wide array of automatic programs for rice, stew, porridge, risotto, desserts, and curry!
The only disadvantages are:
The higher prices
They're usually big and heavy
That you cannot fry and steam/stew something at the same time
Here's how a multi cooker differs against a slow cooker, rice cooker, and pressure cooker!
7 Best Multi Cookers In Singapore 2022
Except for the mini multi cookers, expect to fork out between S$340 to S$400 for a quality multi cooker!
Best Value Multi Cooker (5L) – Tefal Express Induction Multi Cooker 5L CY638
Best Multi Cooker (With Air Frying, 6L) – Ninja Foodi Multi Cooker + Air fryer in one pot (OP300)
Best Designer Multi Cooker (2.5L) – Morphy Richards Multifunction Cooking Pot MR9088
Best Mini Multi Cooker (~2L) – Morries 1.9L 2-In-1 Multi Cooker MS-88MC
Best Steamboat/ Grill Combo Multi Cooker (~2L) – PowerPac Steamboat with BBQ Grill, 2 in 1 Multi Cooker (PPMC763)
1. Ninja Foodi Multi Cooker + Air Fryer (OP300)
No reason to eat the same things all the time with the Ninja Foodi Multi Cooker + Air fryer in one pot (OP300)! Even if you don't have enough time in the kitchen!
You'll get tasty soup in just half an hour! Or fried chicken in 15 minutes! And you won't need your pots and pans! Or your stove, for that matter!
Users like that you can pressure cook and fry food with the same appliance! The main inner pot is wide and made of ceramic. And easy to clean. Unfortunately, the lid of the cooker cannot be removed!
The multi cooker owes its multi functionality to the bevy of accessories that accompany it:
That includes a steam rack, separate lids (one attached) and pot/ basket for the air fryer and pressure cooker functions. And a sealing ring for the latter. Don't forget the manual and recipe book!
Note: The air fryer lid is not removable but can be swung out of the way when you use the cooker for pressure cooking.
As you can imagine, because there are so many accessories, you do need a lot of space to keep this cooker!
Our verdict for the Ninja Foodi Multi Cooker + Air fryer in one pot (OP300) is that it's worth getting if you know that you will be using both the air frying and pressure cooking functions often!
And this multicooker happens to be equally good at both of these functions!
Still because of its cumbersome profile, you should think very carefully before getting it. Or you'll end with a humungous appliance on your countertop!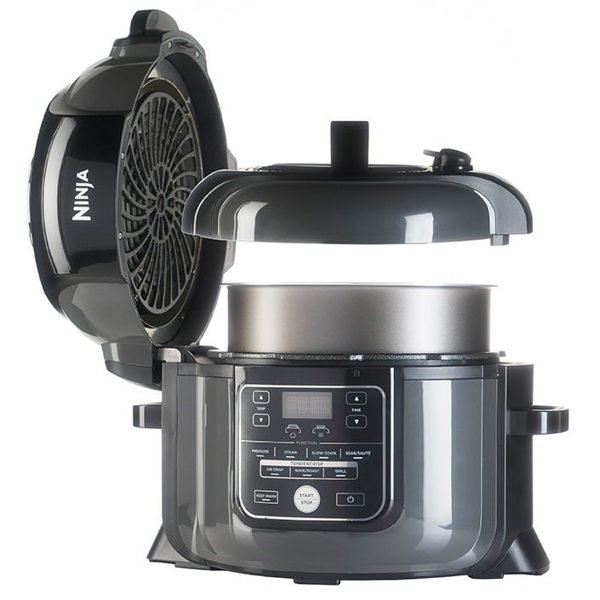 Pros:
Easy operation and clean up
Functions work well (e.g. congee and air fryer)
Incredibly versatile (grill, pressure cook, bake, steam, air fry)
Quiet during air frying
Wide base (adequate for frying)
Durable accessories
Possible to purchase a replacement ceramic pot
Cons:
Only available in 1 size
Heavy and bulky
Recipe book does not have many local recipes
Short power cable
Short warranty for the price
No yoghurt-making option
Actual air frying capacity for optimum results is small
Capacity: 6L Cooking Pot & 3.7L Cook & Crisp™ Basket
Wattage: 1460W
Weight: 9.56kg
Dimensions: 35 x 38 x 35 cm (W x D x H)
Functions: Pressure Cooking, Steam, Slow Cook, Sear/Saute, Air Crisp, Bake/Roast, Grill, Keep Warm
Warranty: 1 year
Price: ~$396
2. Tefal Express Induction Multi Cooker 5L CY638
Firstly, you get 2 cooking pots with the Tefal Express Induction Multi Cooker 5L, CY638. One of stainless steel (1.2mm thick), and the other with nonstick coating (1.8mm thick).
The 19 pre-set programs (including different meats, rice, congee, etc) can be intimidating if you're new to multi cookers. There is also an option to set the temperature and time yourself (DIY)!
So we would recommend that you watch a demo video (or 2) of the multi cooker in action!
Otherwise, most users find it easy to use. And that the resulting food from this multi cooker is very flavorful! And cooking is faster too (i.e. it works as a pressure cooker)!
The cooking capacity is more than adequate for a small household!
In any case, theTefal Express Induction Multi Cooker 5L CY638 is more compact than the Ninja Foodi Multi Cooker + Air fryer in one pot (OP300). But you will be forsaking the air frying function!
For those keen on pressure cooking (safely) and cooking Asian meals, you will find the recipe book that comes with the Tefal Express Induction Multi Cooker 5L CY638 more useful too!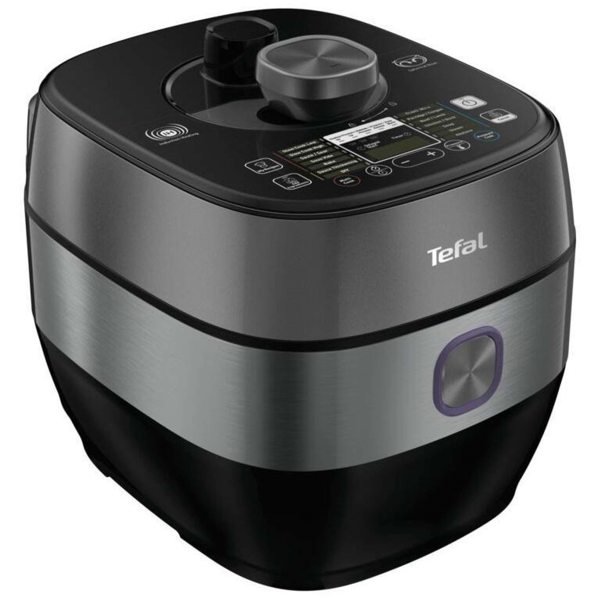 Pros:
Adjustable temperature and time
Keep Warm and Delay Start for up to 24 hours
Recipe book included
Long warranty
Capable of pressure cooking
Has over-pressure protection and other safety features
With 2 pots
Resulting food is tender and flavorful
Easy to use and clean (Dishwasher safe components)
Sleek attractive design
Inner lid is stainless steel
Cons:
No smaller size
The preset times for some recipes may be inaccurate (e.g. too long for chicken curry)
Manual is not useful for explaining how to disassemble parts
No baking/ crisping function
Capacity: 5L
Wattage: 1300W
Weight: 7.67kg (With Accessories)
Dimensions: –
Functions: Pressure Cook, Steam, Brown, Simmer, Slow Cook, Reheat, Keep Warm
Warranty: 2 years
Price: ~$339
3. PowerPac Steamboat with BBQ Grill, 2 in 1 Multi Cooker PPMC728/PPMC763
The PowerPac Steamboat with BBQ Grill, 2 in 1 Multi Cooker (PPMC728/PPMC763) is fetching in an appealing pastel green.
It comes in different sizes to suit a household of 2 to 3 pax (1L) or 3 to 5 pax (1.8L).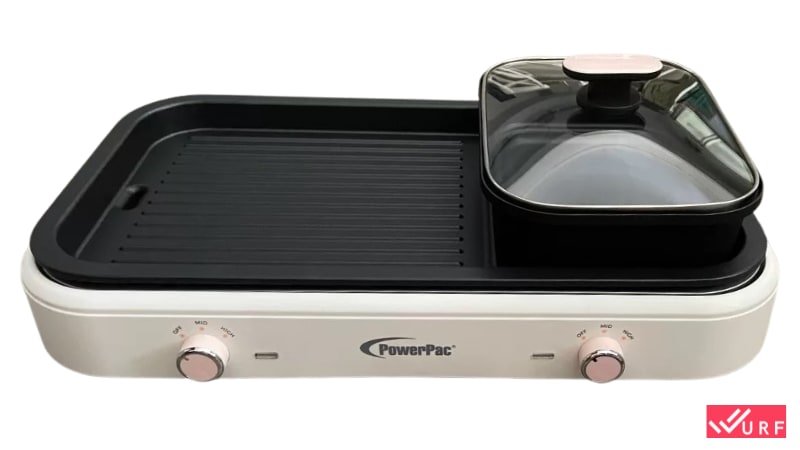 And while it doesn't look like your typical multi-cooker, the PowerPac Steamboat with BBQ Grill, 2 in 1 Multi Cooker (PPMC728/PPMC763) is actually simple to use as is just has a single knob to switch between using the hot pot or hot plate. Or use both simultaneously!
But one glaring disadvantage of the PowerPac Steamboat with BBQ Grill, 2 in 1 Multi Cooker (PPMC728/PPMC763) is the fact that you cannot remove either the hot plate or hot pot to get a good rinse.
This means you have to be extra careful not to get the electrical components wet when cleaning this multi cooker.
Note: This is only applicable for the smaller model (PPMC728).
Furthermore, you can't control the temperature (no dedicated control) of this multi cooker.
And some find the power cable to be short. Besides this, it might bother you that there's no matching lid for the hot plate to prevent oil from splattering on surrounding surfaces.
Despite its shortcomings, the PowerPac Steamboat with BBQ Grill, 2 in 1 Multi Cooker (PPMC728/PPMC763) makes having a hot pot and grilling session at home a breeze!
Though we highly recommend getting the bigger model, PPMC763 over the smaller model, PPMC728 as it's easier to clean (both hot pot and hot plate can be removed from the base)!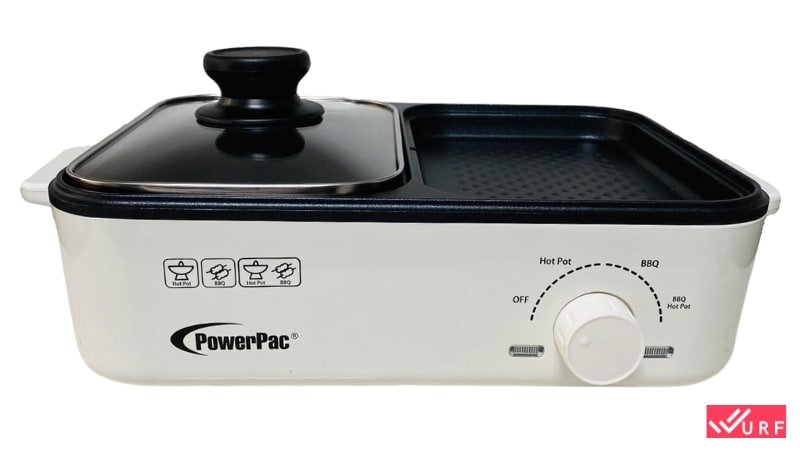 Pros:
2 sizes available
Multiple modes (hot plate, hot pot, or both)
Easy to use
Heats up fast
Cuts off automatically if the grill plate gets to hot
Ideal size for small households
There is a catch tray for excess oil
Not too expensive
Non stick surfaces for easier cleaning
Cons:
Hot pot and hot plate/ grilling tray for the smaller model are not fully detachable
No temperature dial
Short power cable (1m)
There is no lid for the grill plate
Pot is quite shallow
Takes up space (horizontal design)
Capacity: 1L or 1.8L
Wattage: 1000W (1L), 1600W (1.8L)
Weight: –
Dimensions: 38 x 12 x 25 cm (1L), 54.2 x 16 x 34.8 cm (1.8L)
Functions: Steamboat, Grill, Fry, Roast, Cook, Stew, Boil
Warranty: 2 years
Price: ~$49 – $79
4. CUCKOO Q10 Multi Cooker
The CUCKOO Q10 Multi Cooker has been around for a few years. The great thing about that is that there are a bunch of recipe videos online! By CUCKOO and users!
A unique feature of this multi cooker is that it "talks"! In English, Malay or Mandarin! That and the fact that this multi cooker is capable of cooking GABA rice (i.e. germinated brown rice)!
And while it's easy to clean (non stick inner pot and detachable inner lid), it actually has a built-in cleaning function too!
See the recipe video:
On the whole, theCUCKOO Q10 Multi Cooker may not be as versatile as other multi cookers in the same price range (like the Ninja Foodi Multi Cooker + Air fryer in one pot (OP300)).
But it does prioritize on safety and you'll find no shortage of online resources on how to use it to its full potential!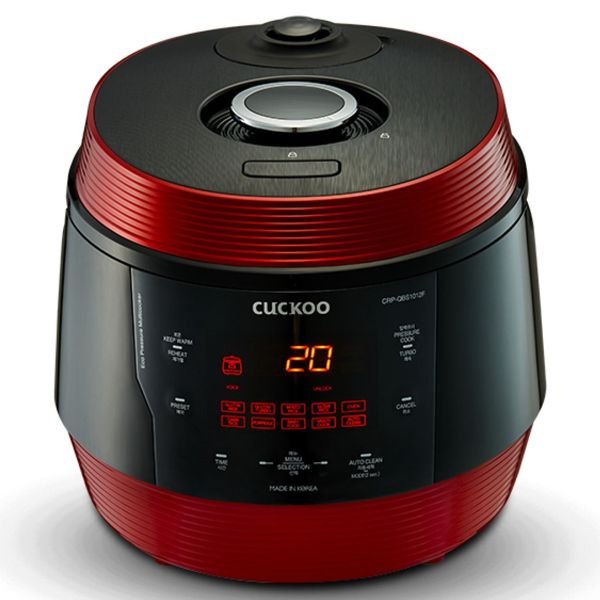 Pros:
Scheduled cooking (preset timer up to 12 hours and 50 minutes)
Digital display
Made in Korea
Convenient handle for the inner pot
14 safety features (including a twist lock mechanism)
GABA rice function
Cons:
Limited to 9 preset programs (no air frying)
Capacity: –
Wattage: 1150W
Weight: 7.7kg
Dimensions: 30.4 x 39.5 x 28.2 cm (W x D x H)
Functions: Keep Warm, Reheat, Pressure Cooker, Rice Cooker, Oven, Multi-Cook
Warranty: 1 year
Price: ~$388
5. Morphy Richards Multifunction Cooking Pot MR9088
Featuring a wide base for an electric multi cooker in Singapore:
Morphy Richards' Multifunction Cooking Pot, MR9088 is stunning enough to be used as a serving dish on your dining table too!
Use it to slow cook, grill, steam, or fry your meals!
Watch it in action:
Reviews mention that it is straightforward to use. And food doesn't stick to it so cleaning is easy. The cooking capacity suits 2-3 adults. Users are fond of the design and quality too!
You do feel that you are paying more for the aesthetics, rather than versatility with this multi cooker! As it lacks both the pressure cooker or air frying function that other multi cookers (of similar pricing) offer!
However, if you have a great appreciation for aesthetically-pleasing objects (appliances included) in your home:
Or just regularly hosts guests, it's definitely a conversation starter and worthy of centerpiece attention! While being functional too!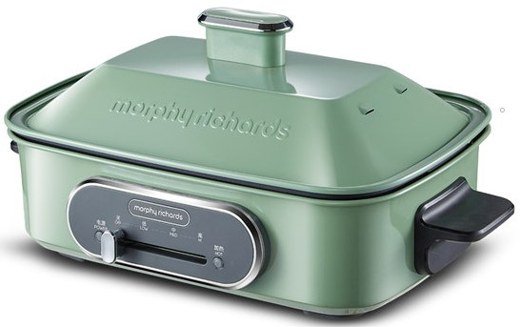 Pros:
In many beautiful retro colors
Comes with a grill pan, a deeper pan, and a steam tray
Non-stick coating
Multiple heat settings (low to high)
There is an e-book for recipes
Simple to operate
Adequate depth for having a hot pot meal (for 4-5 pax)
High quality (including accessories)
Cons:
Very short warranty
No pressure cooking
May need an adaptor
Capacity: 2.5L
Wattage: 1400W
Weight: 5.8kg
Dimensions: 41.0 x 24.8 x 22.5 cm (W x D x H)
Functions: Stir Fry, Steam, Baking, Griddle, Steamboat, Grill
Warranty: 6 months
Price: ~$350
Best Mini Multi Cooker Singapore
6. Cornell 1.5L Mini Multi Cooker With Steam Tray CMC-S1500X
Stylish and convenient for a small multi cooker in Singapore:
The cooking capacity is just right for 2 people (e.g. 2 portions of instant noodles)! And the build quality is great for the price! There are even allotted holes in the steam tray where you can place eggs on!
Cornell's 1.5L Mini Multi Cooker With Steam Tray CMC-S1500X will be more suitable to those who prefer to steam food or make soup. As it doesn't take long to start boiling. And there is no fear of over boiling!
Or you can have a mini hot pot session!
However, frying is not as convenient. Because the maximum frying temperature is limited by the built-in overheat protection!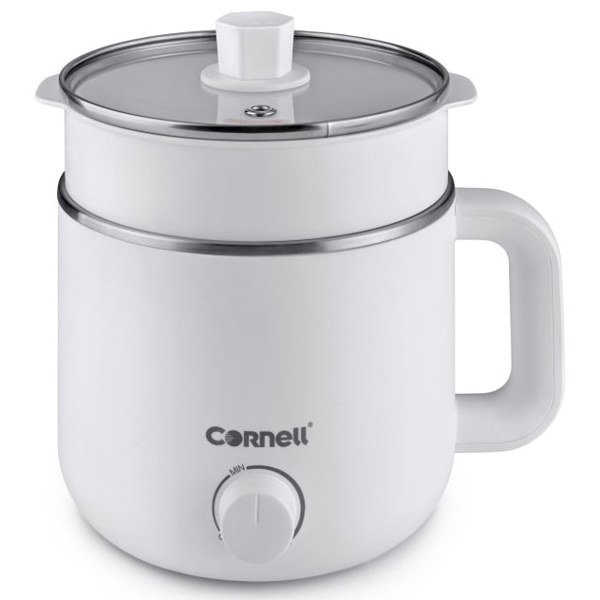 Pros:
Sturdy build (with tempered glass lid and a SUS304 stainless steel inner pot)
Heats up fast
Long cord (1.2m)
Makes 1-2 portions
Inner pot has measurement markings
Affordable
With overboil protection
Simple dial operation
Cons:
Not a full multi cooker (no air frying or pressure cooking)
Steamer tray is plastic (thick BPA-free plastic)
Capacity: 1.5L
Wattage: 800W
Weight: 1.18kg
Dimensions: 18.5 x 23.0 x 21.5 cm (W x D x H)
Functions: Steam, Keep Warm, Steamboat
Warranty: 1 year
Price: ~$27.9
7. Morries 1.9L 2-In-1 Multi Cooker MS-88MC
This mini multi cooker in Singapore resembles your average hot pot base:
And like the Cornell 1.5L Mini Multi Cooker With Steam Tray CMC-S1500X, the Morries 1.9L 2-In-1 Multi Cooker MS-88MC also uses stainless steel for the inner pot. Which you can remove for washing!
Morries 1.9L 2-In-1 Multi Cooker MS-88MC has pretty much the same functionality as the Morries 3l 3 In 1 Multi Cooker MS1388 but less weird-looking (in our opinion)!
The size of it is just ideal for a family steamboat dinner! Or cooking for just 1-2 pax even! The grill plate that comes with this multi cooker has a non stick coating. So you can use it for frying too!
Its heating capability is not an issue since the power rating is about the same as larger multi cookers on this list! Furthermore, it's a lot cheaper!
Note: There is a larger size of this cooker too (MS-888MC, 3L).
Pros:
Cooking capacity is suitable for 2-3pax
Fast heat up time
Variable temperature (dial)
Tempered glass lid
For shabu shabu, boiling/stewing and frying
Cons:
No pressure cooking or baking
No other color options
Capacity: 1.9L
Wattage: 1200W
Weight: –
Dimensions: –
Functions: Stewing, Frying & Shabu-Shabu
Warranty: 1 year
Price: ~$39.9
Tips On How To Choose A Multi Cooker
1. Safety
Look for a lid that can lock. Multiple locking mechanisms are better than one. This is especially important when the multi cooker is in pressure cooker mode!
A manual valve to let out steam is good to have as well.
There should also be overheat protection where the cooker turns off automatically. Or does not turn on if the drawer/ bowl is out. Moreover, the cooker should pause when you remove the drawer/ bowl.
2. Cooking Capacity
6L is comfortable for most households in Singapore!
But if you will be frequently steaming large quantities of food, consider getting the best food steamer in Singapore instead.
3. Features
One-touch automatic settings are extremely convenient since you can leave the multicooker to switch over to lower temperatures by itself, later in the cooking process.
But having the luxury of adjusting time and temperature gives you more control over the final outcome!
Automatic keep warm is always a welcome feature along with delayed start which allows you to plan meals around your hectic schedule!
4. Maintenance
A smooth exterior will be easier to clean. Inner components should be detachable for easy washing too! Including the inner lid of the cooker!
Stainless steel will last longer but is not consistently easy to clean like a non stick coating! Although, some multi cookers come with two pots so you can choose what you want to use.
There may be a designated pocket at the back of the multi function cooker to collect excess water (or oil) so that your counter stays dry!
5. Accessories
What does the multi cooker come with? If you buy accessories separately from a different shop later on (e.g. grill plate), it may not fit the multi cooker.
6. Other Details
Is the menu easy to read?
Are there indicators for the cooking stages?
Is there a line to indicate the maximum level for ingredients?
Is there a recipe book (online or physical) for the cooker?
Can you view the cooking process?
Do you have enough space for the cooker?
Will you use most of the functions?
Verdict
To summarize our favorites from these reviews of multi cooker in Singapore 2022, you can take a look at our recommendations at the beginning of this post!