9 Best Pressure Cookers In Singapore 2021 – Safe And Fast!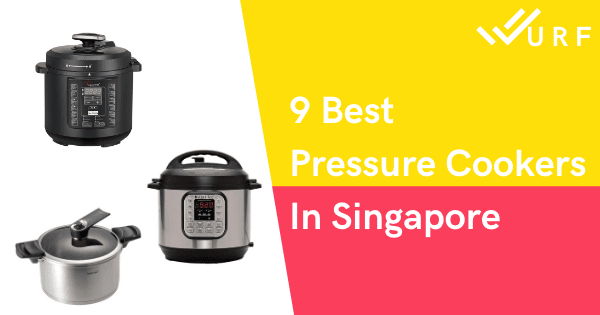 Cook healthy food easily (and faster) with the best pressure cooker in Singapore 2021!
Working with high pressured steam can be dangerous! And that is why it is worth getting the best electric pressure cookers in Singapore!
Once you get the hang of using them, the possibilities are endless! Plus, the kitchen will stay clean!
Types Of Pressure Cookers
1. Electric Pressure Cooker
These can be extremely versatile with timer settings and pre-set cooking functions. Some even allow you to sauté your food! Or make yoghurt!
Instead of stove space, they'll take counter space so allocate a spot before you buy one!
And in the long run, electric pressure cookers are more troublesome to repair than the following type of pressure cooker!
2. Stove Top Pressure Cooker
Not much different from using a regular pot on your stove! Since you control the heat manually with the dials on your stove. In fact, you can use them as a regular saucepan too!
But you have to keep an eye on the cooking which is a major disadvantage from the previous type of pressure cooker. Although you are in full control of the cooking time and temperature!
Note that the stainless steel pots are more durable than the cheaper aluminum options!
Pressure Cooker Vs Slow Cooker
How does a slow cooker differ from a pressure cooker?
Because of the higher temperature, steam and pressure that builds up in a pressure cooker (source):
Food tends to taste better (i.e. richer flavors) when you use a pressure cooker.
If you still want to have the luxury of fried food but with less calories, try the best air fryer!
In case you want to know more:
Pressure cookers vs rice cookers, slow cookers, and multi cookers
9 Best Pressure Cookers In Singapore 2021
Best Value-For-Money Pressure Cooker – Tefal Home Chef Smart 6L Multicooker CY601
Best Budget Pressure Cooker – Midea 5.0L Electric Pressure Cooker MY-5039P
Best Traditional Stove Top Pressure Cooker – HAWKINS Classic Pressure Cooker
Best Pressure Cooker For Beginners (Safety) – Instant Pot Duo Classic 7-IN-1 Multi-Use Programmable Pressure Cooker (6Qt)
Best Small Capacity Pressure Cooker – Mayer 1.6L Mini Pressure Cooker MMPC1650
Best Pressure Cooker With No Non Stick Coating – La Gourmet 6L Pressure Cooker
1. Instant Pot Duo Classic 7-IN-1 Multi-Use Programmable Pressure Cooker (6Qt)
Instant Pot Duo Classic 7-IN-1 Multi-Use Programmable Pressure Cooker removes the need to have several appliances on your countertop!
Use it to steam, stew or sauté food, cook rice or porridge, make yoghurt, etc! All you need to do is select one of the 14 pre-set programs!
When you cook rice with this, the rice doesn't stick to the pot! Very useful review video:
The pressure cooker takes 30 seconds to 9 minutes to preheat (depending on the function you select).
And aside from letting out some steam (automatically), it makes very little noise when cooking. The cooking time is also displayed conveniently!
We like that you can completely remove the lid! And you can slot the lid into one of the side handles to keep it out of the way safely.
If you're on the fence about getting pressure cookers because you're scared they're not safe, this is a quality pressure cooker to consider! It has ample safety features and has been around for years!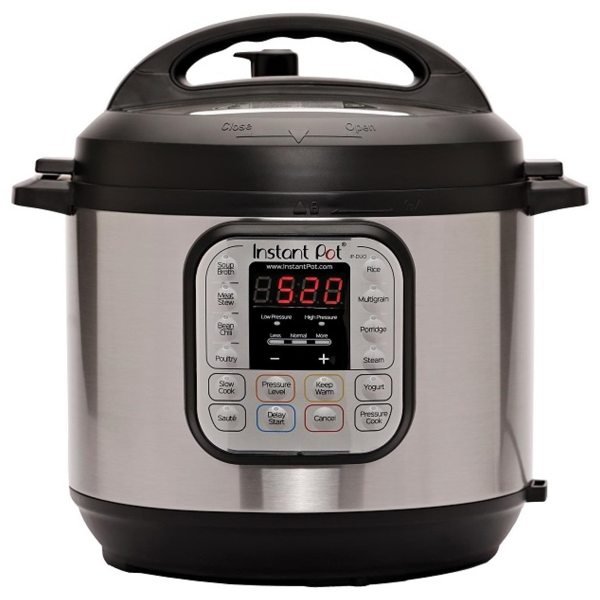 Pros:
Brushed stainless steel exterior looks premium
Stainless steel (Food grade 304) interior with dishwasher-safe components
There are many accessories (sold separately) to increase its usefulness (glass lid, stainless steel inner pot, sealing rings, silicone lid, ceramic inner pot, etc)
Quick release feature (manual) – don't use it when cooking sticky food or soup
Very large capacity
Actual cooking time is displayed
It will release steam on its own gradually (even in Keep Warm)
Sturdy handle
Online recipes and manual available
You can get replacement parts (pot, sealing rings, non stick pot, etc)
Easy to clean
Cons:
Some functions are not that easy to understand
Short warranty for the price
Over time, the silicon seal ring around the lid can retain odors from food – needs replacing
Smaller version is not as readily available (3QT)
Capacity: ~6L
Power: 1000W
Weight: 5.4kg
Dimensions: 34 x 31 x 31.7 cm (L x W x H)
Warranty: 1 year
Price: $239
2. Philips Viva Collection ME Computerized Electric Pressure Cooker – HD2139
Save as much as half the time you would normally use to cook on a stove! Meat gets tender in 20 minutes! Rice in 10! And you can make beef stew or red bean soup in just 20-30 minutes!
The Philips Viva Collection ME Computerized Electric Pressure Cooker, HD2139 makes enough food for a household of 4 pax. But it's a bit small if you want to make 2kg of curry as one user remarked!
And you have a lot of flexibility with 14 pre-set programs, a 24hr preset timer, and automatic keep warm!
For beginners, it's easy enough to make soup and desserts with this cooker, even if the instruction manual is vague. But some dishes take trial and error to figure out which setting is suitable.
So we would highly recommend this pressure cooker to those who like to experiment! It's possible to make cake with this pressure cooker!
Note: This model replaces the previous Philips HD2137 Multi Pressure Cooker
Some other things to note:
One user observed that the markings for the valve are too faint to read. The sound that the pressure cooker makes when releasing steam can be alarming to first-timers too!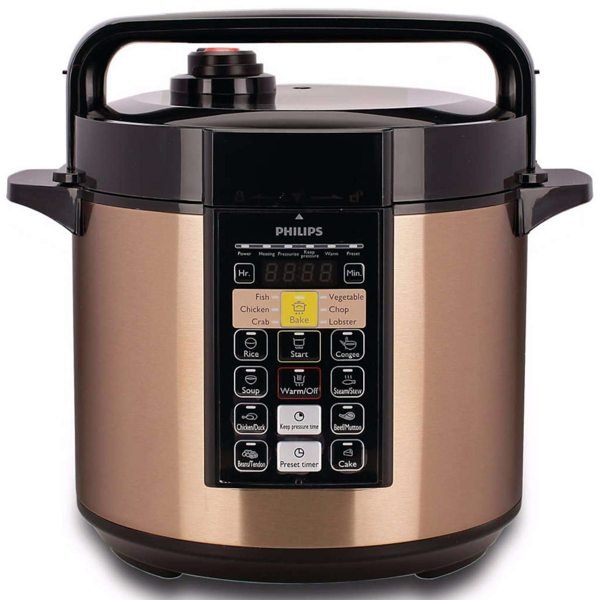 Pros:
Long warranty for the price
Quality build
Effective non stick coating – One user found that after a year, the non stick coating was still intact!
Inner lid is removable
Easy to clean
Has a dedicated baking feature
Automatic pressure release
Comes with a measuring cup, ladle and spatula
Keep Warm (up to 12 hours)
Preset timer (up to 24 hours)
Cons:
Included manual is not that helpful (I.e., might need some trial and error as you learn to use it)
Stainless steel can stain
Not enough resources for recipes
Capacity: 6L
Power: 1000W
Weight: –
Dimensions: 23.25 x 39 x 29.7 cm (L x W x H)
Warranty: 2 years
Price: ~$179
3. Midea 5.0L Electric Pressure Cooker MY-5039P
Undeniably affordable for an electric pressure cooker:
Midea's 5.0L Electric Pressure Cooker, MY-5039P is lightweight. And features a lid that can open in 2-ways. As well as a stainless steel inner pot! Which users like!
It has 12 menu options but you can try experimenting on your own too! You have no choice really. Since there are very few online resources for demonstration videos or recipes specific to this model!
Still, most users find it simple to operate. Particularly the fast-cook buttons.
It makes food tender much faster than conventional cooking. Note that you cannot manually adjust the cook time.
Users have tried cooking porridge, soup (1 hour), rice (10 minutes), brown rice (30 minutes), congee (20 minutes), red bean soup (1 hour), pork ribs (30 minutes), etc.
One user shared that you need to use more water when cooking meat!
If you don't mind the lack of instructions and recipes:
The Midea 5.0L Electric Pressure Cooker MY-5039P is great value-for-money. It's well-built (except maybe the hinge of the lid) and has similar features to more expensive Western brands.
Note: No significant change (functions) compared to the older model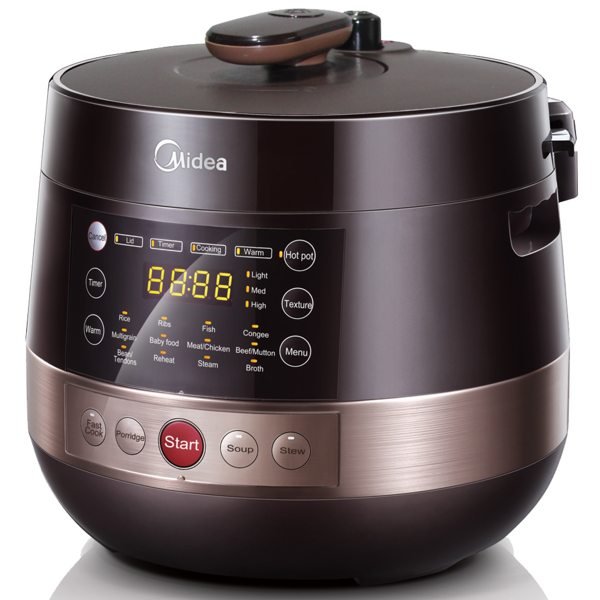 Pros:
Preset timer for 24 hours
Lid is detachable
Sturdy base
English manual provided
Not difficult to clean up after cooking
Steam release valve
Rice paddle, soup ladle and measuring cup included
Fast cooking (congee in 20 minutes!)
You can stir-fry food using the hotpot mode
Cons:
Functions and disassembly of parts are not explained in detail in the manual
Hinge does not look very durable
Quite bulky and a little heavy
Can't adjust cook time
Capacity: 5L
Power: 900-1070W
Weight: –
Dimensions: 30 x 30 x 28 cm (L x W x H)
Warranty: 1 year
Price: ~$100
4. Mayer 1.6L Mini Pressure Cooker MMPC1650
One of the smallest pressure cookers you can find in Singapore:
Mayer 1.6L Mini Pressure Cooker MMPC1650 is perfect for a small and busy household (1-2 adults)! And you can even make porridge for the baby (in 30 minutes)!
If you're just cooking rice, users comment that the size of the pot suits 2-3 pax. For things like soup, none of the 2 pots (both non stick) provided are big enough. And better suited to 1-2 pax.
You cannot fit a large chicken drumstick in either as one user observed! Regardless of its compact size, it is sturdy and the finishing looks good. Except for the 1mm gap between the lid and body.
Users do not find it difficult to use. Rice is ready in 20 minutes (without sticking), chicken soup in 25 minutes, and red bean soup takes 45 minutes. While porridge takes 30 minutes. Pulled pork, 1 hour.
Note: These cooking times include the ~10 minutes to build up initial pressure in the cooker
And meals can stay warm overnight until the next morning. However, the sealing ring always needs to be soaked to remove cooking odors.
Tip: Remove the sticker on the pot while the pot is warm.
There are some other minor qualms like the strange sound it makes during cooking. Or the want of recipes in the user guide. The manual has no Chinese translations.
The Mayer 1.6L Mini Pressure Cooker MMPC1650 is not cheap for its size. But it's practical for small households that don't have much space or time in the kitchen.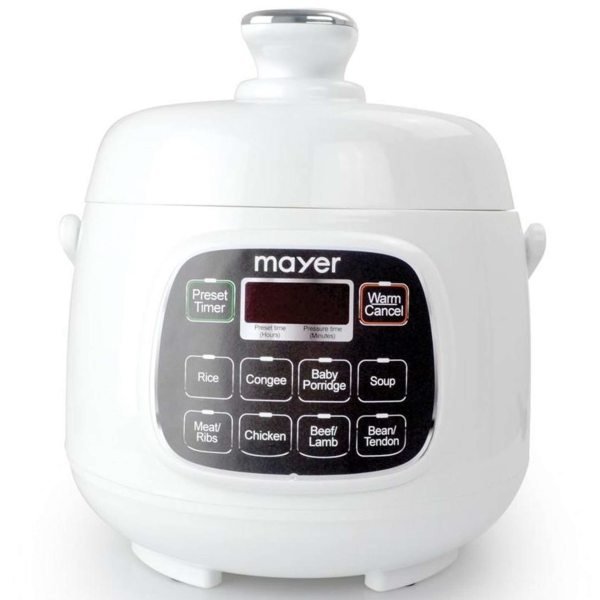 Pros:
Convenient for making soup and tenderizing meat
Very compact
Keep Warm for up to 24 hours
2 inner pots given
Preset timer (24 hours)
Easy operation (8 cooking programs)
Cons:
Lid is not detachable
No steaming function
Can't add in more ingredients once cooking is in progress
Gasket tends to absorb food odors
Few online resources
Can't sauté in it
Capacity: 1.6L
Power: 500W
Weight: 2.5kg
Dimensions: 23 x 23 x 25 cm (L x W x H)
Warranty: 1 year
Price: ~$80
5. Tefal Home Chef Smart 6L Multicooker CY601
Almost silent, the Tefal Home Chef Smart 6L Multicooker CY601 shortens a typical 3-hour boil/ stew to a mere 30-40 minutes! Same with porridge and bak kut teh!
It's not bad at making rice either! On user said the resulting rice tastes better than when using a regular rice cooker!
Aside from the 15 pre-set functions, you can precisely adjust the cook time and temperature! There is delayed start too!
We think it is exceptional value to both beginners and experienced pressure cooker users! Although first timers must spend some time studying the manual first! Watch this demonstration for braised lamb shanks (you can stir fry in the cooker!):
The quality is good. More sturdy than a Mayer pressure cooker. And it comes with accessories (rice paddle, soup ladle, steam tray) but the most invaluable one is that wonderful recipe book!
Note: Popular recipes are the beef rending and chicken curry. One user roasted chicken with this cooker! There are a lot of pork dishes too. For richer tasting soup, users advise increasing the time.
It is a little bulky (suits a family of 4-5 pax) but you should be able to replace a few appliances once you have this one!
Users debating between the Instant Pot and Tefal Home Chef Smart 6L Multicooker CY601 ended up getting this one. Obviously for the cheaper price.
But also because you can accurately control the temperature! There is the sous vide setting (58°C minimum) too!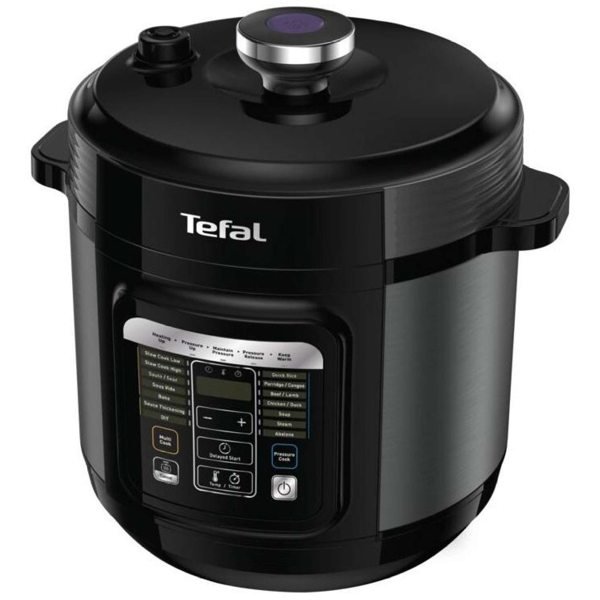 Pros:
Reasonably priced
Included recipe book
Moderately easy to operate
Easy to clean with non stick coating (ceramic pot) and dishwasher safe parts
Good quality
With sauté function
With steam basket, ladle, rice paddle, and measuring cup
Lid can be completely removed
Cons:
Stainless steel inner pot sold separately
Manual is not very detailed
Cord is a bit short
Because you need to release any remaining pressure before you can open the lid, it can be troublesome to always manually release the pressure (natural release can be too slow)
Pressure valve is not removable
Rubber ring absorbs smells
Capacity: 6L
Power: 1000W
Weight: –
Dimensions: –
Warranty: 2 years
Price: ~$139
6. La Gourmet 6L Pressure Cooker
If avoiding plastic or non stick coating is a priority:
The La Gourmet 6L Pressure Cooker will meet that requirement with its stainless steel inner pot (including inner lid), steam rack, tongs, and steam bowl!
An overview and closer look at the accessories:
In general, users like the design and quality of the pressure cooker. Cooking time is halved for soups and stews!
It also warns you if the lid is open or if the temperature is too high! And has adjustable cooking time along with a total of 17 built-in programs! Cooking Possibilities:
However, the manual is not very detailed so we would not suggest beginners to get this! Nor does it come with a recipe book!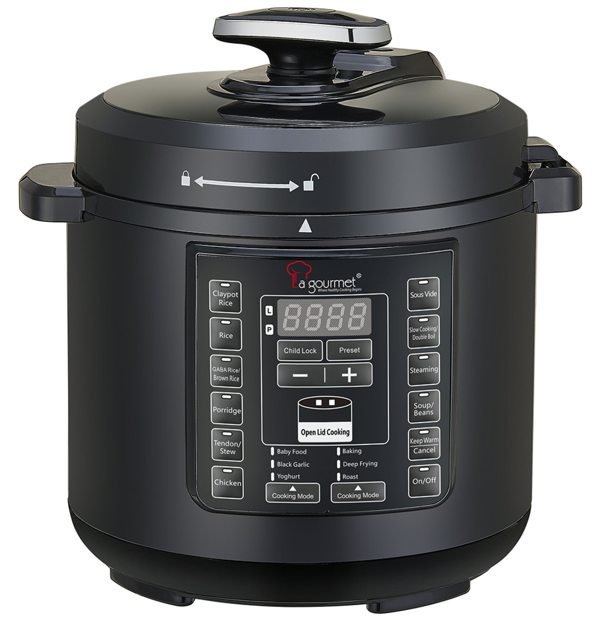 Pros:
Second pot is ceramic
Tempered glass lid comes with the set too
Preset timer and Keep Warm for 24 hours
Fast cook time
Lid is detachable for easy cleaning (and for sauté cooking)
Quality build
Automatic temperature and pressure control
With child lock
Cons:
Quite pricey
Average quality for the accessories
No recipe book
Rice paddle and measuring cup are plastic
Manual is not helpful
Capacity: 6L
Power: 1000W
Weight: –
Dimensions: 24 x 24 x 35 cm (L x W x H)
Warranty: 2 years
Price: ~$259
Best Stovetop Pressure Cooker Singapore
7. Premier Comfort Induction LPG Stainless Steel Pressure Cooker
The affordable Premier Comfort Induction LPG Stainless Steel Pressure Cooker is uncomplicated in its operation. Cook beef stew, rice, baby porridge, or beans!
A few users remark that they have some trouble closing the lid. But it works. And users have made basmati rice, and cooked beef, soup, and pasta with it!
It works on induction stoves too. And most users feel that the quality meets their expectations. The metal is thick.
Note: The 10L size is adequate for a large family!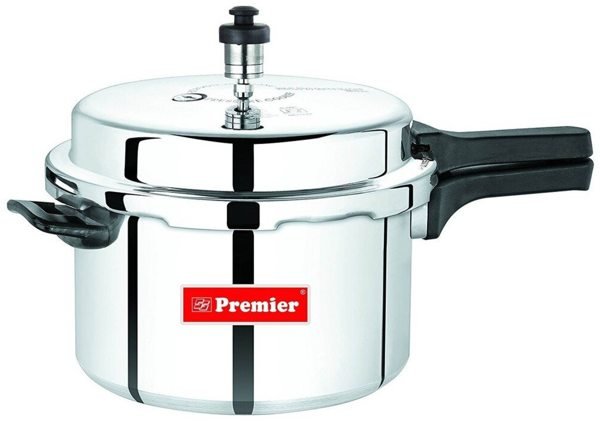 Pros:
Compatible for induction stoves
Many sizes available
Solid stainless steel build
Cons:
Gasket quality is average
Lid does not open or close easily
Capacity: 2L, 3L, 5L, 7.5L, 10L
Price: ~$58.9 – 99.9
8. HAWKINS Classic Pressure Cooker
No risk of burns with the HAWKINS Classic Pressure Cooker! The steam vent directs the steam down away from your hand!
And to ensure that the gasket lasts longer:
The design of the pressure cooker allows opening and closing of the lid without rubbing against the gasket!
How to manually release the pressure and open the lid:
For beginners, it can be scary to see the pot release steam on its own every 30-60 seconds after building up pressure in the first 5 minutes of cooking. But that's normal.
And experienced users advise that you don't necessarily need to manually release the steam when cooking is done. You can just wait for 10 minutes (after turning off the heat) for steam to release naturally.
Note that unlike the Premier Comfort Induction LPG Stainless Steel Pressure Cooker, you can't use the HAWKINS Classic Pressure Cooker on an induction stove!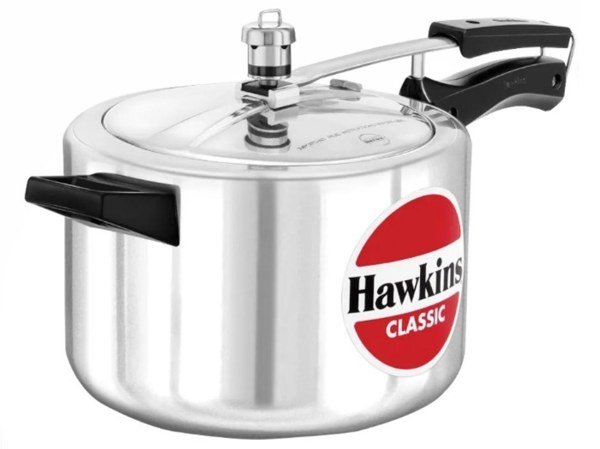 Pros:
Huge range of sizes
Cookbook included
Good quality
Not that noisy
Elegant design
Simple to use
Cooks faster than electric counterparts
Cons:
Meant for gas stoves (aluminum build)
Hard to get grains out of the mouth of the pot
Capacity: 1.5L, 2L, 4L, 5L, 6.5L, 10L, 12L
Price: ~$69.9 – 129.9
9. Happycall Classic IH Induction Stainless Pressure Cooker
You can buy the Happycall Classic IH Induction Stainless Pressure Cooker together in a set. Or in their separate sizes!
Regardless of the size, each pot has a non stick coating and a light body (made of aluminum). They suit all kinds of hobs – including induction stoves!
Users don't have anything against the build. Both pot and lid are of good quality! And the lid locks to the pot secure enough for you to use the pot as a food container too.
The main selling point of this pressure cooker is that it cooks by vacuum! After turning off the stove, it cooks the food further (up to 60 minutes) by trapping the remaining heat inside!
Watch it in real-life use (Manual pressure release):
One user shared that they can cook for 10 minutes, then turn off the stove. And the cooking is done 20 minutes later! Another user had used hers for years reliably.
But some users find that the 60-minute claim by Happycall is far from true (i.e. Simmering continues for just a few minutes before bubbles disappear).
So if you expect a lot, the Happycall Classic IH Induction Stainless Pressure Cooker can be a disappointment. Otherwise, it is easy to use and well-built.
You may also prefer its additional features and looks more than plainer stove top pressure cookers like the Premier Comfort Induction LPG Stainless Steel Pressure Cooker or HAWKINS Classic Pressure Cooker!
Pros:
Adding ingredients intermittently is possible with the one-touch valve for vacuum control
Dishwasher safe
Good build quality (Made in Korea)
Lid can stand on its handle to prevent water dripping everywhere
Cooks fast (because of the silicone seal lid that traps heat better)
Sliding handle lock to easily store food (spill-proof)
Compatible with induction stoves
Lid is of glass (i.e. transparent)
With non stick ceramic coating
Cons:
Not that easy to clean the silicone seal lid or handles
The vacuum cooking effect is not that impressive in actual (i.e. no continuous bubbling/ simmering action)
Capacity: 20cm, 24cm, 28cm
Price: ~$85 – 130
Tips On How To Choose The Best Pressure Cooker
Firstly, it's good to know why you're getting a pressure cooker!
Is your main reason to save time cooking?
Do you want a healthier way of cooking that retains natural flavors?
Hate the house to smell of cooking oil?
Or hate that you have to constantly clean the kitchen?
A pressure cooker can resolve all these problems!
And when choosing the type of pressure cooker, be honest with how you plan to use it! Will you really need many different functions?
Possible functions:
Stew
Rice and risotto
Steamed cakes
Yoghurt
Browning food
If you want more functions, consider the best multi purpose cooker!
Lining (Inner Pot) Material
This can affect the pressure cooker price too. If you don't plan to use your pressure cooker often, or if you want to use it on travels:
You may want to get a lighter and more inexpensive aluminum pressure cooker! That includes hard anodized aluminum. There are also inner pots with non stick coating (similar to rice cookers).
Otherwise, stainless steel is the way to go! It'll last longer, even with daily use.
Note: There are ceramic pressure cookers too.
Size
Size matters. You can always cook more in a bigger pot!
And for most pressure cookers, you cannot fill the pot to the brim anyways! 2/3 is the general maximum level. Or ½ for certain foods that expand a lot, like beans!
As a guide:
5L – for a small household (1-2 pax)
5-7L – 3-5 pax
7-10L – ~6 pax
Above 10L – more than 10 pax
Other Features To Consider
Trays that you can add in
High pressure alert or auto-locking mechanism
Steam valve (quick-release)
Pressure level indicator
Fill level markings in the inner pot
High and low settings (applicable for electric pressure cookers)
Ease of maintenance
If replacement parts are easily available (especially the silicone sealing rings/ rubber gaskets)
Verdict
And here they are (See recommendation list at the top of the post), the best pressure cookers in Singapore 2021!
This is just our opinion, and you're always welcome to choose other pressure cookers that you prefer!
If you find that pressure cookers are still too intimidating, you can have a look at some electric steamers instead.