7 Things To Note When Buying A Refrigerator (Fridge Buying Guide)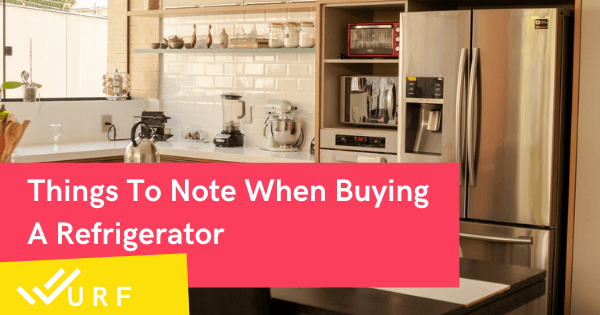 For many households, buying a fridge is normally a one-time deal. Because it's not easy to get rid of an old fridge. Especially if you live in a high-rise building (as most of us in Singapore do).
And since they are probably the largest appliance in your home, and can cost more than S$1000:
We think it's worth sitting down and considering all the important factors. Before bringing a new fridge home! You don't want to be stuck with a fridge that's too big (or too small for your household)!
1. Physical Size
Definitely one of the most important things to look for when buying a new fridge:
If you haven't already, you need to measure out the space where you plan to put the fridge. Don't forget depth!
Add a couple inches (1-2 inches) all around for adequate ventilation. With more space at the top of the fridge too!
Note: Some fridge models have adjustable feet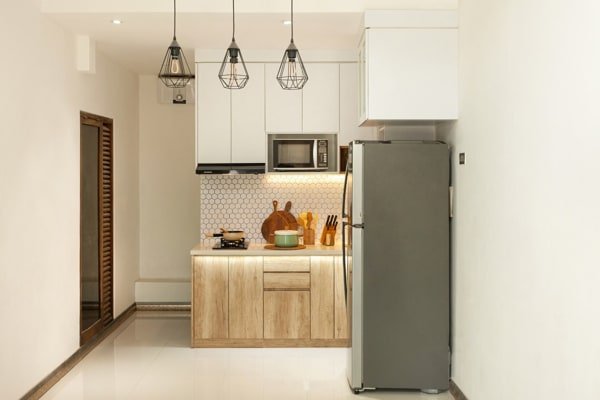 And there must be enough space to open the fridge door! Logically, this will also determine the style of fridge that you get! More on this further below!
Most importantly, the fridge must be able to fit in the apartment lift, through your front door and any other archways that are in the way!
For aesthetic reasons, you may want to make sure that your new fridge also aligns with your existing cabinet doors rather than protruding out awkwardly!
Take note of these dimensions when selecting a fridge model that suits your needs!
Tip: If you are replacing your old fridge, you can use its dimensions as a guide for your new fridge!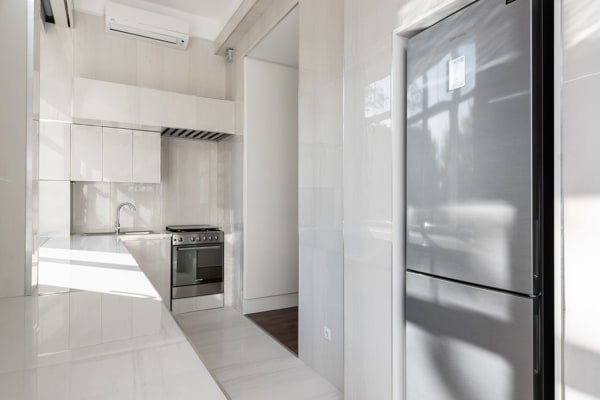 2. Freezer/ Chiller Capacity
As a rule of thumb on how to choose a fridge that suits your household: Families
Families of 3-5 pax will be fine with a 350L to 500L fridge. For a single or a couple, aim to get a fridge between 250 to 400L. Or you can check out the best mini fridge in Singapore!
If you have a choice between two fridge models, go with the smaller one if your priority is to save on your electric bill! And if you're not sure on how much food storage you need, go with the larger model.
Also take into account, whether you tend to store more frozen food (i.e. freezer capacity) or chilled goods. This relates to the type of fridge you get too!
Tip: Door shelf must be tall enough for sauce and beverage bottles
3. Energy Savings
A refrigerator is a major contributor to your electric bill! Besides the air conditioner(s)!
So when you choose a fridge in Singapore:
Check how energy efficient a fridge is by comparing the number of ticks on the yellow Energy Label by the National Environment Agency (NEA).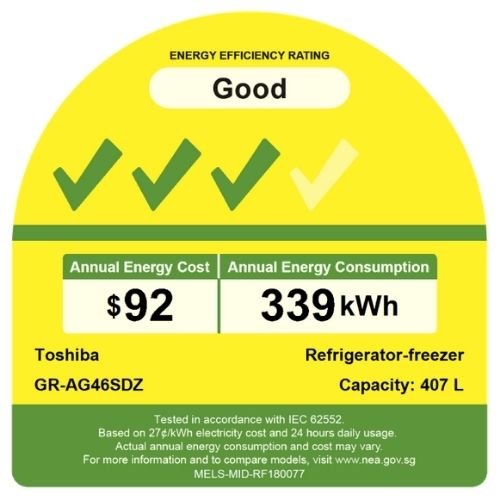 The sticker should be clearly visible on the front of the fridge door. And usually at the top right-hand corner. Where 5 ticks represent excellent energy efficiency!
| | |
| --- | --- |
| Ticks | Energy Efficiency Rating |
| 1 | Low |
| 2 | Fair |
| 3 | Good |
| 4 | Very Good |
| 5 | Excellent |
More ticks is better than less (of course)! For fridges, the highest number of ticks you will see is 4 ticks.
Other important information that you can get from these labels (other than the brand, model number, and size of the fridge) include:
Annual Energy Cost ($) – on the left, underneath the ticks
Annual Energy Consumption (kWh) – on the right, underneath the ticks
For fridges, the Annual Energy Cost is calculated based on a rate of 27 cents per kWh and assuming 24 hours' daily use.
Likewise, for the Annual Energy Consumption, 24 hours' usage is assumed.
Cheaper fridges still use the older non-inverter technology for their compressors. And that is not as energy saving as inverter motors!
If you know your physics, cold air sinks and that is why top freezer fridges are more energy efficient than similar-sized models with different configurations.
4. Features
These days, it's not enough that the fridge is quiet (35 dBA) and can store enough food!
And pricier fridges can come with all sorts of built-in features. Here are some features you should look for when buying a fridge:
Water dispenser
Defrost bin
Convertible shelving
Lighting
Door-in-door storage (not that common)
Reversible doors (you can choose whether they open on the left or right)
Ice tray unit can be moved
External temperature control
Vacuum sealed vegetable bin
Adjustable feet
Holiday mode – energy-saving feature for when you don't want to power down the fridge while you are away
See-through door
Child proof lock
Smart capability
Door alarm
5. Type Of fridge
Finishing and color is all up to personal taste when you choose a refrigerator.
Note: If you intend to use your fridge as a note or photo board, check with the seller if the exterior is magnetic.
But this section is on the different fridge configurations available:
5.1. Top Freezer
These are the most widely available fridge type, with a smaller freezer capacity than chiller capacity; And top freezer fridges tend to be cheaper than other fridge types too.
They do require more area to accommodate the wide swing of the freezer and chiller doors.
5.2. Bottom Freezer
If you have back pain and don't use the freezer a lot, this will save you from bending over daily; They are not as common as top freezer fridges and can cost more.
It's nice to have things in the chiller be at your eye level for once. That allows for quick scanning too!
5.3. Side-By-Side
That means the fridge is split into 2 vertical sections –freezer and chiller. Where each section has its own door. The sections are not necessarily divided down the middle!
As long as you have the space to fit one, these fridges are the most convenient to access. They can also store a lot of food though they are not suitable if you have wider foods to store!
They are also not as energy-efficient compared to other fridge configurations.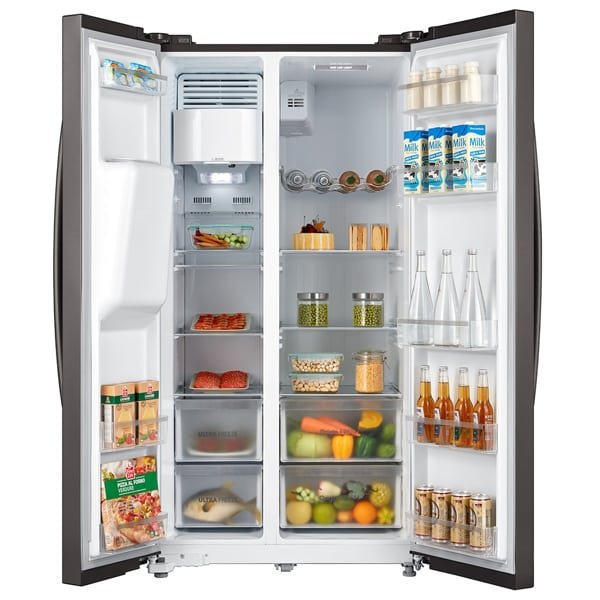 5.4. French Door
A cross between a bottom freezer and a side-by-side fridge:
There may be two doors for the top chiller section, and a single door for the bottom freezer. Not a very common fridge design since they are bulky. And you will likely have to fork out more for one of these!
These are often considered luxury models and have higher price tags but more features!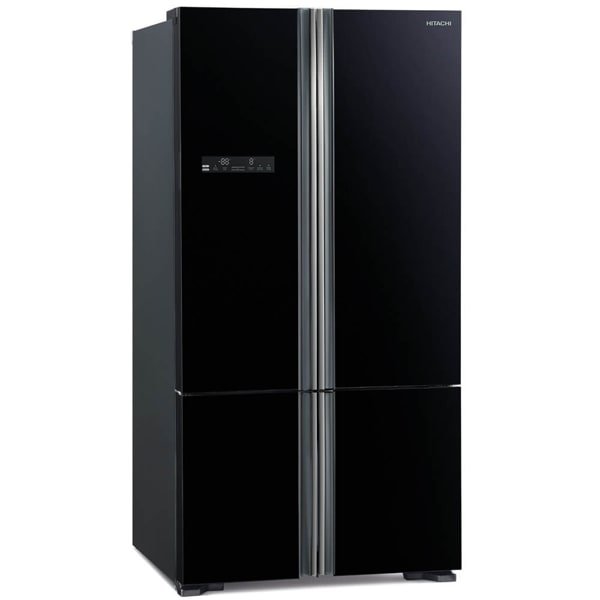 6. Warranty
The compressor is the main thing you have to worry about. This is also the most costly bit of a fridge!
What to know when buying a fridge:
Most fridge manufacturers/ sellers offer a 10 year warranty for the compressor.
You may as well check if there is a service branch close to you too! Future you will thank you for the foresight!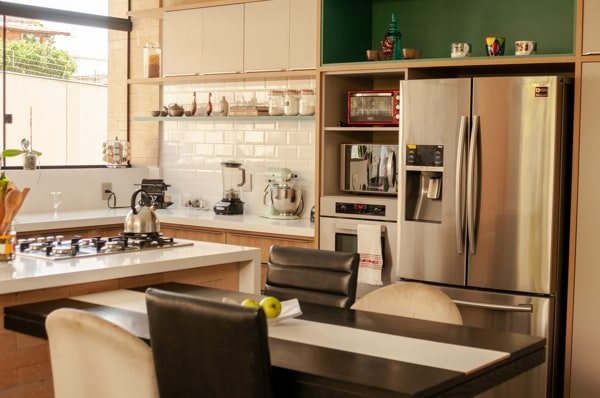 7. Maintenance
In case of spills, it's good if the shelves can all be taken out for easier wipe downs! There is such a thing as spill-proof shelving too.
You may also want to get a fridge that does not attract fingerprints!
Verdict
If you don't want extra features like a cold water dispenser, a top freezer fridge will suit most small kitchens and households in Singapore.
Although side-by-side fridges can also fit a narrow kitchen but look more modern! Whichever fridge model you go for, make sure it can get into your apartment/ house!