11 Reputable Artisan Bakeries In Singapore To Take Note Of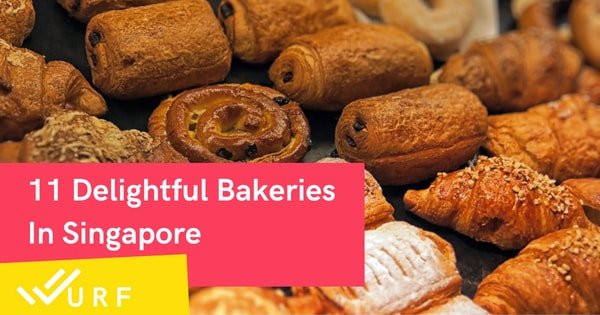 Tired of your usual bakery in Singapore? It's a good thing that there are many great bakeries all over Singapore.
And some have their own specialties like European pastries, customized cakes, chewy cookies, or sourdough bread.
Here are some popular bakeries to get you started!
11 Singapore Bakery Shops
1. Monice Bakes
This Singaporean bakery is a dependable cake shop especially if you're looking for a customized birthday cake (or cupcakes) in the Bedok area. Ordering from Monice Bakes is straightforward too.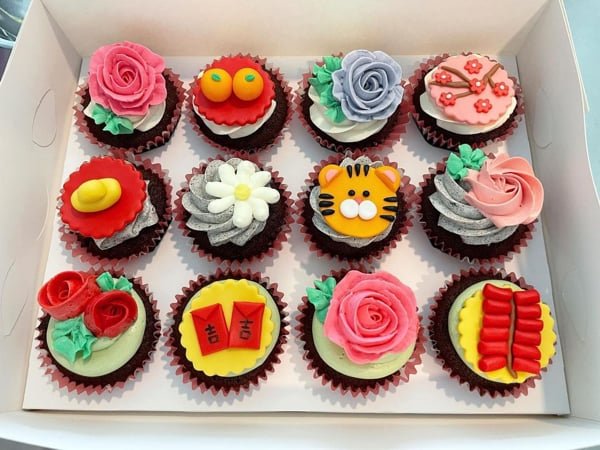 You can opt for their Surprise Me cakes if you can't decide on a design.
Nevertheless, their buttercream cakes will certainly impress. Moreover, they are never super sweet or have an excessive use of fondant.
Overall, you can't go wrong with ordering a birthday cake from Monice Bakes. Delivery is prompt, service professional, and they pay great attention to details. Which explain why they have so many returning customers!
2. Bakery Brera
Another highly rated bakery in Singapore, Bakery Brera's signature pastry are their croissant/ muffins called cruffins. These come in many flavors too (e.g., Ferrero, mint chocolate, etc).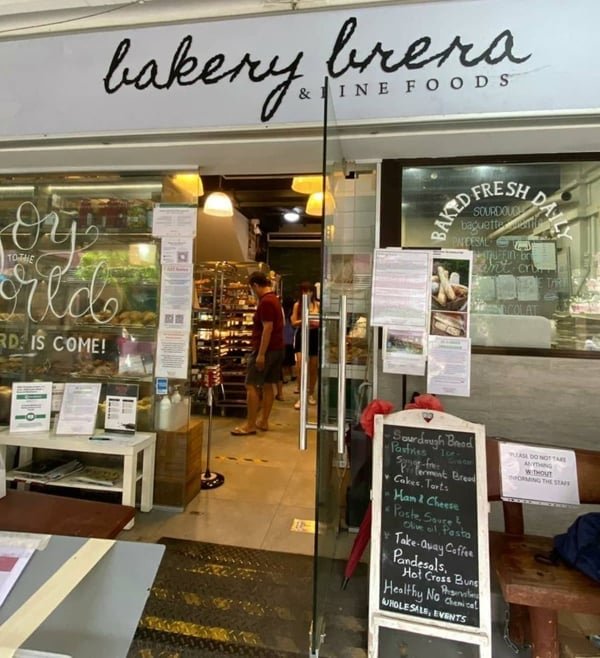 But they also offer kouign-amann, pain au chocolat and Spinach bechamel croque monsieur along with a wide selection of croissants and breads – all baked with butter.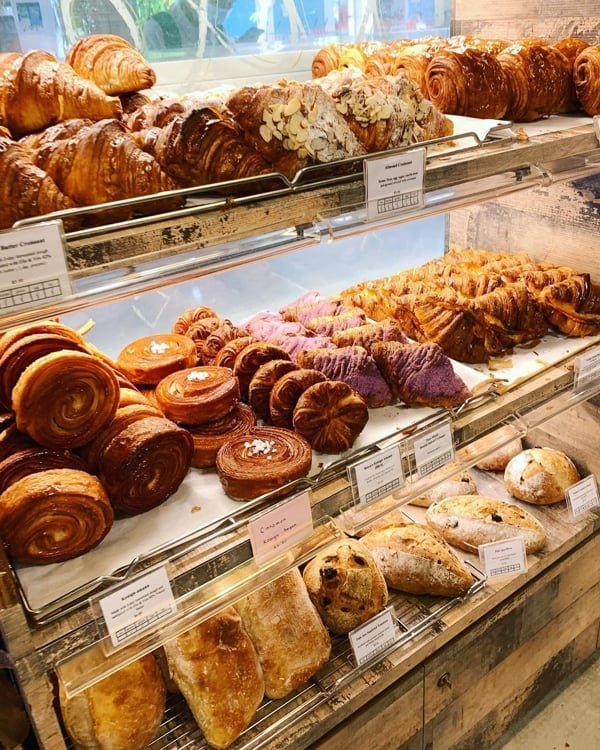 Prices are competitive too. And so, you should make a visit here if you're in the area. There are a few seats inside if you wish to dine in.
The staff are warm and friendly and the smell inside the small shop is glorious with the scent of freshly baked bread!
3. Bob The Baker Boy
Down on Sembawang Road, Bob The Baker Boy is famous for their Milo cakes, and lovely customized multi-tier buttercream cakes including unusual flavors and ingredients like osmantus jelly, cookies and cream, matcha strawberry, etc.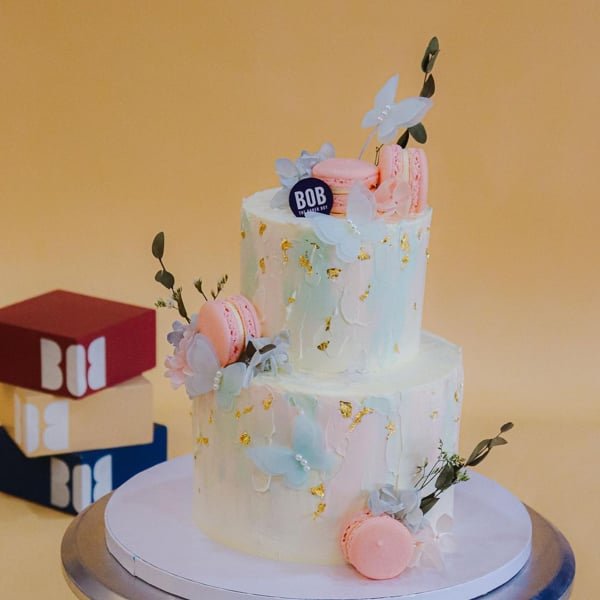 They do cupcakes as well. Hop onto their website to get a load of all their attractive eye-catching designs if you don't have a specific design in mind and need some inspiration.
Service is speedy and they care work on relatively short notice too (e.g., 2 days) too with same day or next day delivery.
4. Mother Dough
With a name like Mother Dough, it's safe to assume that this bakery in Singapore dabbles mostly in pastries and bread (including sourdough bread).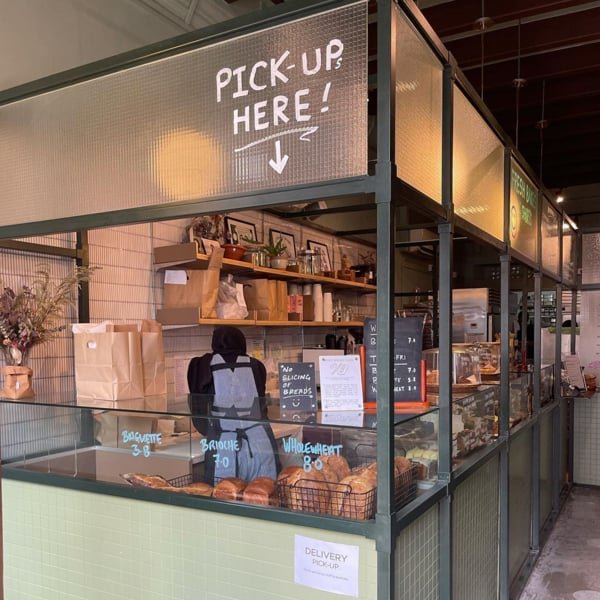 It is a very nice café to have a sandwich, a Cinnamon brioche roll, sourdough baguette, or croissant, with coffee on the side.
Fair warning, their signature almond chocolate croissant is mighty decadent and dense – not for those watching their weight!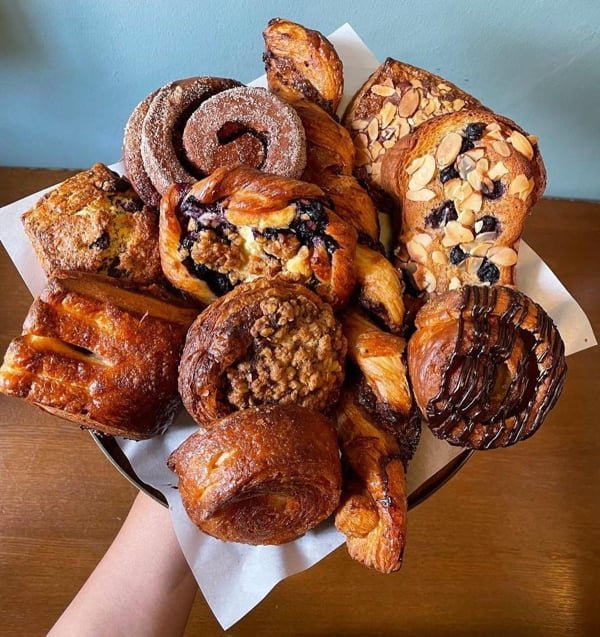 Other great items on the menu include dark chocolate sea salt sable, sticky caramel date cake (not too sweet), lemon drizzle cake, and earl grey scones.
There is usually a queue and popular items sell out fast!
5. Konditori Artisan Bakes
Prices are pretty steep at Konditori Artisan Bakes but that does not deter the ever-present line at this Singaporean bakery in this area (Bugis/ Arab Street).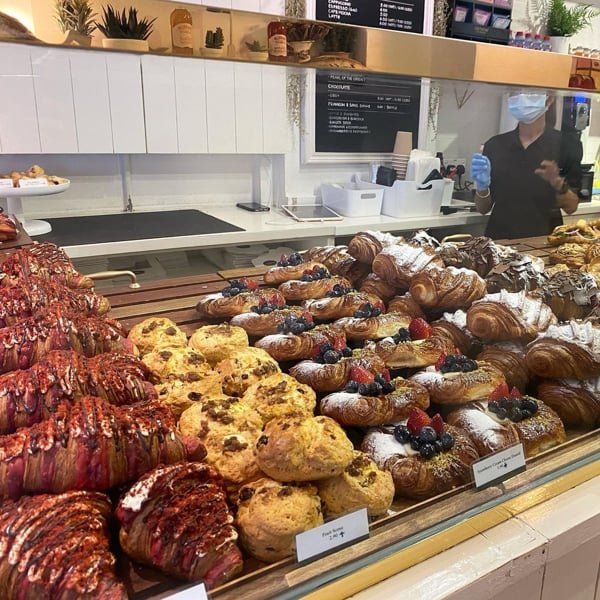 They have excellent large croissants that are both buttery but airy and flaky at the same time. These come in a variety of flavors including red velvet, black forest, and black pepper beef.
Aside from croissants, you should try their crème brûlée, basil pesto sourdough, chouqette, gouda and ham sandwich, quiche, etc.
Note: No dine in here
6. The Bakehaus
While you can't dine in at The Bakehaus (which is a pity since it is a very quaint Singaporean bakery shop):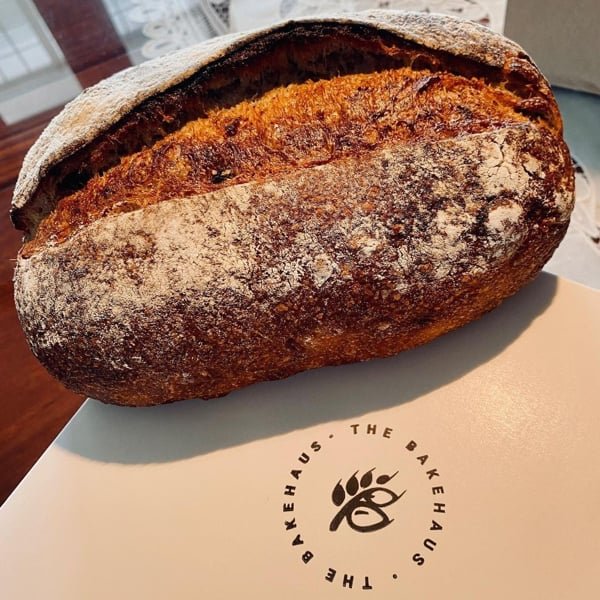 They have some pastries that taste like they're straight from Europe – take their Viennoiserie for example.
Their baguettes, croissants (baked with butter), ciabatta, kouign amann, chocolate tarts, bagels, etc are all worth having if you don't mind the higher price range.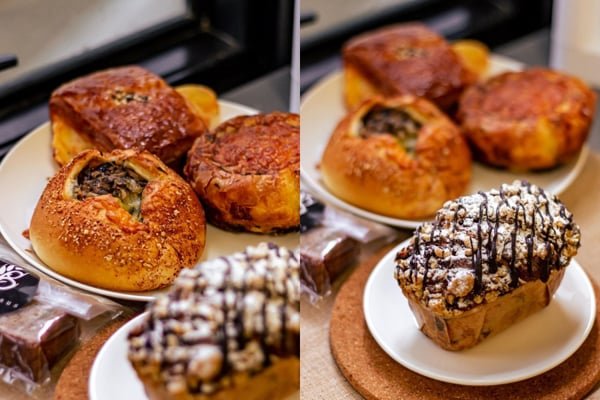 But what The Bakehaus is truly known for (besides their croissants) is their sourdough bread which is affordable and delicious! Weekends see special flavors too.
7. Bread & Hearth (Keong Saik Rd)
Croissants reign supreme as this Singaporean bakery too. They have flavors like raspberry croissant as well as the classic pain au chocolat. Their croissants in general, lean towards a dry texture.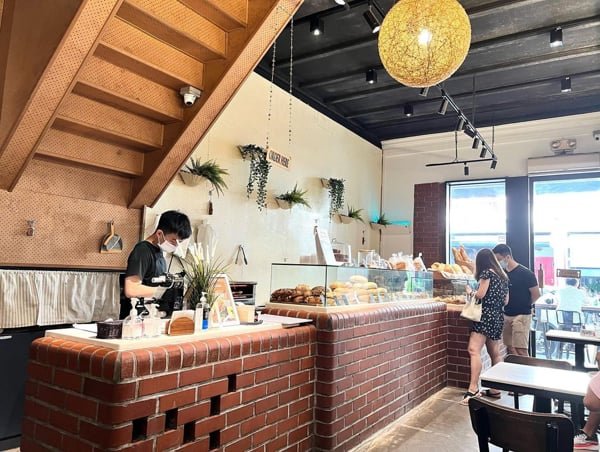 Other must-tries on the menu include their cinnamon rolls, quiche, focaccia bread, Danish, and craft burgers.
Their savory bakes and sandwiches (try the lemon chicken sandwich) make for a wonderful brunch. And thus, this branch is a well-known brunch spot, it may be busy even on weekday mornings!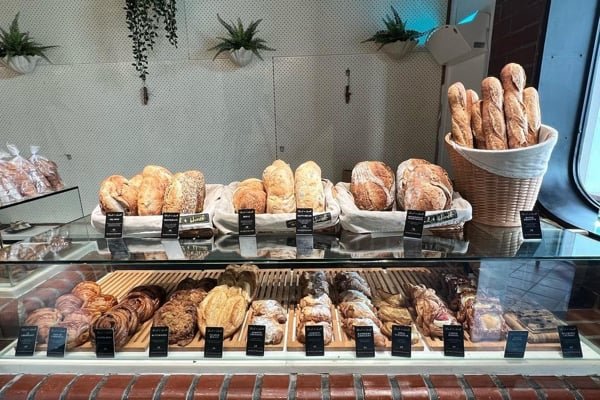 Plus, those with pets will be happy to know that you can bring along your pets with you to dine at this pet-friendly bakery in Singapore.
Note: Bread & Hearth only accepts the following payment methods besides cash – Visa, Mastercard, or PayNow.
8. Artisan Boulangerie Co – 118 Killiney
Even though this is a bakery, Artisan Boulangerie Co (118 Killiney branch) has a credible lunch menu too. Their coffee (e.g., mocha, flat white, etc) does not disappoint either although servings are small.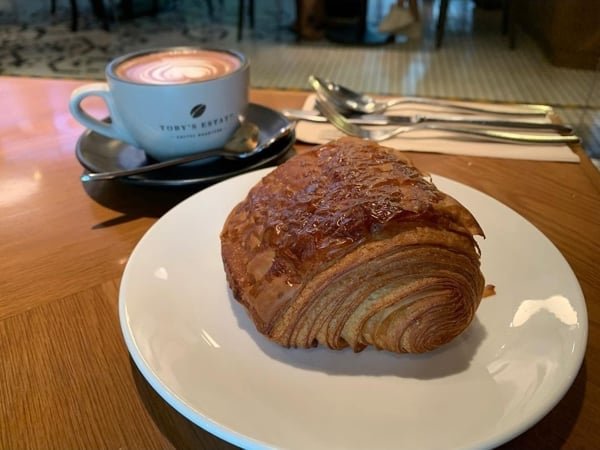 Moreover, dining in at this Artisan Boulangerie Co (or ABC) branch is pleasant with the spacious environment. They do have seating indoors and outdoors.
Try their croissants (they have chocolate banana), savory paninis, croissant sandwich, beef burger, etc. Mind that it is easy to rack up a hefty bill (~$50 for 2) unless you're going for their breakfast or lunch sets!
9. Starter Lab Bakery
Starter Lab Bakery has delish grilled cheese sandwiches with specialty bread. Both their lemon rosemary sea salt and country sourdough bread are highly recommended!
Rose mascarpone toast is another winner at Starter Lab Bakery. Along with avocado on toast with eggs.
Coffee (especially the flat white or black) is equally good and so it's not uncommon to have to wait if you want a seat (they only have 20 or so seats inside).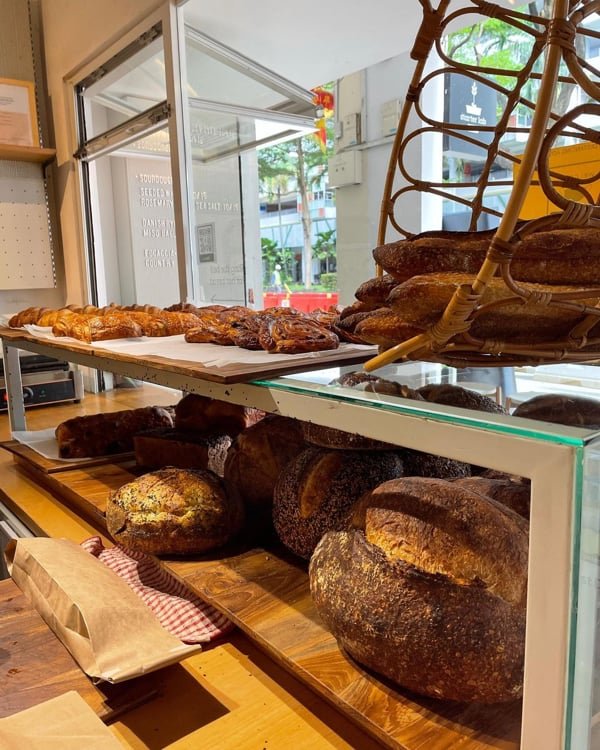 Granted, it's not cheap to eat here but the comfortable ambiance and good service help to justify the prices.
10. Nick Vina Artisan
Down in Icon Village:
Savory bites, pastries and specialty loaves (they can slice it for you) like 100% rye bread or classic sourdough are the highlights at Nick Vina Artisan.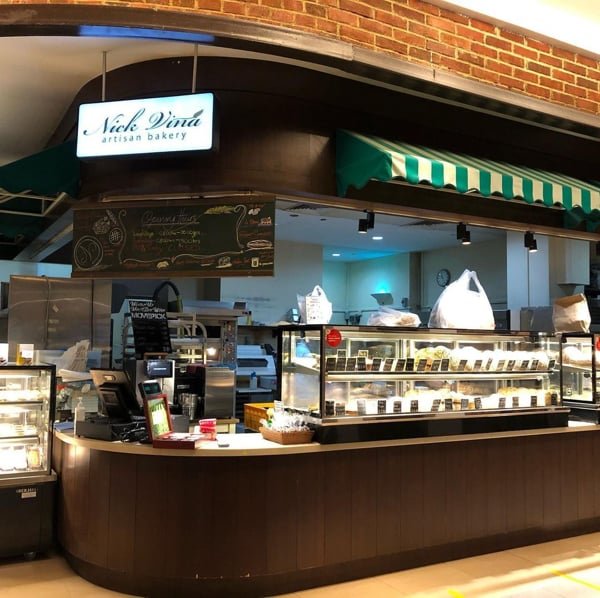 Interesting items include vollkornbrot, margherita sandwich, kanelbullar, panettone, pistachio financier and lemon tart.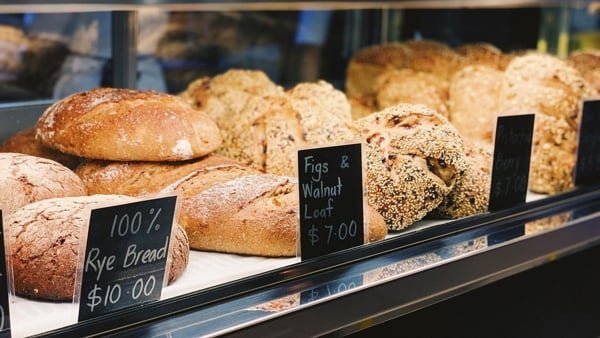 Since the coffee and sandwiches (during lunch time) are decent too, you might want to get yourself a seat and dine in!
11. Whiskdom Cookies And Brownies (Alexandra Central)
There's sadly no option to dine in at this hidden gem of a bakery in Singapore. But Whiskdom Cookies and Brownies at Alexandra Central do offer some quality baked goods (and high prices).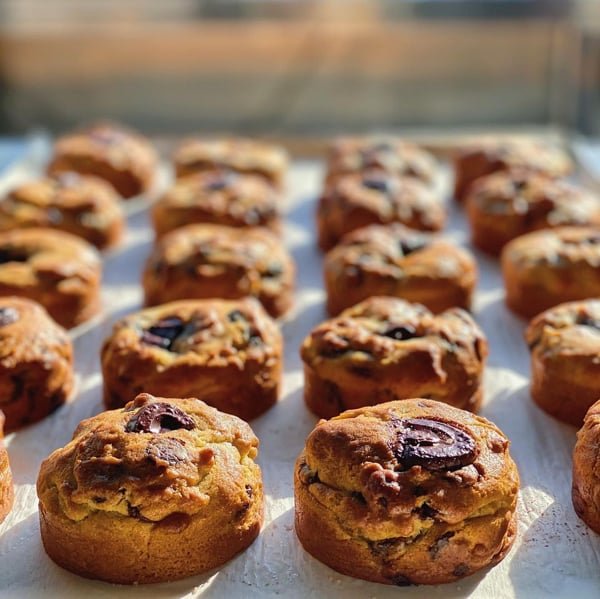 Cookies and brownies are hands down their best sellers. The cookies come in many different flavors (they add new flavors all the time) have an irresistible gooey texture to them. While the brownies are similar to mini lava cakes!
To pair your choice of cookie or brownie, you can get an Americano or even a cup of earl grey tea!
Verdict
Most of these highly rated bakeries in Singapore specialize in croissants and a few are loved for their sourdough bread. We made sure to include some options for customized cakes, as well as cookies and brownies.
However, not all of these bakeries accept dine in though so do your research carefully.
For more options on birthday cakes or other cakes for various occasions, try these Singapore cake shops.