11 Small Kitchen Ideas – For Better Storage And Organization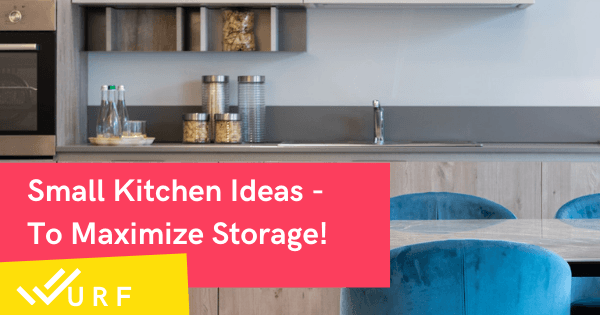 You don't need a big kitchen to have an efficient cooking experience. A tidy but small kitchen can be just as inviting! Yes, even if it's a typical HDB kitchen.
We have a list of things you can do that will make a visible difference to your kitchen! And you can even execute some of them right after you read this post!
None of these ideas requires a large budget or a major renovation either! So let's get to it!
1. Pare Down (Declutter)
If this sounds like we're calling you out, we are!
You need to get everything in your kitchen out into one area so you can sort them into the following categories:
Most used
Not used that often (maybe once or twice a month)
Seldom or never used (in years)
There's a high tendency to have more cups, plates, and bowls than what your household actually needs.
And don't forget the impulsive appliance purchase you made after being swayed by a very persuasive sales person!
With the last category, be ready to keep these aside for selling on Carousell, donating, or for gifting to friends and family.
Maybe you don't even need such a huge fridge. And would be better off with a mini bar fridge in Singapore!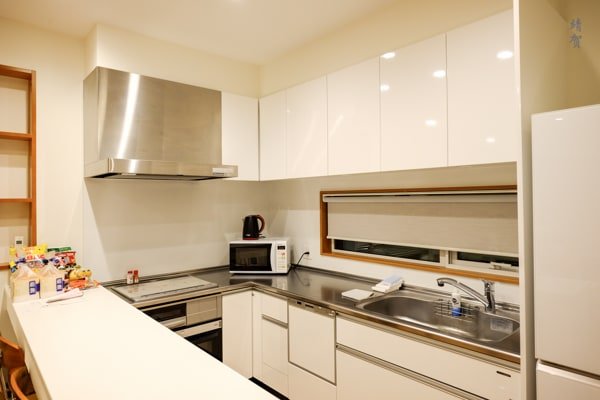 2. Allocate A Home For Each Item
In relation to the other points we will cover, this important step can prevent the occurrence of the infamous junk drawer! Add physical labels if you must!
Take some time to plan where to put things that you often use vs things that you don't.
You don't want to put your favourite pan up in the highest shelf!
And if you think that this sounds like a tedious and impossible task, you probably have to go back to step 1!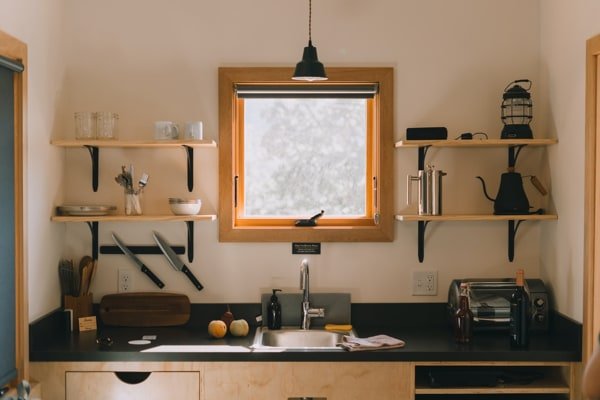 3. Keep Clutter Out Of Sight
With the exception of your most used items, you should try to hide the ones that you don't often use in your drawers and cupboards.
The less attractive items can also be hidden. For example, the food waste bin underneath the sink via hooks over the cupboard door.
If you have open shelves, you can take a cue from the Japanese, and use curtains on a tension rod to hide clutter from sight!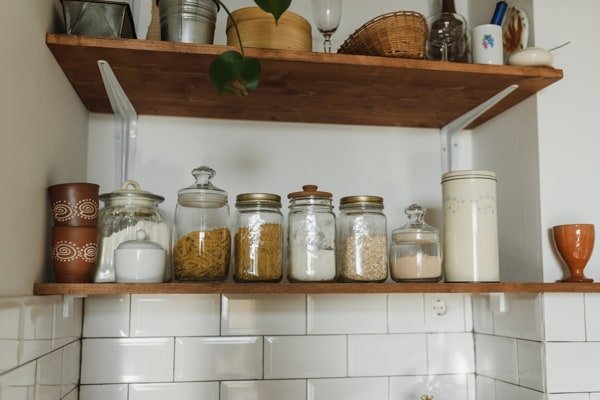 4. Go Vertical
We're guessing your kitchen has some empty wall space above the counter. Installing a rod, peg board, or shelf (or a smart combination) is one of the best ways to save space in a small kitchen!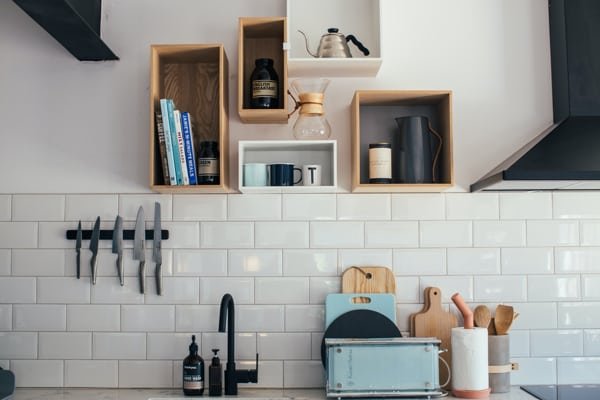 If you don't want to resort to installing, you can get a shelf or standing rack that can sit over your sink or microwave oven!
Either way, it will free up more counter space for food preparation! And you will not have to rummage through your drawers to find what you need!
You can put your frequently used cooking seasonings and spices of top of the shelf. Or hang your most used cooking utensils with S-hooks from your new rail!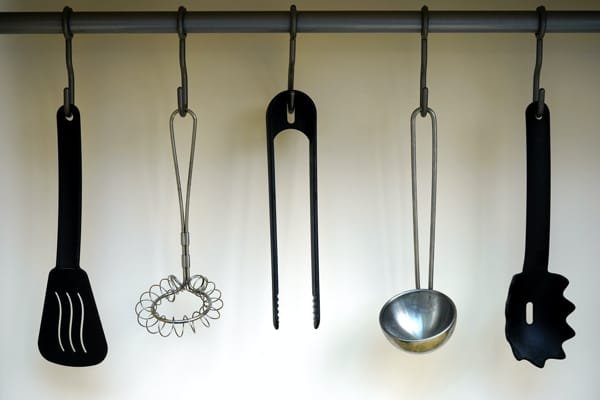 Tip: Take a look at the IKEA Grundtal kitchen series for more inspiration!
5. Add Hooks
On that note, it never hurts to have more hooks around! You can put these at the side of your cupboard or stuck to your wall tiles.
Hooks that rely on both a suction mechanism and a sticker are most reliable. There are also hooks specifically made to be hug on the inside of your cupboard doors (i.e. over-the-door hooks)!
You can even hang magnetic hooks on your fridge!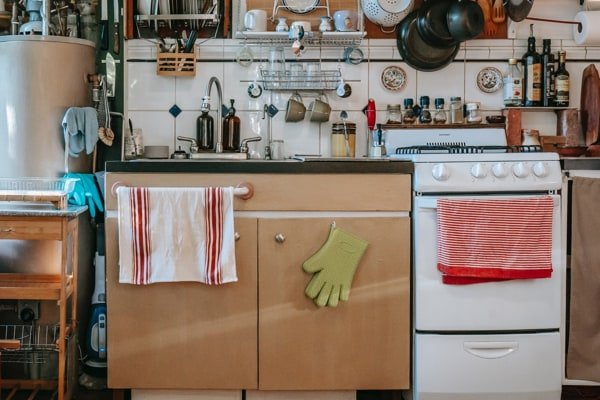 6. Use Drawer/ Cupboard Dividers
There are nice and very affordable plastic storage boxes you can get from Daiso.
But you can also use transparent take out boxes or any box for that matter! Even clean milk cartons will work!
Similarly for cupboards, there are mini shelves you can get/ create so that you can stack more crockery. File organizers and magazine holders make wonderful homes for pot lids and baking trays!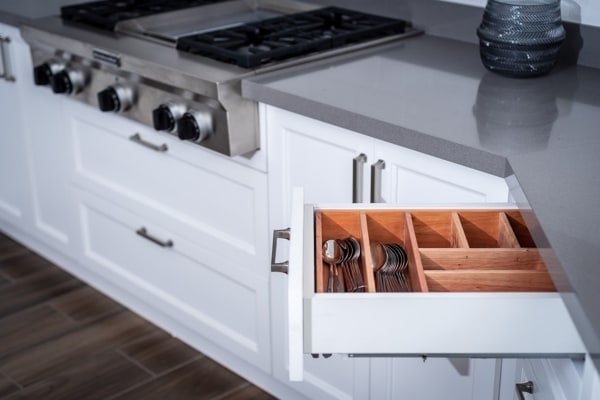 7. Transform Unusable Spaces
You can do this cheaply in a few ways:
A slim trolley that can fit in a narrow gap (most often between the fridge and counter)
Putting a Lazy Susan turntable (single or double tier) in a corner or high cupboard
Using an adjustable tension rod under the sink to hang bottles and cleaning supplies
Magnetic containers, hooks, or shelves can be stuck onto your fridge (or wall) for more storage
Baskets that are designed to hook underneath open shelves
Magnetic wall strip for knives instead of a chunky wood block
A dish rack that can be rolled up when not in use
A chopping board that fits over your sink
Corner shelving (Requires installation)
8. Add Light
A dark kitchen looks smaller. The shadows accentuate clutter and can also affect your mood.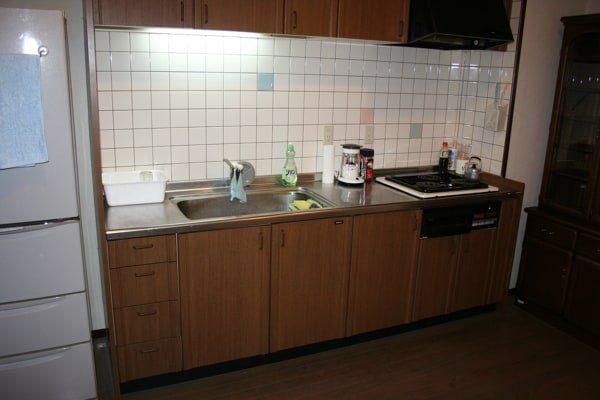 Furthermore, have you ever seen a poorly lit kitchen in Ikea showrooms?
One of the ways that they make their kitchen so appealing is because they have ample light!
Some ideas you can try (that don't involve hacking a hole in your wall):
Considering moving your laundry rack if it's blocking daylight from entering your kitchen
Adding inconspicuous LED strips underneath your cupboards
Changing out existing lights from incandescent orange to daylight white
Getting transparent curtains
Giving your kitchen a paint job in a light wash of color (white is the safest)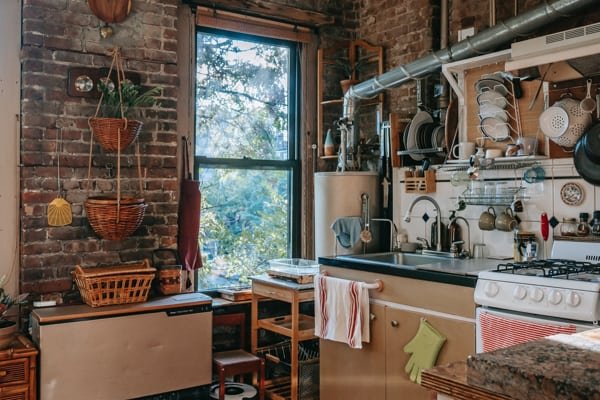 9. Stick To One Color
Appliances that match give a uniform look to your kitchen. If you look at Muji-inspired interiors, white appliances with no logos or labels are generally favoured.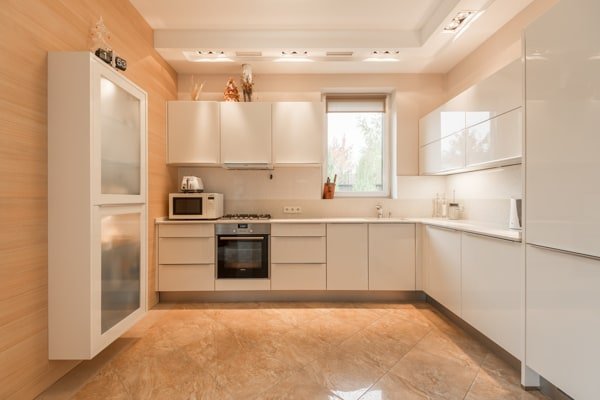 But we are not asking you to throw away your current appliances! Keep them for as long as they work (the planet has enough trash as it is).
However, if you are planning on getting new appliances, try to get them in the same style or color as your existing appliances.
In a similar manner, food containers from the same set look more organized too. As opposed to a collection of mismatched colourful ones. That you have accumulated over the years from promotions!
PS: Empty food containers take up less space if you store the containers separately from the lids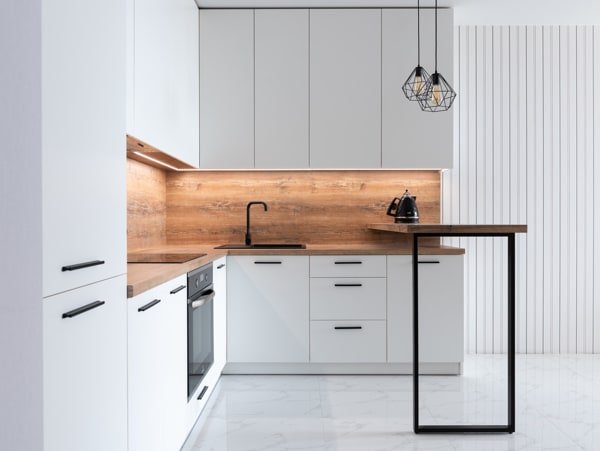 10. Double The Function
Multi-purpose appliances can make a difference to your counter real estate!
A mini toaster oven or the best microwave oven (that is multifunctional). Or a multicooker instead of a pressure cooker, air fryer, and a slow cooker!
Some food processor kits can even replace a mixer or blender!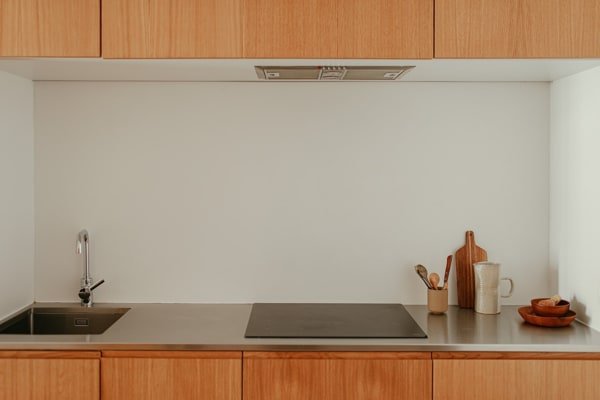 11. Clean Less But Often
To stay on top of your kitchen clutter, clean up after each cooking session:
Put things back where they should be
Don't leave things in the sink
And wipe down the counter
That's it and these little actions can go a long way into preventing a messy kitchen! Don't forget to get your household involved!
Verdict
A kitchen is not just functional. And can be a source of joy in your home too! Take these small kitchen ideas and create your dream kitchen from your current kitchen!