Is It Worth Queuing For Uptown Malaysian Nasi Lemak In Singapore?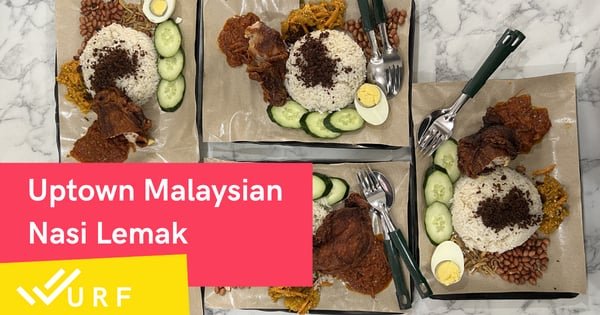 Uptown Malaysian Nasi Lemak at Telok Ayer Street is famous among foodies. For many, this hawker stall serves one of the best valued nasi lemak in Singapore!
Hence, there's often a long line for it during lunch time (they also take orders online). And the food sells out by the afternoon.
What else should you know about this place? Find out in this post.
Food At Uptown Malaysian Nasi Lemak
Besides the nasi lemak and accompanying sambal, there are delectable sides like a sweet and spicy achar, anchovies (ikan bilis) as well as fried chicken.
Rendang beef is also available on the menu. In fact, there are 6 different sets of nasi lemak you can choose from the menu!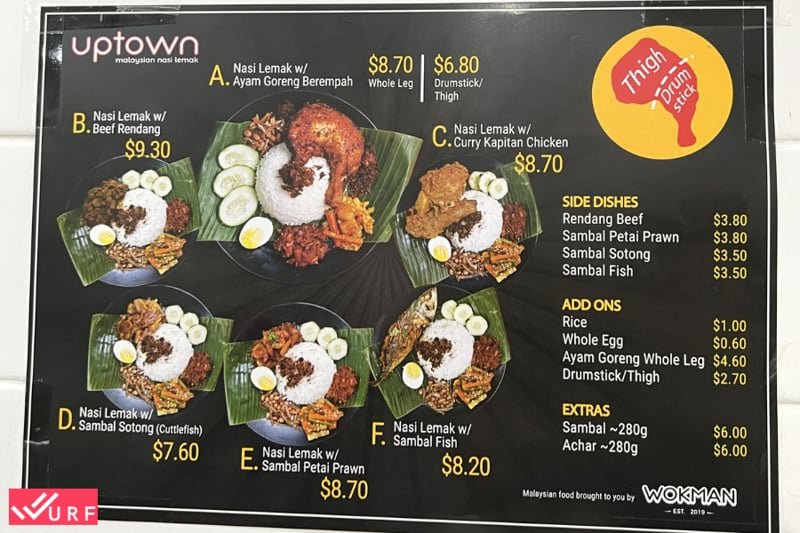 Mind that the spiciness level at Uptown Malaysian Nasi Lemak is noticeable. But if you're used to spicy food, you may think that the sambal spiciness is just mild.
It is in our opinion, more sweet than spicy. Much like in Malaysia.
Note: They do have sambal petai that you can order separately and that is worth trying
The fried chicken (ayam goreng berempa) is drier than some would like but it's crispy on the outside. And the chicken can be juicy on the inside.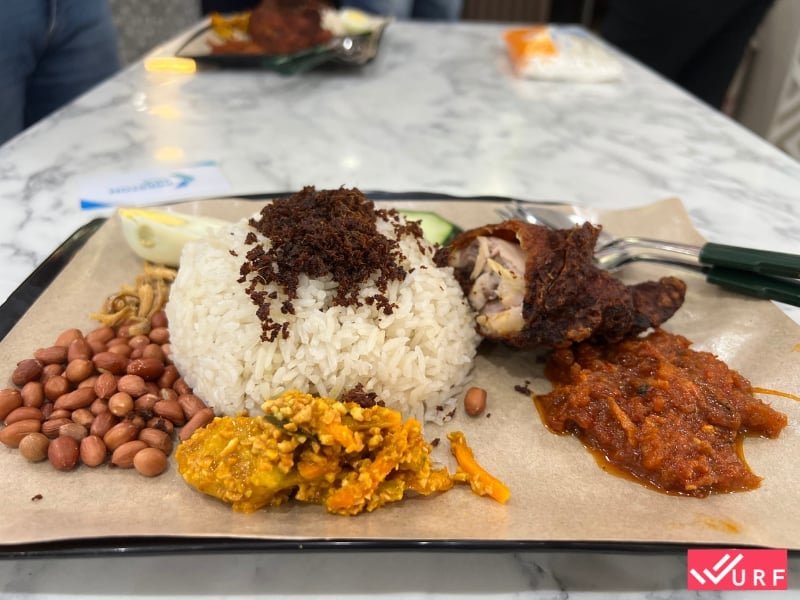 In spite of the pleasing sides and portions though, we find that the rice (nasi lemak) isn't as fragrant as it could be. It doesn't taste strongly of coconut milk although there's still a hint of santan flavor.
Dining Environment
If you choose to dine-in, Uptown Malaysian Nasi Lemak has limited open-air seating (like other coffee shop stalls in Singapore) in front of the stall.
There is no air-conditioning at this halal-certified nasi lemak stall in Singapore however.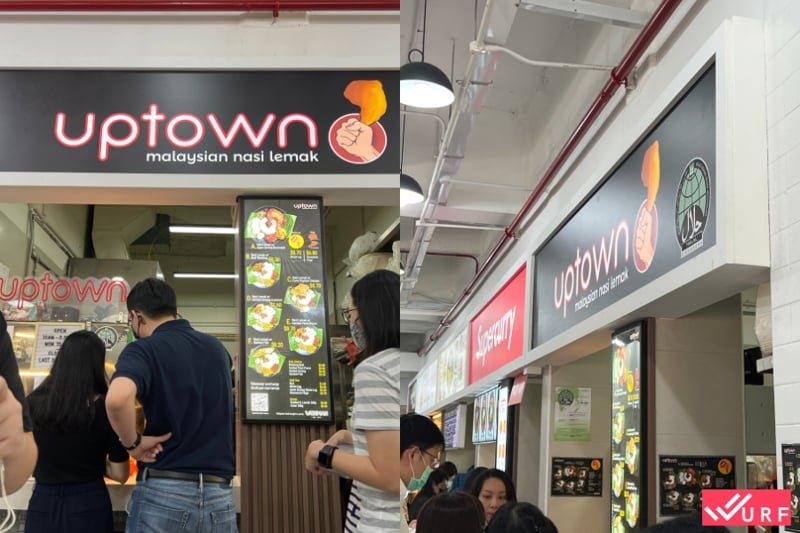 Service
Staff at Uptown Malaysian Nasi Lemak are used to the long weekday lunch queues, and so the line does visibly move.
Still, it's best to go around 11:30am before the lunch crowd arrives.
Otherwise, the staff are up to their necks in fulfilling takeaway orders as well as dine-in orders. They haven't yet figured out a way to inform the rest of the line if a certain side has run out either.
Pricing
Uptown Malaysian Nasi Lemak always attracts a hefty lunch crowd, more so on weekdays (they can sell out after 1pm) than weekends. This is because the prices are relatively affordable for this area.
Priced from SGD7 to SGD9, a plate of nasi lemak at Uptown Malaysian Nasi Lemak seems very worth it for what you get! Portions are large as well.
If you get a whole chicken leg for the nasi lemak set that comes with ayam goreng berempah, it will cost you SGD8.70 vs SGD6.80 for a chicken thigh or drumstick.
No matter which set you decide upon, you can also add on extra rice, egg, chicken, sambal, or sambal sotong, etc for SGD1 to SGD6 (additional sambal or achar costs SGD6).
For takeaways, expect to pay SGD 0.30 more.
Verdict
If you want to compare Uptown Malaysian Nasi Lemak to nasi lemak from Malaysia, it's differs slightly in some aspects (e.g., the midly sour achar).
But the taste of sambal at Uptown Malaysian Nasi and the fact they include hardboiled egg is familiar to Malaysians.
So we would recommend trying the Uptown Malaysian Nasi Lemak at least once if you have a hankering for nasi lemak, want a filling meal that isn't too expensive, and happen to be in the area.