9 Best Curtain Cleaning Services In Singapore – Easy & Cheap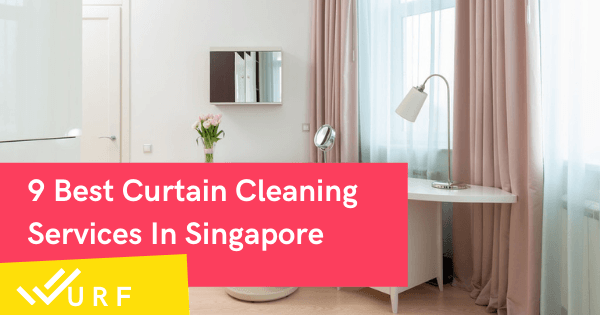 Before you give up on your stained curtains, furniture, carpets, etc, call up one of these curtain cleaning services in Singapore!
You'll be surprised at what they can do! Some even offer pickup and delivery for dry cleaning and laundry. Or on-site cleaning!
Spring cleaning or house moving has never been easier as well! Take a look at these reliable and reputable curtain cleaning services!
1. Netco Services
Netco Services cover more than just residential properties. They cater to commercial sectors too. Whether it's professional cleaning (e.g. for carpets, jet wash, curtains, etc) you need. Or painting!
They even offer aircon servicing and electrical or handiwork services! Netco Services is pretty much a one-stop service provider for any property owner!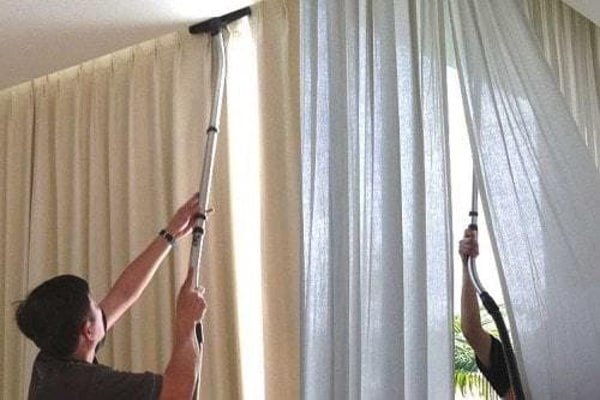 Which is super convenient if you are moving soon and want to get your new place spruced up first! And the old home cleaned up for selling or renting out!
Their team is punctual, polite, and hardworking. There will be a supervisor to manage the job too.
You can book them through their online form or reach them on Whatsapp. Last minute orders are possible!
Services: Curtain & Carpet Cleaning
Areas of Expertise: Professional Cleaning, Aircon Servicing, Ducting, Painting, Electrical and handy works services
Address: Netco Engineering Pte. Ltd, 1 Soon Lee Street, #05-04 Pioneer Centre, Singapore – 627605.
Opening Hours: 24/7
Phone: +65 69127086 / +65 82436557
Whatsapp: +65 82436557
Fax: +65 62504070
2. Curtain Cleaning
As per their name, Curtain Cleaning specialize in cleaning curtains and other window furnishings like blinds. Or drapes in general.
Besides curtains, there is dry cleaning and laundry service for suits, coats, evening dresses, bedding and other upholstery in your home, including rugs and plush toys!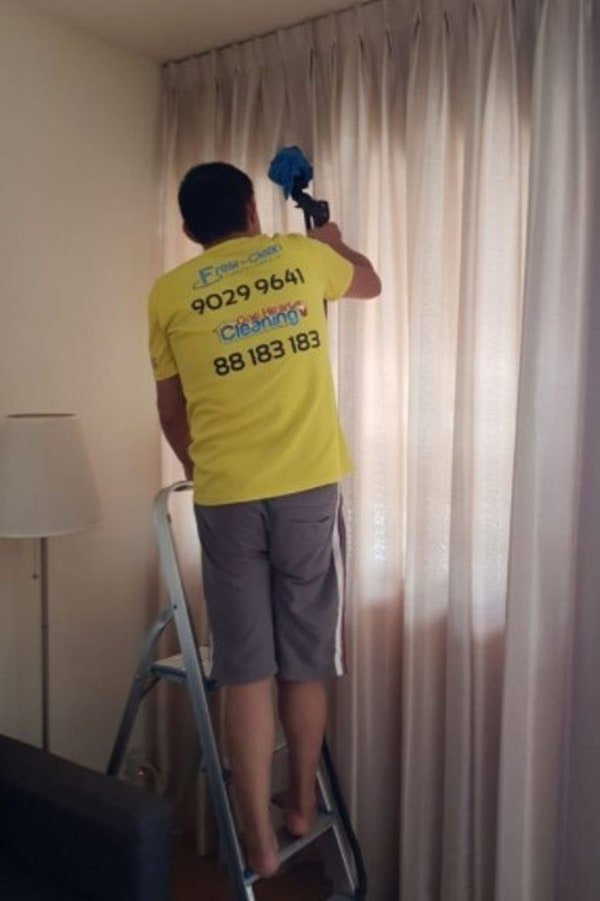 We like that their prices are presented out clearly on their website.
They accept both commercial and residential bookings for onsite curtain cleaning (or general cleaning) too.
In general, their prices are very reasonable. And they are quick! But to avoid any mishaps, avoid complicated instructions as the instructions sometimes don't get to the workers!
Services: On-Site Curtain Cleaning, Curtain Dryclean, Home Cleaning & Dry Clean and Laundry Services
Area of expertise: Full, thorough dry cleaning of curtains, blinds and other drapery-related coverings
Address: 51 Old Airport Rd, #02-03, Singapore 390051
Contact: +65 88185185
Cleaning Hours: 10am – 8pm
Enquiry: 24/7
Email: [email protected]
3. Dryclyn Express Joo Chiat
Dryclyn Express Joo Chiat actually has 4 outlets. And a whole lot of experience in the industry! They've been offering their professional dry cleaning services for over 40 years!
The Dryclyn Express Joo Chiat outlet is unique as it is the only outlet that is a self-service coin-operated laundromat. Which is conveniently open for 24 hours daily!
Prices for cleaning are per kg with no hidden charges. Blackout curtains can cost $10/kg. They do dry cleaning for carpets too.
For any special requests that are not listed in their price plan, you can call them up!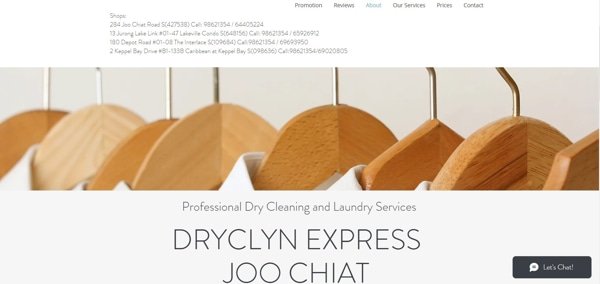 If you don't have the time to stop by any of their 4 outlets, they do have a pickup and delivery service at an additional cost of $40. This delivery service also applies to their self-service Laundromat at Joo Chiat!
Their wash and fold service is for those that don't even have the time for regular laundry!
Services: Curtain Dry Cleaning, Towel Laundry, Wash & Fold, Coin Laundry
Other services:

Self Service Coin Laundromat : 24 hours (Joo Chiat)
Laundry Drop-Off : 24 Hours (Lakeville / Interlace / Caribbean)

Area of expertise: Professional Laundry Services & Coin Laundromat
4 Outlets:
284 Joo Chiat Road S(427538). Daily from 11am to 8pm; Closed on Saturdays.
13 Jurong Lake Link Lakeville Condo S(648156). Daily from 11am to 8pm; Closed on Mondays
180 Depot Road #01-08 The Interlace S(109684). Daily from 11am to 8pm; Closed on Thursdays
2 Keppel Bay Drive #B1-133B Caribbean at Keppel Bay S(098636). Closed on Tuesdays, Wednesdays & Sundays
Contact:
Joo Chiat Road: +65 64405224
Lakeville Condo: +65 65926912
The Interlace: +65 69693950
Caribbean at Keppel Bay: +65 69020805
4. Cotton Care
If you run a hostel, you can trust Cotton Care to wash and iron your bed linens. Reviews for this-curtain cleaning service in Singapore praise their attentive customer service and friendly honest staff!
They will call you up or sms you if there are any updates or issues.
Their pickup and delivery service is punctual with affordable pricing. Besides laundry services and dry cleaning for curtains, Cotton Care cleans carpets (pickup or on site) as well.
Even during busy periods (e.g. CNY), they are still very reliable! Many swear by them as their go-to laundry service for years!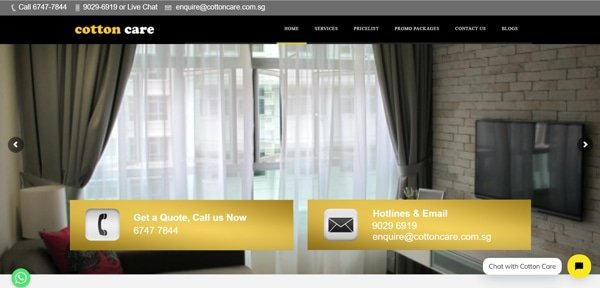 Services: Laundry and Dry Cleaning, Curtain Cleaning, Carpet Cleaning, Upholstery Cleaning, Mattress Cleaning, Commercial and Industrial Laundry
Other services: Blinds Fabrication, Curtain Fabrication & Sofa Re-upholstery
Areas of Expertise: Laundry & dry cleaning, curtain dry cleaning, carpet and rug cleaning, mattress cleaning & disinfecting services
Address: 53 Ubi Avenue 1 #01-29, Paya Ubi Ind. Park Singapore 408934
Operating hours:

Monday to Friday, 8:30am–8:30pm
Saturday, 8:30am–4pm
Closed on Sundays

Office: +65 6747 7844
Hotlines: +65 9029 6919
Email: [email protected]
5. Alpha Kleen
Here's a curtain cleaning service in Singapore that also cleans leather sofas and car interiors! Alpha Kleen began in 2010.
With various onsite cleaning services – carpets, windows, mattresses, curtains, and other upholstery. Not necessarily within residential spaces either.
They work on Saturdays (from 9am to 6pm, same as on weekdays) but are also on call 24/7 – you never know when you may get a huge stain on your expensive carpets!
You'll be impressed with their equipment and thorough but speedy service! If you have deep stains to get rid of on your upholstery (sofas and mattress especially), you can rely on them!
Prices are within reasonable expectations. And you'll likely want to repeat their service next year after your first experience!
Services: Rugs & Carpet Cleaning, Leather Sofa Cleaning, Curtain Cleaning, Mattress Cleaning
Areas of Expertise: Mattress, Curtain, Sofa and Carpet cleaning
Address: First Centre #06-07 50 Serangoon North Avenue 4, Singapore 555856
Operating hours: Monday – Saturday, 9am – 6pm; Closed on Sundays
Contact: +65 8143 3000
Email: [email protected]
6. ChemDry
ChemDry is another long running curtain cleaning service in Singapore (since 1977). You can find them on Genting Lane.
Their cleaning service is unique because of their hot carbonating equipment and cleaning solution.
That can clean carpets and other upholstery effectively without soaking them with moisture (which encourages bacterial growth (and odors)! Or without leaving any soapy residue!
If you have mold infestation in your home, flood damage or stubborn stains (e.g. wine stains, paint, cat urine, vomit, grease, etc ), they are confident that their trained technicians can resolve them for you!
PS: They don't guarantee complete stain removal but it will be lighter in the worst case scenario!
Pet owners would do well to take note of this professional cleaning service! Their quotations are surprisingly affordable!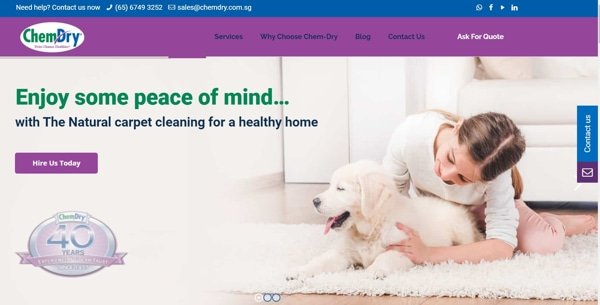 Experience: 40 years (since 1977), have franchise in over 50 countries
Achievement: Endorsed and green certified carpet cleaning, and sofa cleaning
Services: Carpet Cleaning, Sofa Cleaning, Curtain Cleaning, Pet Urine Removal, Flood Damage Restoration, Specialty Removal
Areas of Expertise: Carpet, fabric & furniture cleaning services
Address: 85 Genting Lane, #04-03 Guan Hua Building, Singapore 349569
Operating hours: Monday to Friday, 8:30am–5:30pm; Saturday, 8:30am–1:30pm; Closed on Sundays
Contact: +65 6749 3252
Email: [email protected]
7. Fresh & Clean
You might not want to leave your favorite garments here as there are some complaints about how they handle expensive fabrics.
But you can rely on Fresh & Clean to get your curtains dry cleaned in time for Chinese New Year!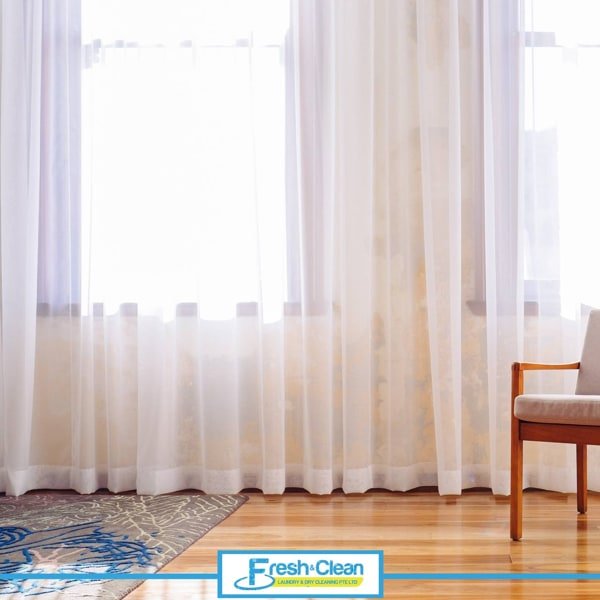 And if you really need a cleaning service and the rest are closed because of public holidays, Fresh & Clean is usually open! They have 4 branches too.
Their prices and services are listed plainly on their site.
You might notice that the price list looks almost identical to what Curtain Cleaning offers. And as it happens, they are under the same company (Global Dot Com Pte Ltd).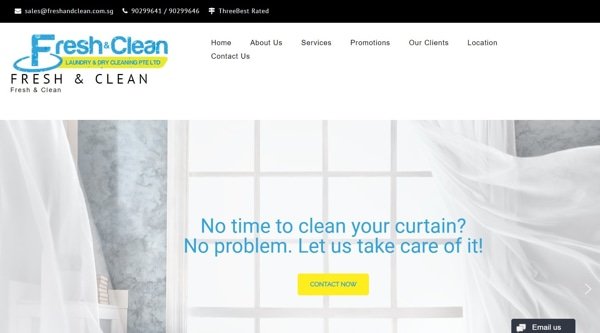 Services: Laundry/ Dry-clean, Home Cleaning/ Onsite Cleaning,
Areas of Expertise: Business attires, Costumes/ Gowns, Casual/ Streetwear, Curtain Dry cleaning, Uniforms/ company requirements
Outlets:

280 Woodlands Industrial Park E5 #01-07/ 08 Singapore 757322. Daily 10-10pm
The Sail @ Marina Bay #B1-09 Singapore 018987. Weekdays 9am-9pm, Weekends 11am-6pm
Marina One B2-74 Singapore 018936. Monday to Saturday, 9am-6pm (Lunch 3-4pm), Closed on Sundays
Blk 85B Toa Payoh Lor 4 #01-328 Singapore 312085. Daily from 9am-6pm (Lunch 3-4pm)

Contact: +65 90299641 / +65 90299646
Email: [email protected]
8. Reward Laundry
Reward Laundry has an unusual service that other curtain cleaning services in Singapore don't have:
That is their wedding services – which includes wedding gown restoration and preservation! You can even keep your beloved wedding gown at their temperature and humidity controlled storage!
In addition, Reward Laundry have dry cleaning and laundry delivery services. As well as on-site cleaning for curtains – one of their most popular services!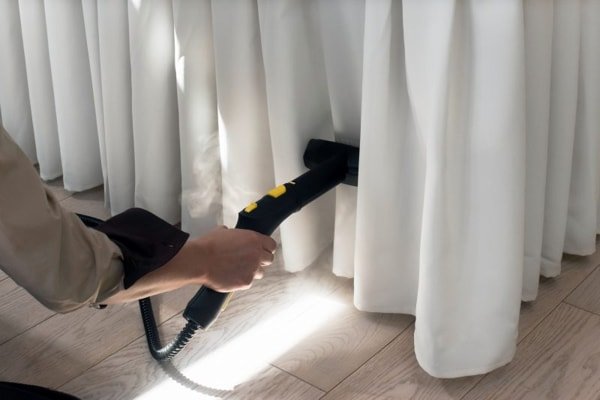 Their dry cleaning curtains cost in Singapore with and without dismantling/ installation vary from $12 to $18/kg and $8 to $15/kg respectively. Depending on the type of curtains too (i.e. day, night, blackout).
If you have any old garments that have not been worn in years because they look bad, Reward Laundry might just be able to restore them to brand new conditions!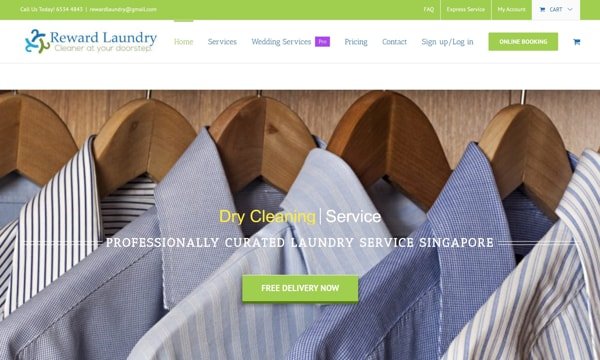 Services: Dry Cleaning & Laundry Service, Curtain Cleaning (Popular), Ironing Service, Premium Wedding Cleaning, Power Load Wash and Stains Removal Laundry Service
Other services: Island-wide Laundry Delivery: Everyday (Except Public Holiday): 10am to 7pm
Areas of Expertise: Business attires, Costumes/ Gowns, Casual/ Streetwear, Curtain Dry cleaning, Uniforms/ company requirements
Address: 1 Raffles Link, #B1-06 City Link Mall Singapore 039393
Operating Hours: Monday to Friday: 9am – 6pm. Saturday & Sunday: 10am – 6pm. Closed on PH
Contact: +65 6534 4843
Whatsapp: +65 9653 4455
Email: [email protected]
9. Eazihome Laundry & Dry Cleaning
If you live around Bukit Batok Street or Compassvale Link in Buangkok:
Eazihome Laundry & Dry Cleaning is very accessible. And their service is commendable too.
Choose between their Curtain Dry Clean without Removal & Installation Service ($8/kg)or Curtain Dry Clean with Removal & Installation Service ($12/kg)
The latter means that they will send one of their employees to your home with a ladder and bags to take down the curtains for you.
They'll also put the drapes back up for you after they have been cleaned!
For the delivery and pick up service, there is a minimum order fee of $80. But elsewise, delivery is free throughout the island!
Other than curtains, they offer the usual laundry and ironing services. They do take curtains, winter wear and formal attire too. You can see their detailed pricing on their site.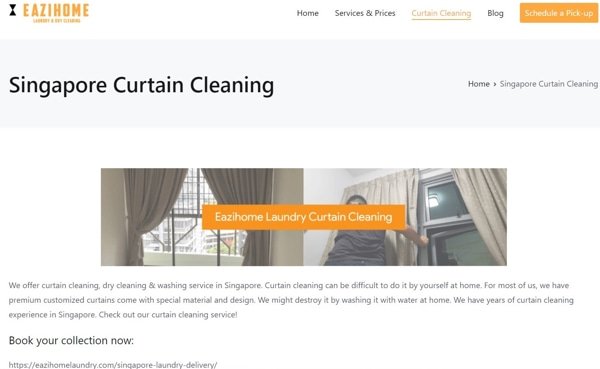 Services: Dry Cleaning Service, Laundry Wash & Iron Service, Singapore Curtain Cleaning and Laundry Delivery & Collection
Outlets:

Blk 159 Bukit Batok Street 11, #01-186, Singapore 650159. Monday to Saturday, 10am–7pm; Sunday, 10am–4pm
275D Compassvale Link, Buangkok MRT Exit B, Opposite NTUC FairPrice, Singapore 544277. Daily from 10am–7pm

Contact: +65 91691185
Email: [email protected]
Verdict
The options for the best curtain cleaning service in Singapore are numerous! To help you narrow down your choice, consider a service that is located closer to your home!
For emergencies (24/7 services), you can try Netco Services or Alpha Kleen! For extremely stubborn stains or smelly odors, you may want to call up ChemDry!
And if you still think your curtains are beyond saving, you may want to know where to buy curtains Singapore!