11 Best Curtains And Blinds Shops In Singapore – Custom Fit For Less!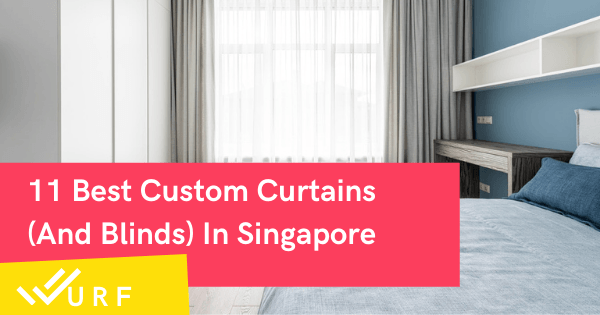 For landed or high-rise living homes, curtains in Singapore are more than just aesthetic!
You can cut some UV rays entering your home, stop the prying eyes of your neighbor(s), or enhance or complement the existing interior in your home! They can help with soundproofing too.
Here are some highly rated curtain and blinds shops you can find in Singapore! For custom fits, ready- made curtains, or designer curtains!
1. The Curtain Boutique
With a name like The Curtain Boutique, it may sound like they only exclusively deal in curtains. But The Curtain Boutique also offers blinds, and window films.
ZipTrak installation is one of their more popular services!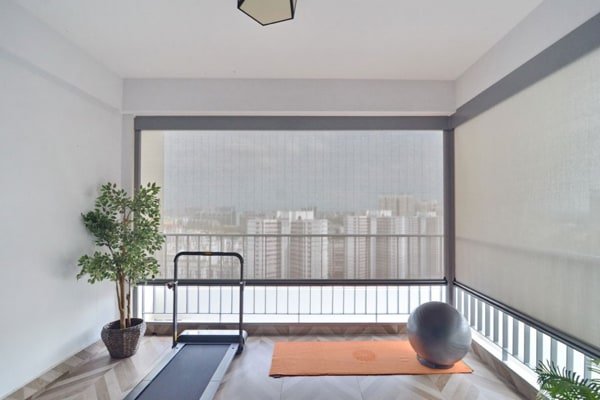 Of their curtains, they have sheer day curtains. And thicker (triple-layer) blackout curtains for bedrooms or wherever you want to block 100% of sunlight.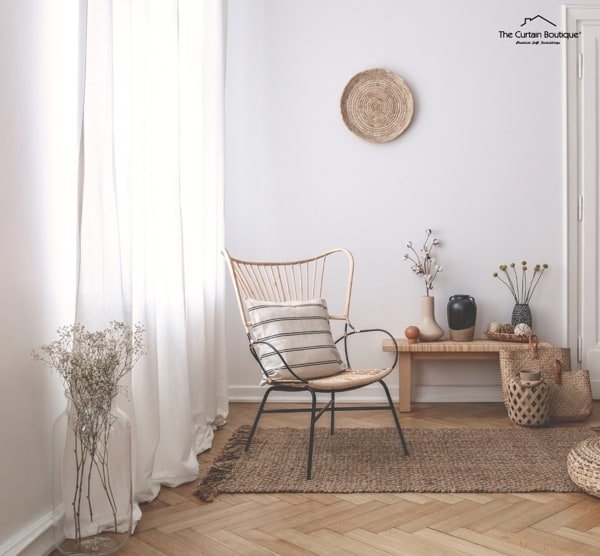 For blinds, they have a wider selection to choose from, with solutions for both indoor and outdoor settings.
These include roller blinds, vertical blinds, bamboo blinds, combi blinds, etc. And others you might not have heard of – like the Venetian blinds and Roman blinds!
They have 2 showrooms as well where you can see their workmanship for yourself!
Contemporary home owners will be able to find the blind style they're looking for at The Curtain Boutique. And if you want simple custom fit sheer or blackout curtains in Singapore, they're also a solid choice!
They take detailed on-site measurements and use drills that also vacuum up the dust while they work!
But if you're looking for heavily embroidered or floral (i.e. elaborate) curtains, this is not the place!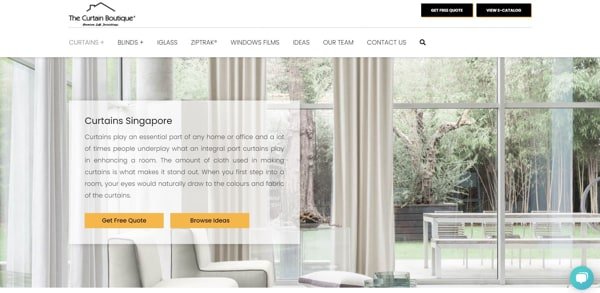 West Showroom: 22 Boon Lay Way, TradeHub21 #01-60 S(609968)
East Showroom: 81 Ubi Ave 4, UB One #01-14 S(408830)
Opening Hours: Monday – Sunday: 10.00am to 7.00pm
Email: [email protected]
Phone: +65 69048813(east), +65 6514 8813(west)
Whatsapp: +65 8688 8813
2. Curtain K PTE. LTD
Curtain K PTE. LTD has been going strong for years. Customers with previous orders say their work holds up well years after installation.
Their product portfolio consists of blinds as well as curtains:
There are day and night curtains (with different styles of pleating), Korean blinds, UV blinds, Roman blinds, wood blinds, bamboo blinds, roller blinds, and outdoor blinds!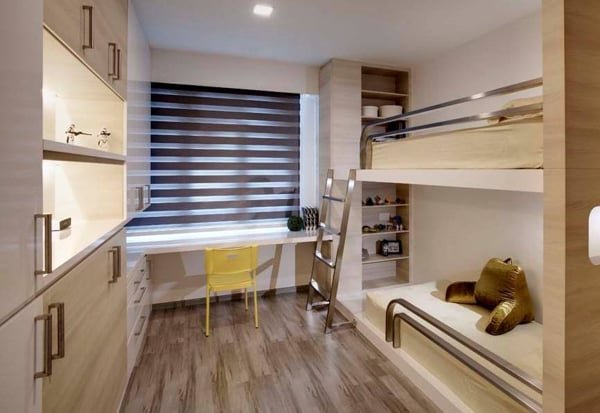 They even have fancy scallop or eyelet style curtains for a more luxurious feel in your home!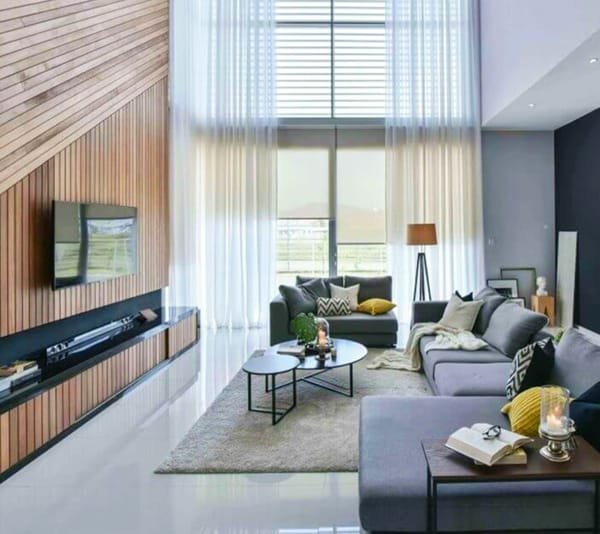 The website doesn't do the products much justice (e.g. tiny low resolution photos) so you're better off stopping by their store at The Furniture Mall. For insight from knowledgeable staff!
Overall, Curtain K PTE. LTD is still a go-to for Singapore curtains and blinds and quality service (including after sales)!
Address: The Furniture Mall, #01-04, 10 Toh Guan Rd, Singapore 608838
Phone: +65 8112 8948
Email: [email protected]
3. Curtaintalks & Grille PTE LTD
Curtaintalks have a wide product portfolio showcasing everything from wallpaper, to Vinyl flooring, aluminum grilles, invisible grilles, wooden decking, etc.
Essentially, they're a one-stop shop to get many items you might want for a new place.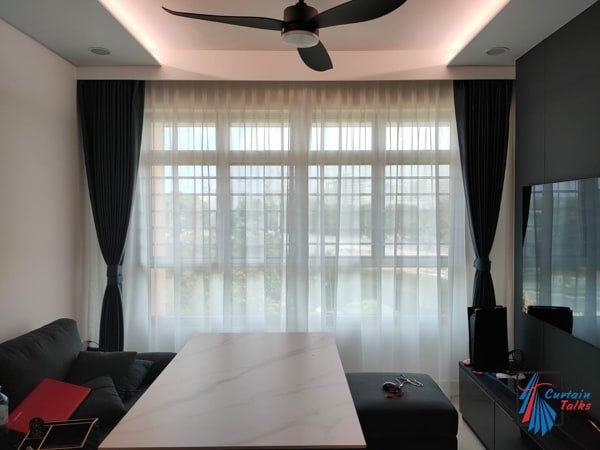 They also offer custom day and night curtains (sold individually or in a set). And roller blinds or Korean combi blinds.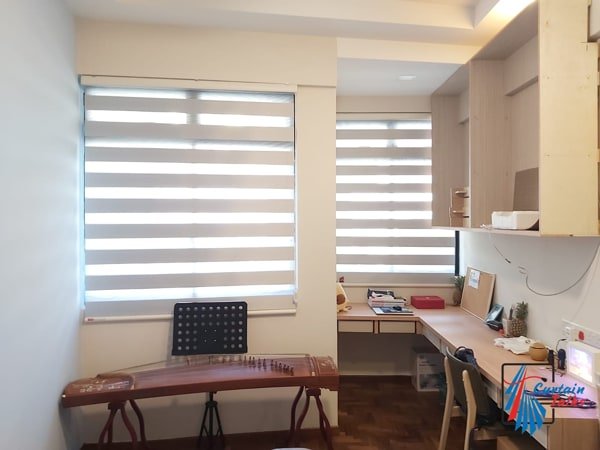 Of their 3 branches (Aljunied, Woodlands, Tampines) in Singapore, the Aljunied branch is their headquarters.
So if you live around there, you can go in for a look during their operation hours (11am to 9pm).
Prices are reasonable (especially for their Korean combi blinds) and they have many patterned curtains to choose from!
Installation can be as fast as week, and they take great care to minimize dust too.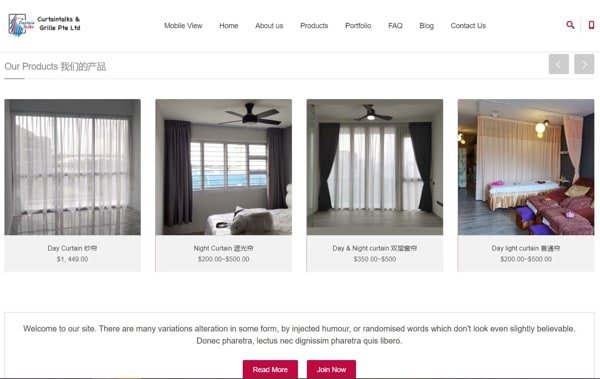 Aljunied:
623 Aljunied Road #06-03, Aljunied Industrial Complex, Singapore 389835
Operating hours: Monday – Friday, 11am – 8pm, Saturday: 2pm – 9pm, Sunday: 5pm – 9pm
HQ: +65 8181 3911
Whatsapp: +65 8181 3911
Message: +65 81813911

Woodlands:
11 woodlands Close, Woodlands 11, Singapore 389835
Operating Hour: Daily 9am – 6pm, Closed on weekdays
Woodlands Branch: +65 8308 9700
Whatsapp: +65 8308 9700
Message: +65 83089700

Tampines:
3 Tampines North Drive 3, BHCC SPACE, Singapore 389835
Operating hours: Daily 10am – 8pm, Closed on weekdays
Tampines Branch: +65 8345 0123
Whatsapp: +65 8345 0123
Message: +65 83450123

Email: [email protected]
4. WinUs® Korean Blinds Singapore
WinUs® are located in Tagore. And specialize in Korean blinds. The blinds are affordable and of exceptional quality (made in Korea). Plus, the staff at their showroom is well versed in the products.
You can find some truly unique designs here. Like the airy UniSlat curtains or their new dual roller blinds! They have wallpaper as well.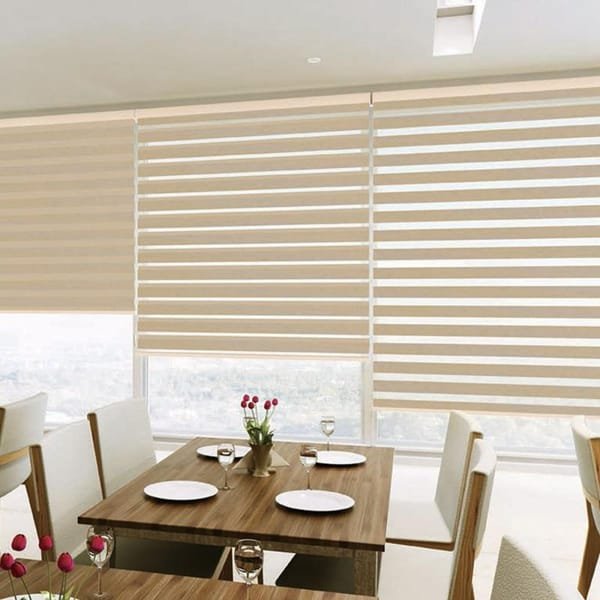 PS: There are some furniture and art pieces for sale too.
But when it comes to installation and after-sales service, they don't score as well with customers.
So you may not want to do up your entire house with them. Or if you do take them on, double-check the installation carefully before they leave!
Delivery can take a while too since the products are imported from Korea!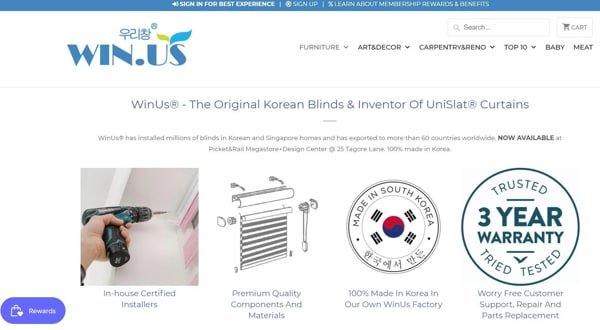 Address: 25 Tagore Lane, Level 2 Singapore G Building Singapore 787602
Operating Hours: Mon – Fri, 10am – 7pm. Sat – Sun, 10am – 9pm
Contact: +65 86879293
5. MC2 Pte Ltd
In addition to the more typical outdoor, roller, vertical, or office blinds: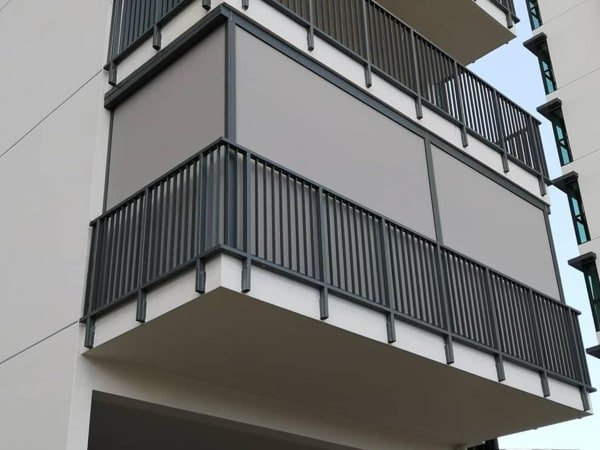 MC2 Pte Ltd has motorized blinds and motorized curtains! They are the sole distributor and authorized fabricator for Renson® in Singapore.
And if you don't need 100% blackout curtains, they do have other night curtains (e.g. Normal Night Curtains) that just block out 50-70% of light instead.
As well as Dimmed Out Curtains that cut out 75-90% of light. They have both ready made and custom tailored day curtains too.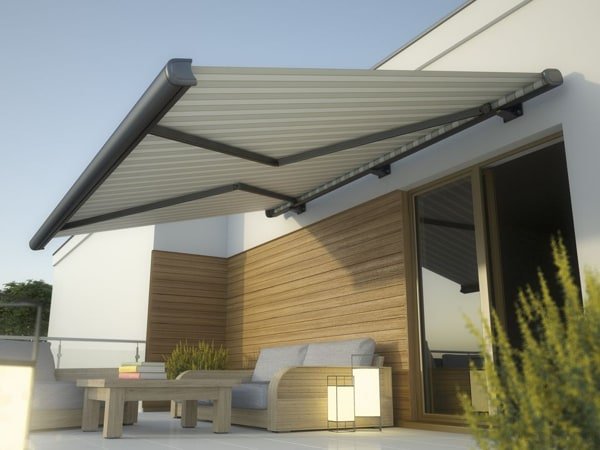 Any of these can be hooked up to their Smart motorized tracks (from Somfy, Elero, Dooya or Nice) that are compatible with Google Home and Alexa.
Note: Apparently, their 5-year warranty for the motorized blinds/ curtains is only applicable for the motor. Certain components (e.g. remote control) have shorter warranty periods.
Besides curtains and blinds, MC2 do wood flooring, awnings, sun shades, and grilles. You can see what they have at their sole but impressive show room on Ubi Ave!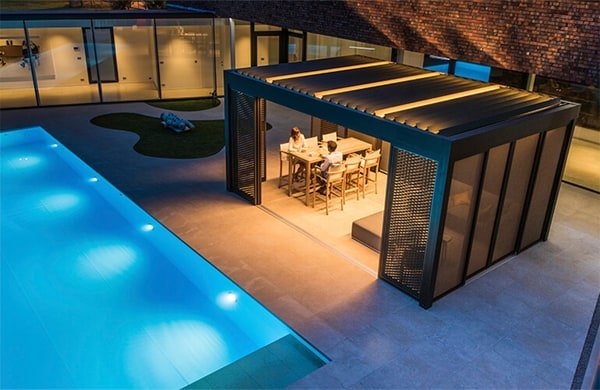 Do check their order queue if you're in a rush to have your curtains/ blinds done. Some projects can take a few months to complete. But on the whole, their workmanship and their product quality is excellent.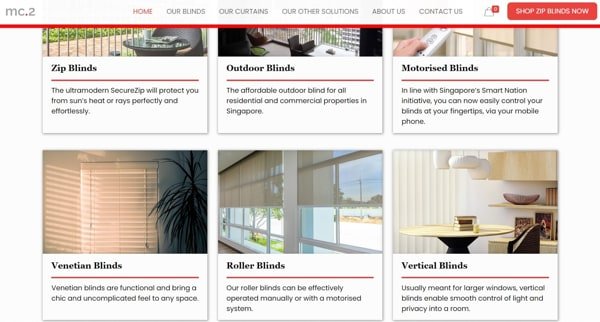 Address: 33 Ubi Ave 3, #01-28 Vertex, Singapore 408868
Operating Hours:
Weekdays: 11 AM – 7 PM
Weekends: 10 AM – 5 PM
Contact: +65 66347333
6. The Curtain Expert
Too busy to drop by their showroom at Woodlands?
No problem, The Curtain Expert can send one of their professional salesmen for a site visit and consultation. Together with some catalogs (and samples) according to the style of curtain/ blind that you prefer.
They do have Zip blinds among other popular styles of indoor and outdoor blinds (e.g. Roman, Venetian, vertical, roller, bamboo, rainbow) and curtains.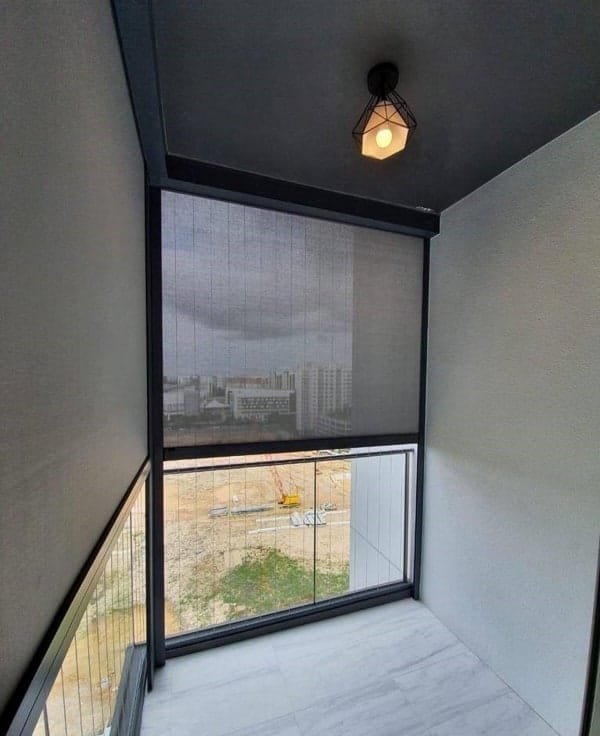 During the site visit, they can also advise which of their products would suit your place best. Taking your budget into consideration too!
Their quotations are reasonable. And installation is timely and detailed.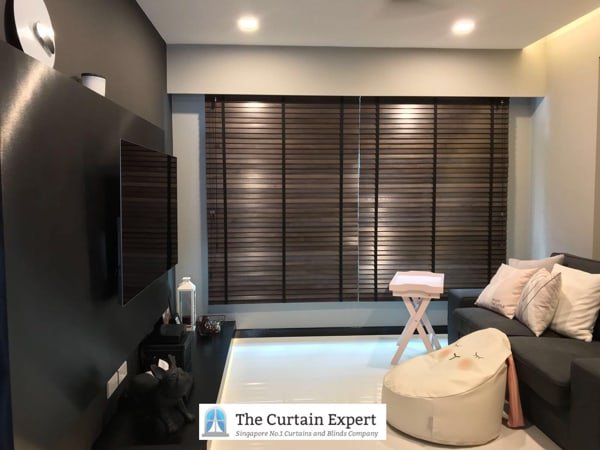 If the curtains you get from them require servicing after a few years, you can expect prompt service from them!
For first-time homeowners who don't know where to buy curtains in Singapore, you'll be safe in the hands of The Curtain Expert!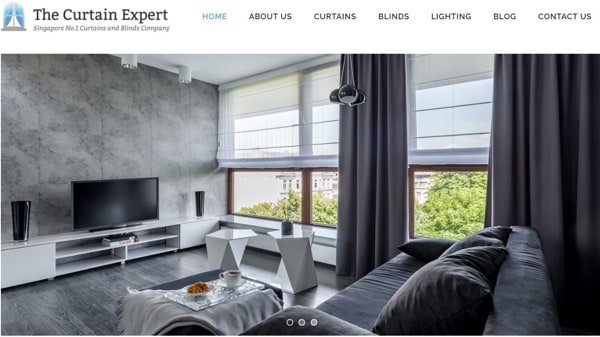 Address: No. 71 Woodlands Industrial Park E9 #01-06 Wave 9 Singapore 757048
Operating Hours:
Tue – Fri: 11am – 7pm
Sat – Sun: 12pm – 7pm
Call / WhatsApp: (+65) 8828 8138
Email: [email protected]
7. H.M. Curtain Pte Ltd
Outdoor blinds (Zip Blinds) are the specialty of H.M. Curtain Pte Ltd. Although they do have some curtains as well (including plemet and scallop styles).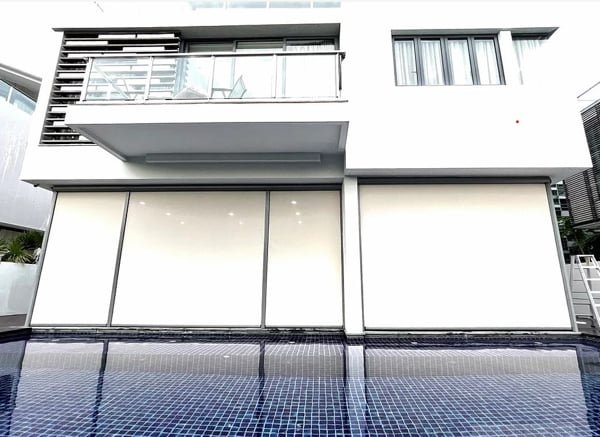 But if you're hoping for a huge assortment of ready made curtains at their showroom, you will not find many options.
Their larger blinds portfolio features Korean blinds, motorized blinds, timber blinds, panel blinds, and U channel blinds. All of outstanding quality too.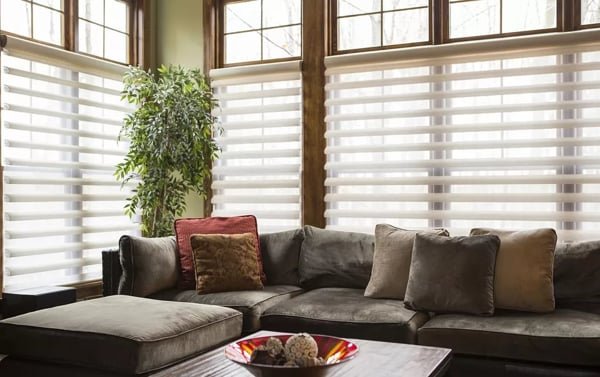 Note: They have wallpaper too
The whole process from sales to installation is very smooth and professional. The staff do know what they're talking about!
And most importantly, their after sales service is dependable! Thus, they often have a very busy schedule!
Address: 211 New Upper Changi Rd, #01-747 Singapore 460211
Contact: +6562461292 +6597658819 +6590073120
Email: [email protected]
8. Hunter Douglas Singapore Curtain Blinds & Shades
Hunter Douglas Singapore Curtain Blinds & Shades do not sell curtains. But they have gorgeous shutters and Smart blinds (like their Power View Hub)!
You can see about 50 different models of their quiet motorized blinds at their new showroom!
A single-track blind like the Luminette means you can do away with the traditional combination of sheer day curtains and black out curtains!
If you want to know more about the latest automated blind technologies or get ideas on how to furnish the windows of your home, their showroom is great for inspiration!
Have you ever seen top-down/bottom-up window shades in action?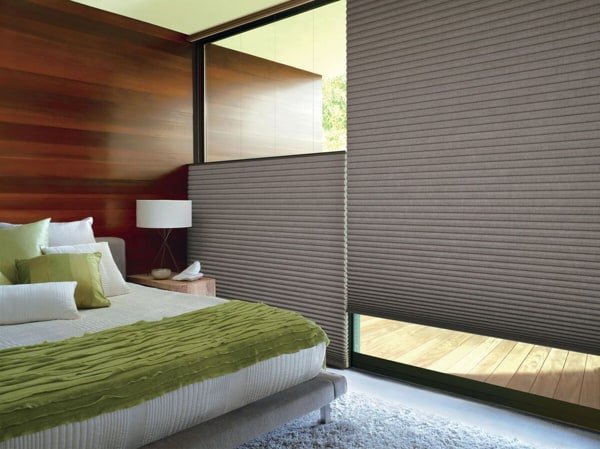 Note: The lifetime warranty for a full set of Hunter Douglas blinds is only applicable to US customers. In Singapore, the warranty is significantly shortened to 2 years and does not cover wear and tear (e.g. due to weather).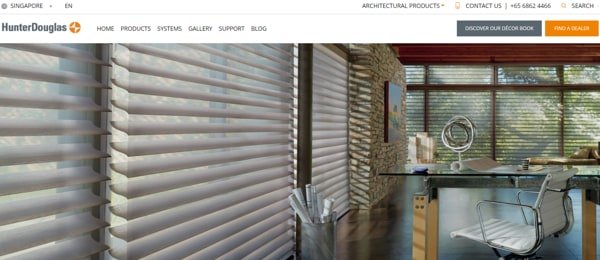 Address: 10 Jalan Kilang #08-01 Bukit Merah Enterprise Centre Singapore 159410
Operating Hours: Daily 8:30am – 4:30pm, Closed on weekends
Tel: +65 6862 4466
Fax: +65 6861 6595
Email: [email protected]
9. END Curtain
Vinyl flooring, curtains and indoor and outdoor blinds (e.g. Zip screens) can be found at END Curtain. They have Smart curtains and motorized blinds as well.
If you want wooden Venetian blinds, they have them too. Let them know your preferences beforehand and they'll bring over some swatches!
Even if you only have a small order, they will provide reasonable pricing, genuine recommendations through their consultations and on-site measurements, and professional installation service!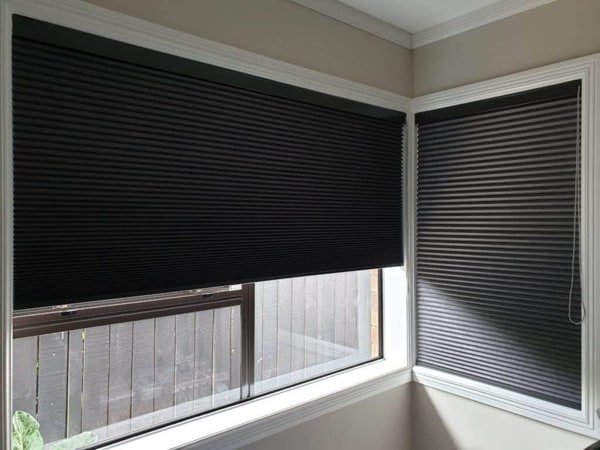 The blinds themselves are made well!
Book early to avoid disappointment as they only accept consultations via appointments! And their schedule can be packed!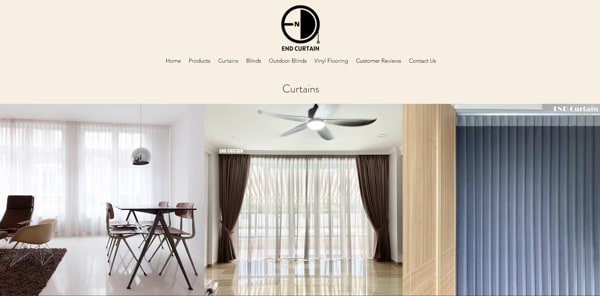 Address: 21 Simei Street 4, Double Bay Residences, Singapore 528718
Operating hours: 24 hours
Contact: +65 86111600
Enquire: by form
10. MGL Curtain & Furnishing
Ripple fold curtains are one of the more unusual products you can get at MGL Curtain & Furnishing. Aside from day curtains and blackout curtains of varied opaqueness!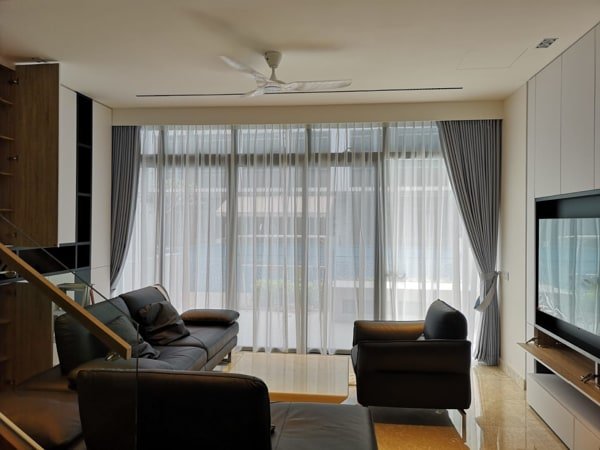 When it comes to blinds:
They have Duette Honeycomb Shades (including Top-Down / Bottom-Up mechanisms), roller blinds, vertical blinds, silhouette blinds, Roman blinds, Venetian blinds, combi blinds and outdoor blinds.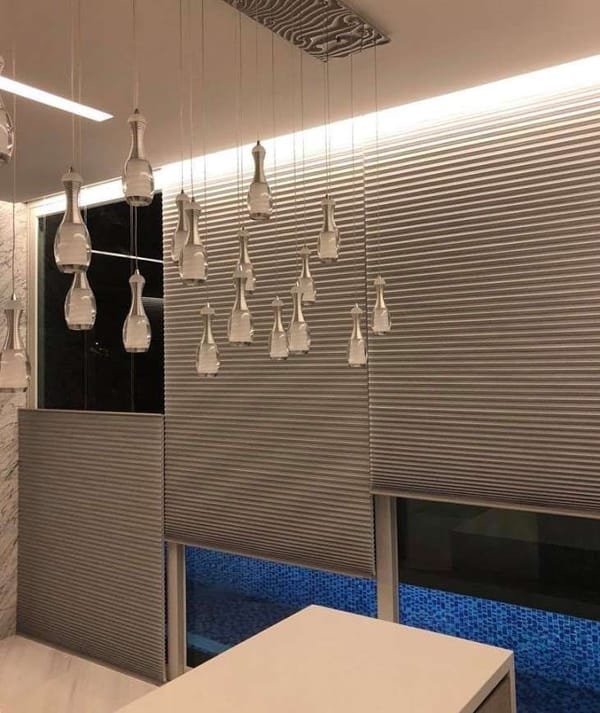 For motorized blinds, they carry Somfy and Dooya.
Their experienced team is very attentive to customer requests and will pick out the best curtains and blinds (and wallpaper) to suit your needs!
And if you can't make it to their showroom, they will drop by with samples and swatches at your convenience!
Despite a busy schedule, they really try to give you an installation slot as quickly as possible. And their quotations are sensible.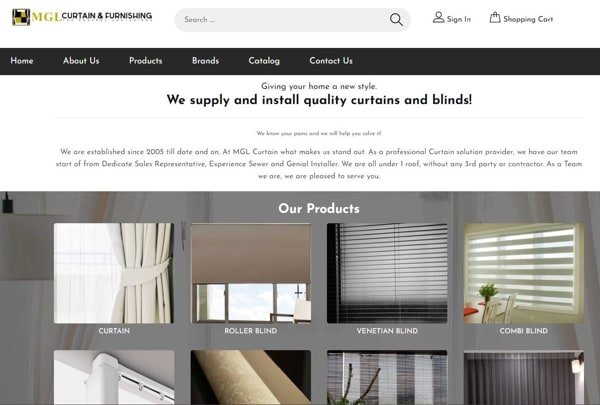 Address: Blk 80, Geylang Bahru, #01-2622, S339688
Tel: +65 6392 0373
Fax: +65 6258 9972
Email: [email protected]
11. Direct Curtain
We really like that you can see all the available shades of blinds, or day and night curtains that Direct Curtain has from their website!
However, you will not find any motorized options. And the blinds style is relatively limited to roller, Korean, Venetian and Roman blinds.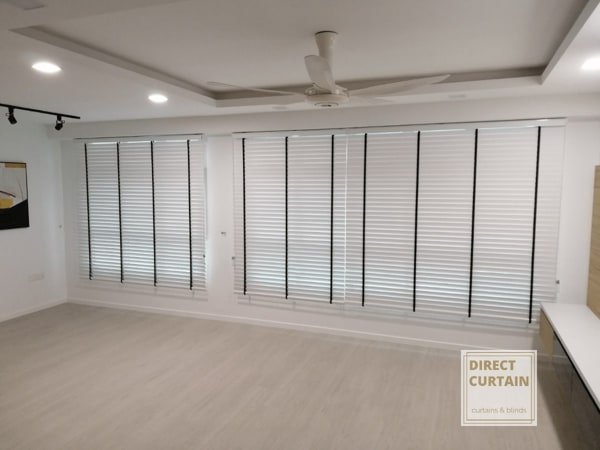 There is a handy filter to select products by price or color too. Most of which are contemporary.
So if you already have a good idea of what you want for your home, their website layout makes it really convenient to decide on a product without having to go to their showroom!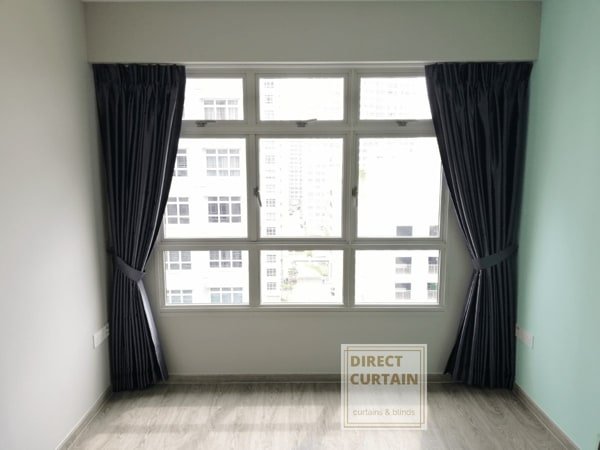 You can make yourself a rough budget too since their prices are transparently listed.
And if you use their quotation form, you can get a quote immediately by keying the product you want and dimensions required.
There are no complaints about their responsive and professional service before and after installation!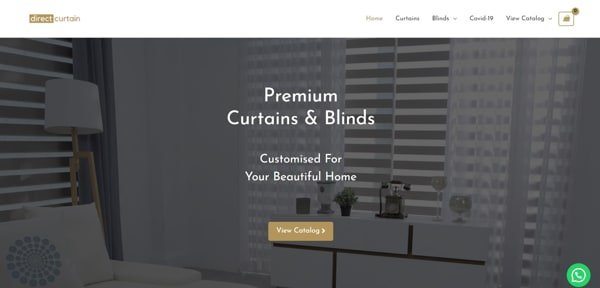 Address: 11 Woodlands Close #05-39, Woodlands 11 Singapore 737853
Customer Support: [email protected]
Partner Enquiry: [email protected]
Contact: +65 9277 8570
Verdict
No matter which area you live in, you can find curtains in Singapore that will suit your home and lifestyle!
Motorized curtains and blinds are all the rage now. But curtains still have their own charm! Even if you have to call in a curtain cleaning service from time to time!
Read more: