Top 13 Steakhouses In Singapore 2022 To Have A Satisfying Meal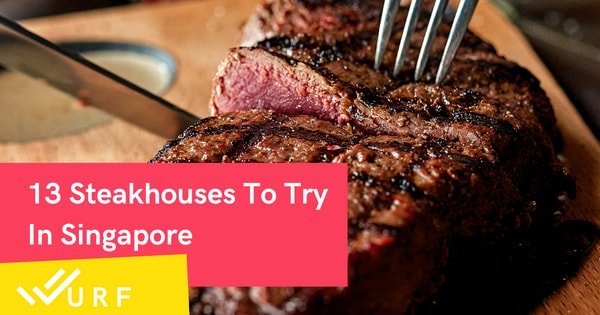 Which is the best steakhouse in Singapore? This list could have gone on to 40 easily as there are many options if you have steak on your mind.
There are also many different ways of preparing steak as steak enthusiasts are probably aware of. Therefore, this list includes places that serve Brazilian-, American-, Australian- and Japanese-style steaks.
Come check them out! And note that many of the highly rated restaurants require reservations.
13 Best Steak Houses In Singapore
1. Picanhas'
No other steakhouse in Singapore that we checked out scored 4.9/5 for over 1,000 reviews!
This is the place to go to if you want to try tender and well-made Brazilian-style steaks (the namesake of the restaurant) served with Chimichurri sauce or wasabi sauce.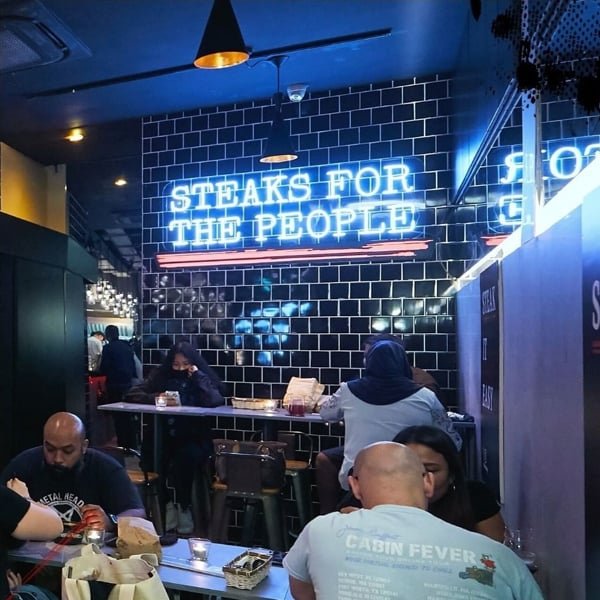 Side dishes like potatoes, creamed spinach, mac and cheese or sauteed mushrooms do not disappoint either.
Aside from, another main that Picanhas' excels at is foie gras – theirs comes in a fairly small portion, but is rich and melts in the mouth.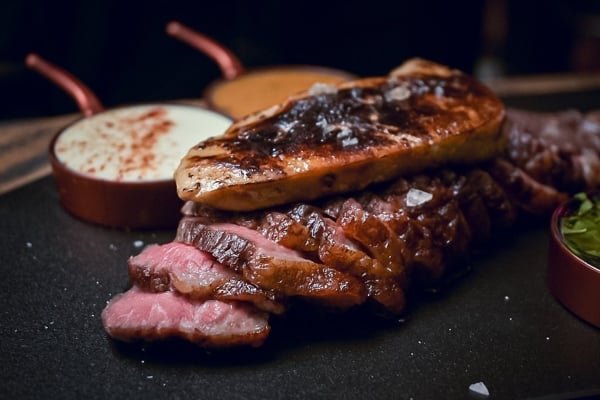 They have an interesting appetizer to start meals – delicious popcorn made with leftover fat from picanhas! Don't forget to try one of their mocktails.
Note: They don't serve alcohol as this establishment is halal.
The interior of Picanhas' is dark and stylish but comfortable. Hence, indoor seating is usually booked so plan ahead if you want to dine here.
Despite a full house, the staff still manage to be highly attentive and friendly too. You will find yourself returning for the reasonably priced and delicious food as well as the service!
2. The Feather Blade
The Feature Blade's menu is limited to 3 mains – you can either get a steak, a burger or gyudon (scallops). The latter is a hit and miss but what you should try if you go here, is the steak:
Because the steak is prepared, flat-iron style reminiscent of how it is done in London.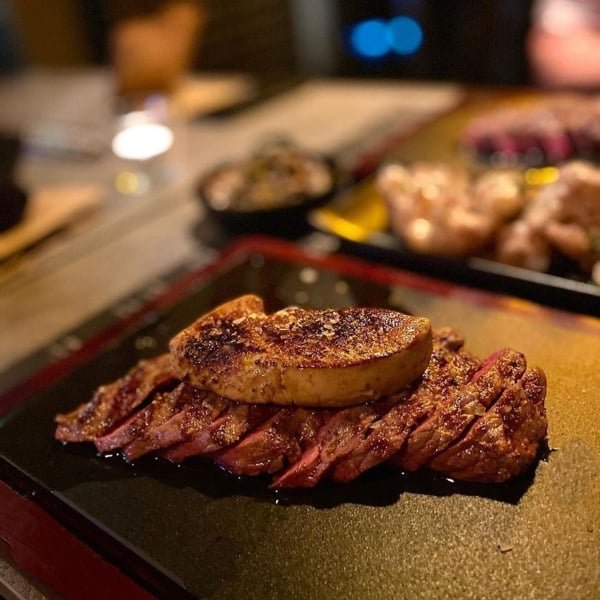 Another reason to visit this Singaporean steak restaurant is for the unique cocktails (e.g., Clarita , Kyoho Grape Sangria, and the Elderflower Sangria) and Argentinian wine selection.
Cocktails are cheaper after 9pm. And this is a really cool place to enjoy drinks due to the lighting set up.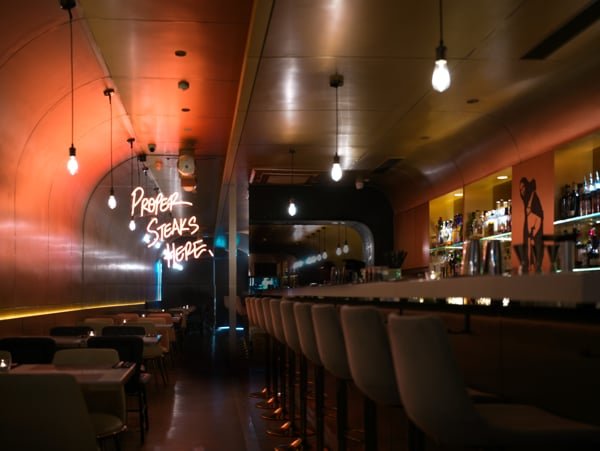 But to be fair, it's pricey to dine at The Feather Blade although the service leaves nothing to complain about.
However, if you're someone who prefers their steaks to be more tender, or if you plan to dine in for longer than the allowed 70-minute window, we'd go elsewhere.
3. Hamburg Steak Keisuke
Need some greens with your steak? Hamburg Steak Keisuke has an exceptional free-flow drinking water, a salad bar as well as an egg station (unlimited too) – they have tamagoyaki too.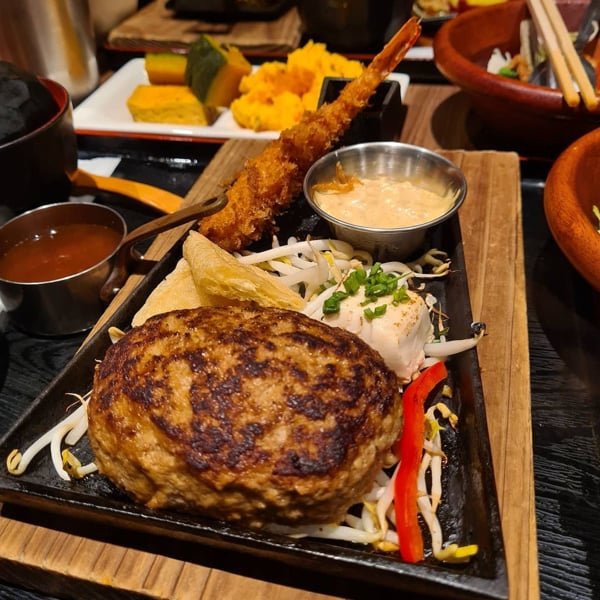 And thus, it's not surprising to see a long queue at this reputable Japanese steakhouse in Singapore. Queuing for an hour is not unheard of. There's also a dining window of around 90 minutes per table.
The staff is friendly and do the best they can even on busy days.
As for the juicy hamburg steaks (plain or triple cheese), they use quality beef albeit the portions are not generous. The meat is tender enough that you might not even need a knife.
You can choose from 4 different sauces too. But while the steaks are good, they're nothing to shout about so keep that in mind if you plan to dine at this Japanese steakhouse.
PS: The coffee jelly is nice, if not interesting if you're looking for a simple dessert after your meal
4. Bistecca Tuscan Steakhouse
This romantic Italian steakhouse in Singapore has a few top choppers to take note off:
The T-bone steak (medium rare), ribeye steak, Fiorentina steak (charred on the outside, and tender on the inside) are delicious, and wine recommendations from the staff are on point.
Note: Fiorentina steak goes well with Sangiovese wine
There are 4 sauces to try with your steak (some portions of steak are big enough for 2 to 3 pax to share).
Sides, desserts, and starters (burrata cheese, focaccia bread, mac and cheese, panna cotta, black forest dessert, sticky date pudding, tiramisu etc) are commendable too.
If you still have room in your tummy, they have a marvellous squid ink pasta as well!
5. CUT by Wolfgang Puck
CUT by Wolfgang Puck does several things right – to start with, their service is impeccable. Moreover, the ambiance is equally delightful.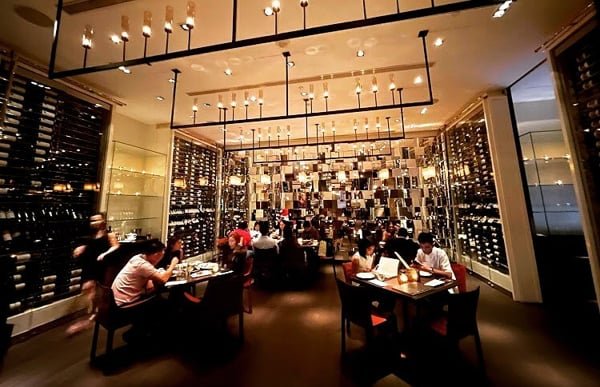 And you won't regret ordering steaks from this reputable steakhouse in Singapore either. As these are generously portioned with lovely cuts. Try the USDA Prime Porterhouse (fillet mignon or ribeye medium rare) or Wagyu steak.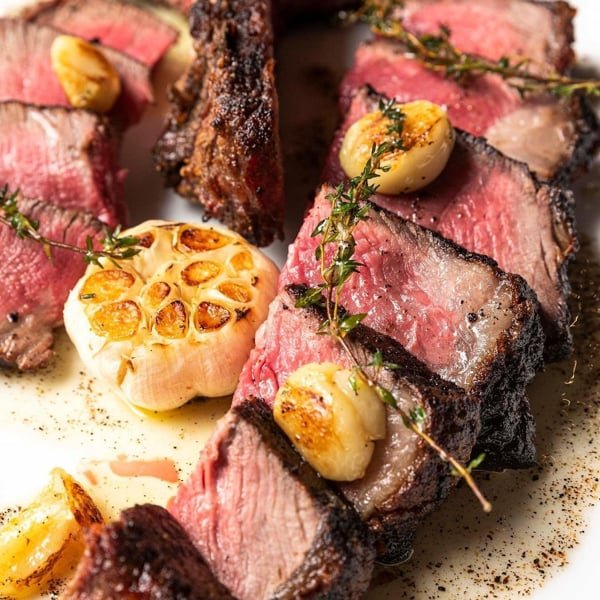 Don't forget to order their meaty crab cakes for your appetizer. Sides like the peewee potatoes (a bit oily) and creamed spinach are not bad either.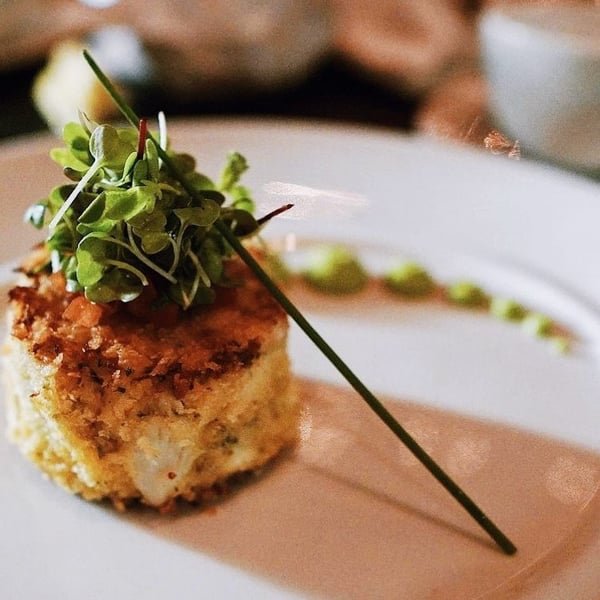 Breads however, are wonderful including the complimentary buns.
Tip: Those in possession of a Stanchart card may be applicable to a 10% discount
6. Burnt Ends
Reservations are highly recommended if you want to have lunch or dinner at Burnt Ends. But this can be a frustrating experience it can be booked for months on end.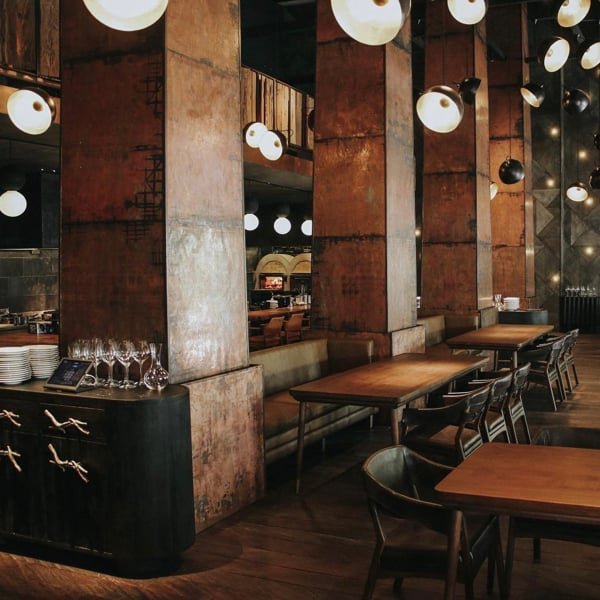 You can also take your chances with walk-in but there's no guarantee of securing a table even though they have moved to a new and larger location at Dempsey.
This prestigious fine dining Australian BBQ restaurant in Singapore serves incredible steaks (Bone Marrow Bun with Wagyu striploin) among other great mains like their pulled pork burger, beef tartare, quail eggs with caviar, beef marmalade, leek with truffle and hazlenuts, etc.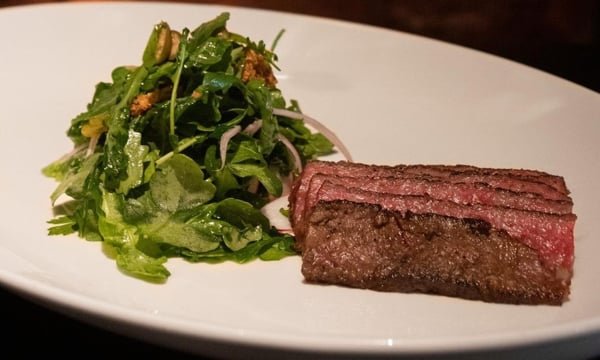 Do expect to spend a fortune here (~$100 to 300 per person) but the ambiance, food, wine selection, and service meet expectations for the price. You can book a private room as well.
Note: Expect fine dining portions (small portions) per dish; Many dishes do not feature heavy seasoning.
7. Lawry's The Prime Rib Singapore
Because it's not cheap to dine here, we'd recommend Lawry's The Prime Rib Singapore for special occasions like birthdays (birthday cakes are free).
They are one of the best places to get good steaks in Singapore especially if you're a sucker for great service because the crew at Lawry's The Prime Rib Singapore are amazing.
And while prime ribs are the go-to order here, but they have dinner sets featuring steaks (ribeye or filet mignon medium rare) as well. These mains are served with salad and mashed potatoes (or a delightful Yorkshire pudding).
Note: They rotate their dinner sets to keep things fresh and interesting
However, the fresh lobster tails, roast beef, and crab cakes at Lawry's The Prime Rib Singapore are worth a mention too.
8. Meat n' Chill • Steak n' Ribs Restaurant
Aside from their signature pork ribs (hickory and many other flavors) which hardly need any effort to get off the bone: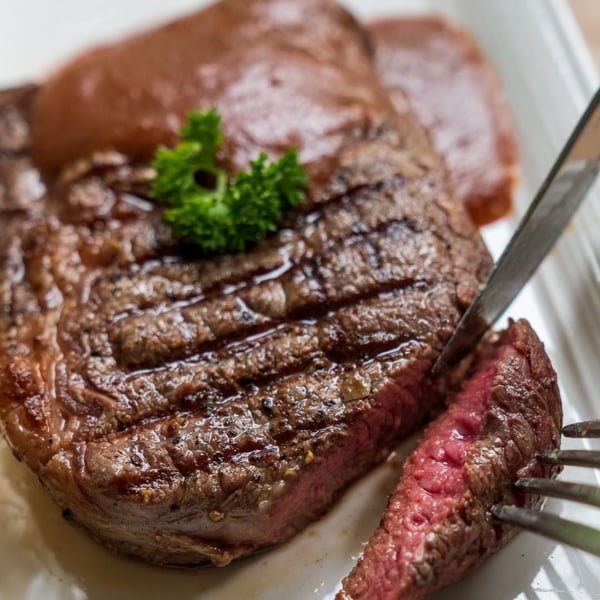 PS: Lamb ribs are worth ordering too.
The flat iron steak and rib-eye steak are well priced (with 2 side dishes – they have cheese fries, truffle fries and asparagus!) and portioned at Meat n' Chill Steak n' Ribs Restaurant.
The steaks in general, are juicy, tender, and well marinated. Try the red wine steak sauce for something different. And definitely save some room for their equally tempting milkshakes and desserts!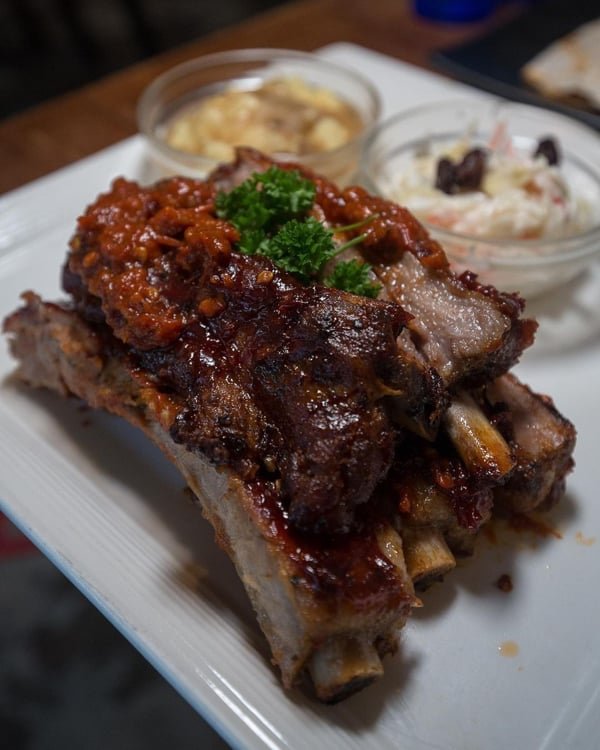 If you're with a group, order the truffle mac and cheese to share.
Because of the food, pricing and comfortable interior (they also have outdoor seating), weekend nights usually see a full house at dinner so take note of that.
9. Fat Cow
Another highly rated venue for steak in Singapore:
Fat Cow on Orchard Boulevard is a Japanese restaurant where you can get a marvellous Wagyu steak (and other delectable Wagyu dishes and gyudon).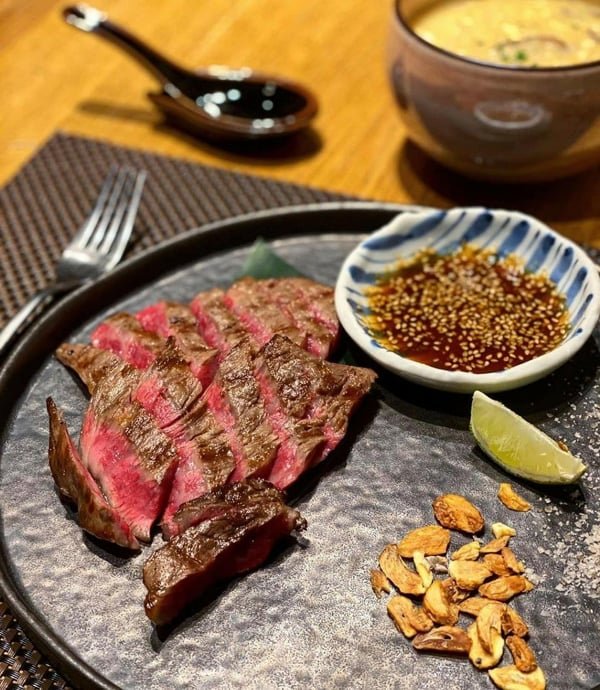 One notable set (Miyazaki A4 premium donburi) you can get here includes Wagyu with Foie Gras. But those seeking value for money should order the Classic Fat Cow Donburi instead.
And because of the romantic setting, this Fat Cow is also ideal for treating a special someone. Staff is polite too.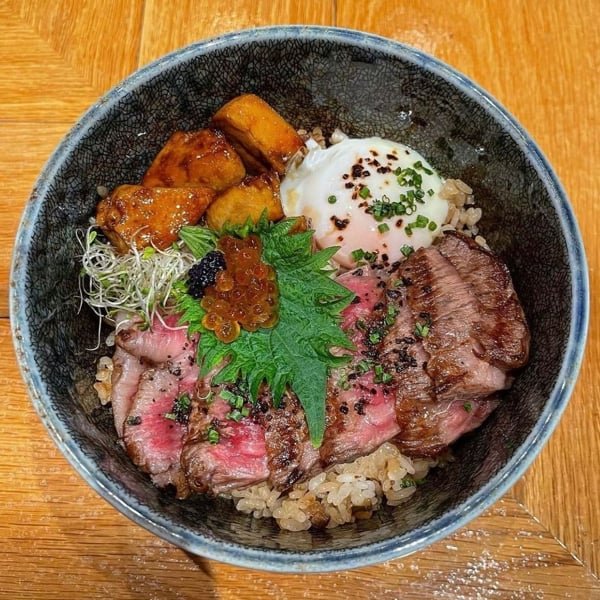 Tip: Bring your own sake to avoid the corkage fee of $50
If you're here for omakase lunch – this needs a reservation, and we would recommend you bring a friend as the full course is heavy for a solo eater.
10. Braseiro Restaurant
Braseiro Restaurant has a great set for 2 that comes with chicken and a praiseworthy steak, along with free flow fries! And then, there's the 4 pax meat platter which suits a family of 4.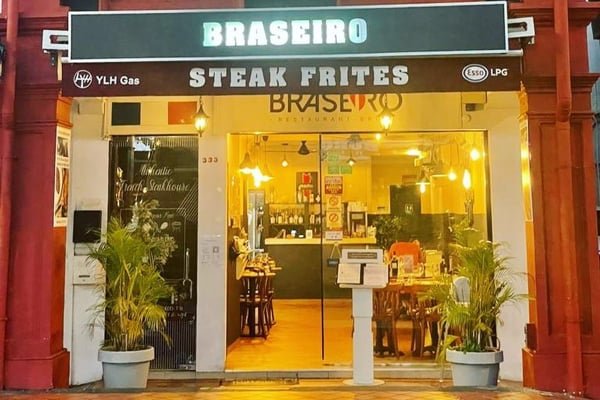 Set meals may come with a lava cake for dessert. If you order steak on the ala carte menu, it costs about $24 for 200g.
And for starters, you can opt for their buratta or camembert cheese fondue with bread.
The bistro environment is welcoming with music in the background. Plus, you can get beer or wine here too.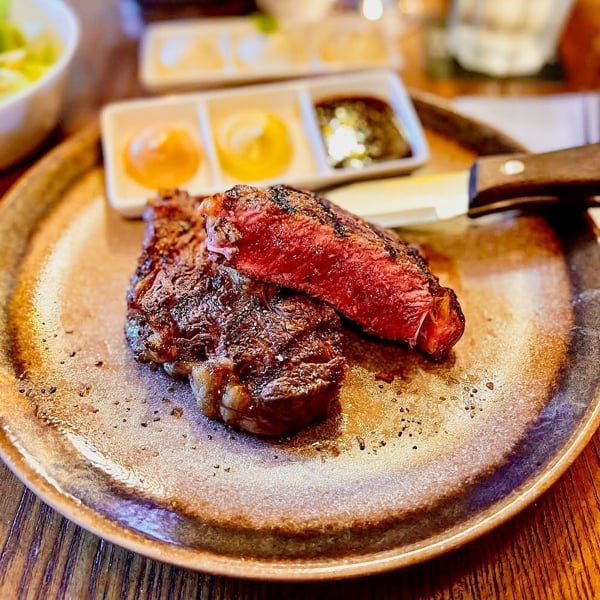 Considering the portions, pricing is decent, and this is why you can expect this steak restaurant in Singapore to be busy on Friday nights! Bookings are recommended.
Moreover, service is more than fine as the staff is polite, attentive, and friendly.
11. Wolfgang's Steakhouse Singapore
Not the place to go unless you're willing to splurge or coming for lunch (they have a reasonably priced set lunch):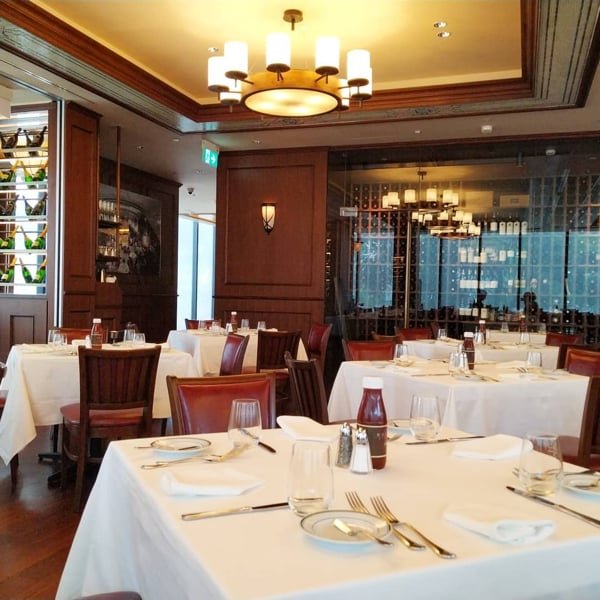 But Wolfgang's Steakhouse Singapore do serve some good steaks in Singapore! And their juicy Porterhouse steak is generous enough to share with 3 pax.
Note: Steaks here lean towards bland and cooked rather than rare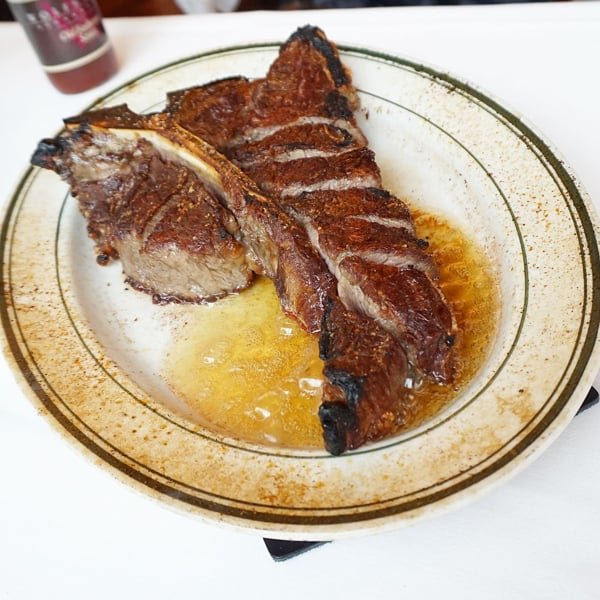 And there are many sides that you'll want to order– these include steak fries, German potatoes, macaroni and cheese, champignons mushrooms, etc.
If you are stumped on what to order, just leave it to the staff and follow their recommendations (wine selection as well).
12. Wooloomooloo Steakhouse
While you can have a pretty nice view of the city from this Singaporean steak restaurant:
On weekends, it can get too noisy to have any deep conversation over your meal. Dinner reservations are necessary for weekends too.
Set lunches cost ~$30 here. And they have many dishes worth ordering – beef wellington, Hokkaido scallops, porterhouse steak, lobster bisque, Wagyu tomahawk steak, creamy spinach, beef tartare, and a very filling truffle mac and cheese.
Despite the rush during mealtimes, the service at Wooloomooloo Steakhouse is still relatively smooth.
For drinks, do try their sake cocktails!
13. The RANCH Steakhouse By ASTONS
Supposedly the premium branch of this chain steakhouse brand:
You can bet that dinner at The RANCH Steakhouse By ASTONS will not be cheap although it's still considerably affordable for a steakhouse (albeit with small portions).
While you're here, you can pair either the grain-fed rib eye steak or your choice of their available aged sirloin steaks and wine. These come with a complimentary bread rolls with truffle butter!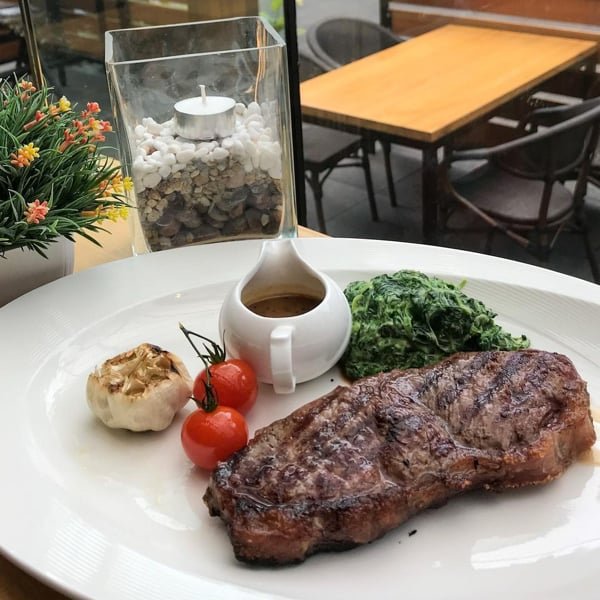 PS: Lunch sets are very affordable
Other dishes that are a safe bet to order are the wild mushroom soup, lobster bisque, The Ranch Burger, Iberico Pork Chop, tiramisu, and the in-house chocolate coffee lava cake with ice cream!
The quiet dining environment is perfect for bringing your significant other. And in spite of this being a steakhouse, they have a surprising number of vegetarian options too.
Verdict
It'll take you a good long while before you have tried every steakhouse in Singapore. Luckily, you can rely on this list to narrow down the options!
Many of these restaurants are fitting venues for birthdays, gatherings with friends, etc. While some are world-class gastronomic experiences that you can reserve for the weekend without even having to leave Singapore!