5 Top Cat Cafés in Singapore With Friendly Felines To Cuddle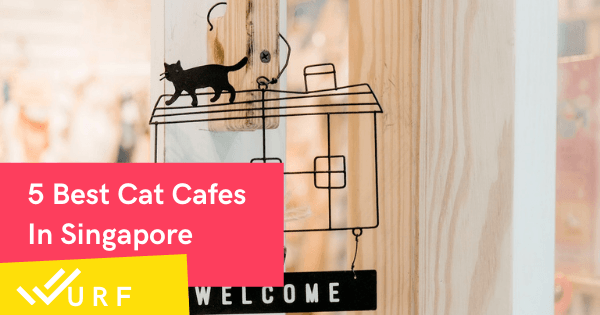 Looking to spend time with some friendly felines? Cat cafes in Singapore are a big hit, offering both food and a chance to cuddle with plenty of cute kittens.
The first cat cafe that ever opened in Singapore is still going strong!
So if you'd like to know which cat cafes you should be going to in Singapore, check out our article below for the best ones on the island!
1. Meomi Cat Café
Home to 8 adorable cats, Meomi Cat Café has been in operation since July 2014.
While the overall space is relatively small (only fitting up to 10 people at a time), it does mean you'll be pretty close to the cats wandering about.
The staff and owners are notably friendly, accommodating and knowledgeable, and will introduce you to each of the cats so you'll get to know them better.
As for the café bit, Meomi offers a selection of cakes and beverages that are reasonably priced, but nothing too fancy.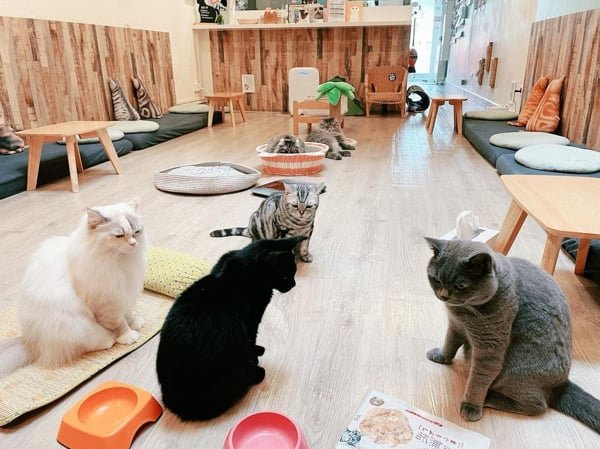 All-in-all, it's a comfortable cat café experience, with the cats being well taken care of in a cosy space.
Note: Children must be older than 6 with Photo ID; those below the age of 13 must be accompanied by an adult.
Address: 668 North Bridge Rd, Singapore 188801
Opening Hours:

Monday, Wednesday to Sunday – 11am to 8pm

Contact: +65 6296 0339
2. The Cat Cafe – Bugis and The Rail Mall
With 2 branches in Bugis and another in The Rail Mall, The Cat Café promises a good time with cats, alongside freshly brewed coffees/tea and pastries.
The Bugis branch of The Cat Café hosts 15 cats which are at a more mature age, so they are calmer around people and the cafe has a more relaxed atmosphere.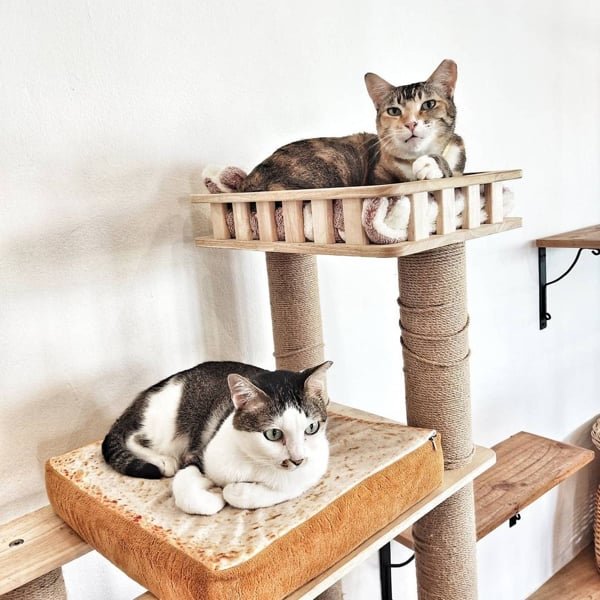 If you'll like a more hands-on experience, the Rail Mall branch hosts 14 cats ranging from 3 to 6+ years in age – These cats are more playful and livelier.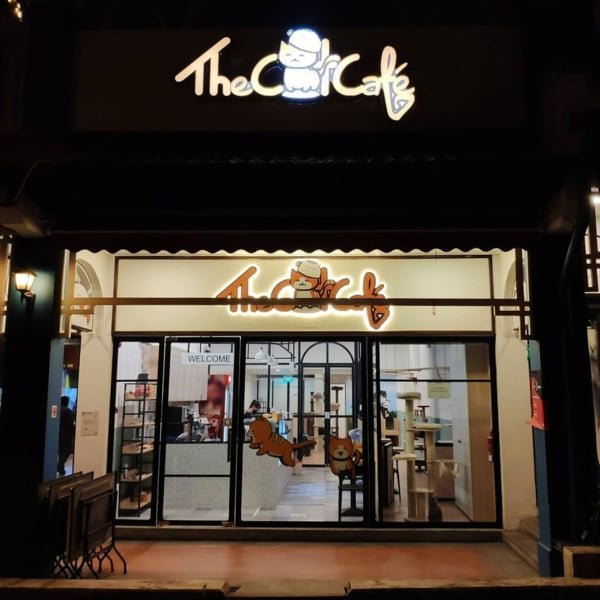 For $16 (that comes with a free drink), you can interact with these cuddly kittens for 2 hours, with the staff being there to guide customers on what (and what not) to do.
What's more, the adopted cats are healthy and well taken care off, although being cats, they will take some time to warm up to you!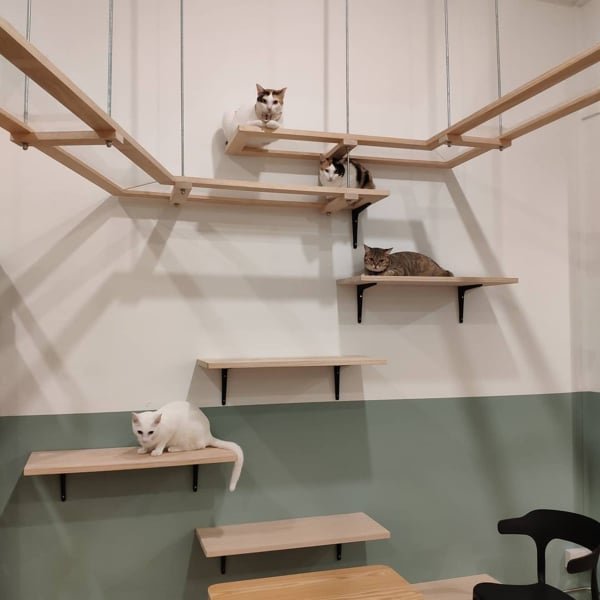 Note: Minimum age is 6 years and above; children 6 to 12 require adult supervision.
Bugis Branch
Address: 241B Victoria St, Singapore 188030
Opening Hours:

Tuesday to Sunday – 10am to 10pm

Contact: +6563386815
Railmall Branch
Address: 392 Upper Bukit Timah Rd, Singapore 678046
Opening Hours:

Monday, Tuesday, Thursday to Sunday – 10am to 10pm

Contact: +6569779579
Pricing:
First 2 hours: $16 (1 complimentary soft drink)
Every subsequent 1/2 hours: $4
Links: Website, Facebook, Instagram
3. Cat Café Neko No Niwa
The first ever cat café in Singapore, Neko No Niwa opened its doors in 2013, and has paved the way for a slew of copycats ever since.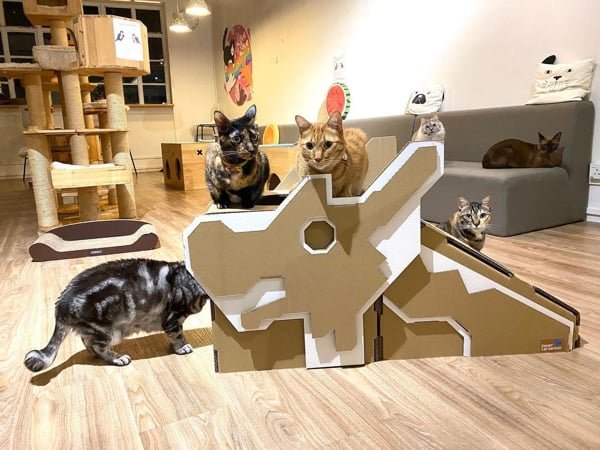 Cats at Neko No Niwa are personable, playful and friendly; with plenty of visitors noting that they're well-groomed and in pristine health.
As for the staff, they're exceptionally helpful and polite, and take their time showing you how to interact with the cats on the premise.
Given it's a café as well, Neko No Niwa has a selection of canned drinks, fruit smoothies, premium teas/coffees and desserts, starting from around $2.50 to $3.50.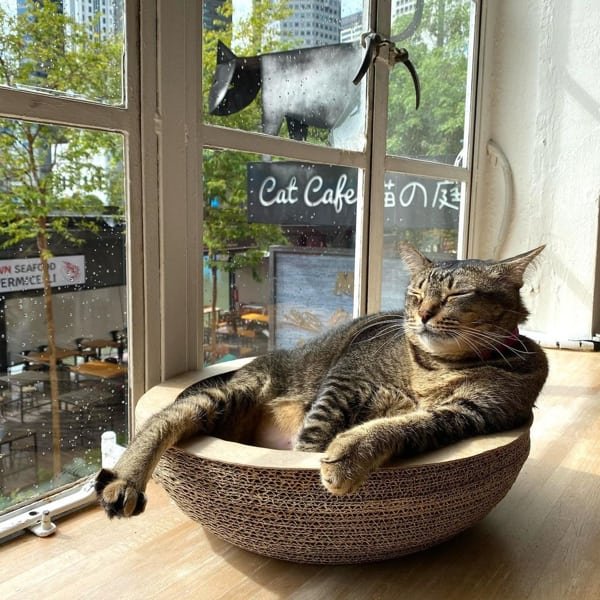 So, whether you're a cat enthusiast or looking for a good brew and dessert, Neko No Niwa has something for everyone.
Note: No children below the ages of 7, individuals between 7 to 14 may enter under adult supervision.
Address: 54A Boat Quay, Level 2, Singapore 049843
Pricing:
Opening Hours:

Monday, Wednesday to Sunday – 11am to 9pm

Contact: +65 6536 5319
4. Catopia – Cat Café Singapore
Another cat café located in Bugis near the MRT, Catopia hosts 10 diverse felines, alongside a choice selection of drinks, cakes and desserts.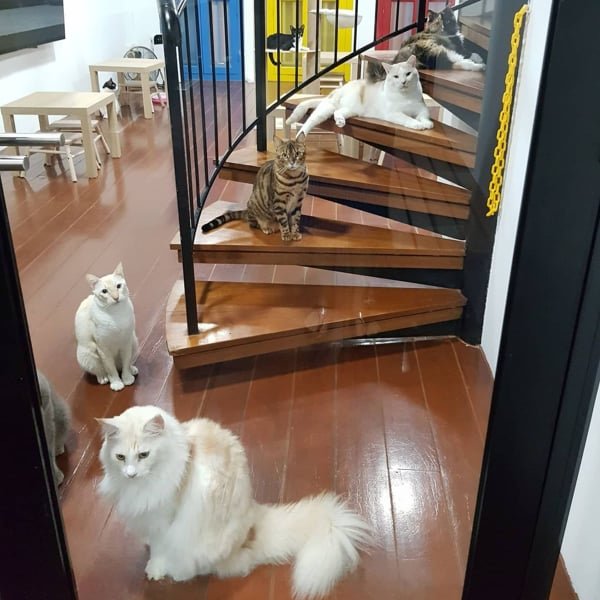 The staff present are both friendly and approachable, and will gladly share with you the names, histories and personalities of each of the 10 cats present.
Furthermore, the cats are friendly and active, and are assuredly well taken care of.
With peaceful and serene vibes, this is a great spot to enjoy some tea/coffee while being around the various cats.
Just be sure to make an appointment before heading to the café, as they do get busy during peak hours!
Note: Minimum age is 7 years and above, children under 12 should be accompanied by an adult.
Address: 46A Dunlop St, Singapore 209375
Pricing

Per Entry (First Hour): $13 (standard drink included).

Opening Hours:

Tuesday to Sunday – 10am to 6pm

Contact: +6589070666
5. Paws Claws Pet Store
The newest cat café on the block as of writing, the Paws Claws Pet Store is located on Joo Chiat Road, and offers a relaxing time with over a dozen kitties present.
Do note that Paws Claws currently doesn't have a set menu or drinks on offer due to certain restrictions, but patrons are provided a free sealed Kitty Meringue Biscuit upon entry!
As for the experience, the cats present are playful, friendly and well-behaved; a gentle bunch so long as you don't mishandle them!
While currently not much of a café, the attentive staff and cute cats means Paws Claws Pet Store is still a great place for cat lovers to wind down and enjoy the company of felines.
Note: Appointment only. Children under 7 are not allowed; Children between the ages of 7 to 12 should be under adult supervision.
Address: 331 Joo Chiat Rd, Singapore 427587
Opening Hours: 11am to 7pm daily
Links: Instagram
Verdict
And there you have it, these are all the notable cat cafes in Singapore that are well worth a cat lover's time.
Just be sure to make an appointment beforehand, and follow the respective rules and regulations for the safety of both you, the staff, and the resident cats!
Read more: 9 Top Dog Cafes To Visit In Singapore