7 Places In Tampines For Great Western Food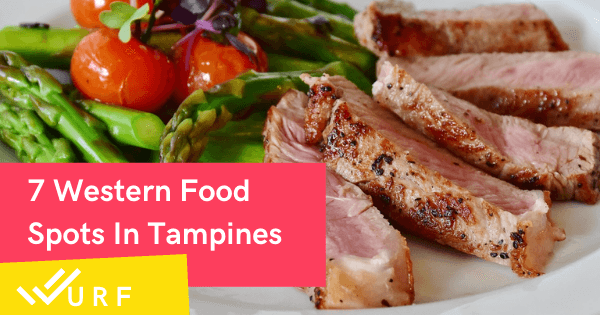 When you think of Western food in Tampines, it's easy to gravitate towards convenient and easily accessible chain stores like iSTEAKS or Swensen's.
But we challenge you to go out of your comfort zone:
And try some lesser known and unexpected places for your Western lunch or dinner! We've listed some of our favorites below.
7 Good Western Food At Tampines, Singapore
1. The Co-op @ HomeTeamNS Tampines
At Our Tampines Hub, The Co-op @ HomeTeamNS Tampines is a lovely secluded halal western restaurant if you feel like having fish and chips (with Atlantic cod and truffle fries) for lunch or dinner.
Or you can get smoked duck carbonara, Cajun chicken, mushroom aglio olio, bangers & mash, rib eye steak, pan seared bass, as well as fusion pastas like their laksa pasta.
Dishes cost around S$20. They have a non-alcoholic tiramisu if you still have room for dessert too.
Despite the very friendly staff, warm service, a beautiful interior, and the option to opt for gluten-free food, you should still be able to find a seat for dinner over a weekend without much fuss.
Ratings: 4.6/5 from 419 Google reviews
Address: 1 Tampines Walk, #03-04 HomeTeamNS Tampines Our Tampines Hub, Singapore 528729
Opening Hours: 12pm to 10pm
2. The MeatHöuse
On the top (5th floor) of Century Square, is The MeatHöuse, a comfortable halal western restaurant in Tampines that specializes in steaks – as you can probably guess from the name!
Beef ribs, lamb steak, sirloin steak, lamb ribs, lamb chop, etc. Note that medium often turns out more well done than rare.
But for the portions you get, the price isn't as expensive as you would expect. A set for 2 pax costs S$50.
They also have other mains like strip loin pasta and fish and chips that are tasty. Side dishes and appetizers unfortunately aren't as great as their meat companions.
The service is from staff is good if you manage to get their attention. However, if you happen to meet the manager of the establishment, his service is kind of crude and may turn you off.
Ratings: 4.1/5 from 512 Google reviews
Address: 2 Tampines Central 5, #05 – 04, Singapore 529509
Opening Hours: Sunday to Thursday: 11:30am to 9:30pm; Friday to Sunday: 11:30am to 10pm
Contact: +65 6260 1752
3. PastaMania – Tampines Mall
Students like to frequent this Western restaurant on the 4th floor of Tampines Mall because of the sizeable portions and low prices.
If you're a pasta connoisseur, you'll be less than impressed with some of their dishes (and occasionally under-cooked pasta) but they do have a few dishes that are commendable:
Like the prawn aglio olio, baked rice, salted egg pasta, etc. You'll find that there's a lot of variety on the menu.
Lastly, the attentive and amiable staff make dining here a pleasant experience.
PS: We know this counts as a chain store.
Ratings: 4.0/5 from 448 Google reviews
Address: 4 Tampines Central 5, #04 – 21 / 22, Singapore 529510
Opening Hours: 10am to 10:30pm (Opens at 11am on Wednesday)
Contact: +65 67841625
4. MediumRare by Saveur
Grilled chicken chop or Wagyu beef burgers are worth having for lunch at MediumRare by Saveur. Besides this, the black Angus prime rib (1kg) is recommended for groups to share.
And while you wait for the mains (can take 30 minutes per dish), do try their creamy clam and mussels soup for a starter!
Dining here can get pricey pretty quickly. And hence, MediumRare by Saveur is more popular at lunch time because of the more economical lunch sets!
Otherwise having dinner here could result in a bill of at least S$60+ for 2 pax.
Ratings: 4.1/5 from 418 Google reviews
Address: 2 Tampines Central 5, #01-35 Century Square, Singapore 529509
Opening Hours: Weekdays (12pm to 3pm, and again from 5pm to 10pm), Weekends (12pm to 10pm)
Contact: +65 6789 1121
5. Craze Kitchen
Right along Tampines N2 Shopping Street, Craze Kitchen has many Western mains (and of generous portions too):
Like striploin beef paella, pollock burger, Angus steak, fish and chips, prawn aglio olio and fried calamari, rib eye steak, chicken chop, etc.
Most of the food is delicious and very affordable too. You can eat to your heart's content without spending too much!
And while service is fast, the energetic staff will be able to cater to your needs better if you avoid peak hours.
Note: No additional charges (e.g. service charge, GST)
Ratings: /5 from Google reviews
Address: 201D Tampines St. 21, #01-1171, Singapore 524201
Opening Hours: Sunday to Thursday (11:30am to 10pm); Friday to Saturday (11:30am to 1am)
Contact: +65 6970 0287
6. Tokyo Western Food
Western food (with some Hainanese flair) in Tampines comes in the form of an old-school hawker setting with Tokyo Western food.
You can have sirloin steak, fried chicken wings, fish and chips or chicken chop (or pork chop) with crispy crinkle cut fries, baked beans, cucumber slices and rather ordinary toast for sweet prices (less than ~S$10)!
To be fair, the portion of meat you get is not large but it still makes for a satisfying meal if you don't mind a salty taste, and the lack of ambiance (and hygiene).
Ratings: 4.2/5 from 126 Google reviews
Address: 823A Tampines Street 81, Singapore 521823
Opening Hours: 12pm to 10pm (Closed on Tuesdays)
7. A1 Family Ayam Goreng & Western Food
Spot this stall from the long queues around dinner – many choose to takeaway.
Chicken cutlets only cost S$6.50 (at the time of writing) and the food is ready within 10 minutes or so even if you have to join the queue for 20 minutes.
The chicken cutlets are served alongside the standard sides like coleslaw, baked beans and one bun. For the price, there's not much to complain of!
You can also get spring chicken, chicken wings, or steak. Portions are lavish and so is the service!
So it's safe to say that the A1 Family Ayam Goreng & Western Food is a budget-friendly option for tasty Western food in Tampines!
Note: Not halal certified
Ratings: 4.3/5 from 27 Google reviews
Address: Blk 477 Tampines Street 43, #01-192, Singapore 520477
Opening Hours: 8:30am to 12:30am (Opens at 8am on Sundays)
Contact: +65 6786 0713
Verdict
Western food in Tampines varies from steak houses, budget pastas to humble and classic hawker-style Western chicken chops.
Some of these Western restaurants are better for dining in while others don't have much of an ambiance. However, if it's fine dining you're looking for, none of these options will fit the bill.
Read more: