Go-To Food At Tampines 1 Mall: 11 Venues To Try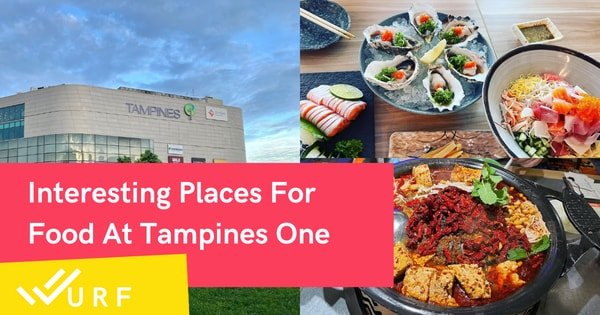 Tampines 1 Mall food is not bad. And this one-stop shopping center also meets the daily needs of the local community.
It has a strategic location next to the MRT station and Tampines Bus Interchange. Thus, it's great for shopping for groceries.
Plus, there are trendy street fashion brands, and beauty stores. As well as interesting dining concepts.
Check out this list of 11 delicious food you can eat at Tampines 1 Mall.
1. 探鱼 – TANYU Tampines 1
TANYU Tampines 1 is famous for its grilled fish. The green pepper fish limbo stands out. It has plenty of green chilies and fragrant white pepper. The dish will win over even die-hard fish haters.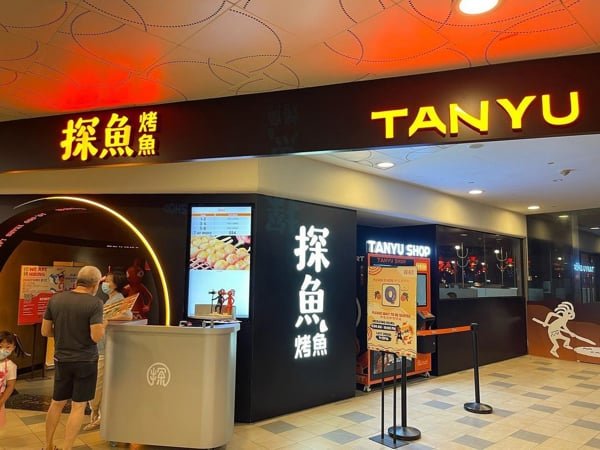 The fresh sauerkraut is first grilled and then simmered in a soup that's brimming with fish essence. Petite slices of bean curd soak up the broth for a flavorful bite.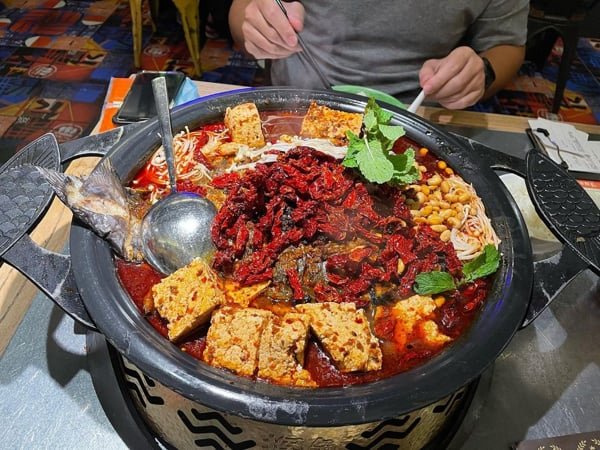 Plus, you can request a soup refill!
The roasted brinjal and garlic dish is another crowd-pleaser, bursting with savory flavors. TANYU Tampines has a clean and comfortable environment with good ventilation.
It is a foodie's go-to place when you're on the hunt for what to eat at Tampines 1.
2. Monster Curry – Tampines 1
Monster Curry is the only restaurant in Singapore serving Japanese demi-glace curry. In fact, it offers an extensive menu of curry dishes.
They prepare curry with 14 different spices and vegetables. The curry has a strong spiciness to them. Because they cook the curry over 2 days.
You can't go wrong with the rice and noodle dishes here. They all come with signature curry sauce. There is curry rice with shrimp and curry rice with pork. Even, curry rice with salmon at this Japanese fusion restaurant.
3. iSTEAKS @ Tampines 1
As one of Singapore's leading steak franchises:
iSTEAKS @ Tampines1 is ideal for a hearty meal of steak, fish, pork, and chicken dishes. Both prime Wagyu beef and pork are well marinated, tender to the bone with smoky undertones.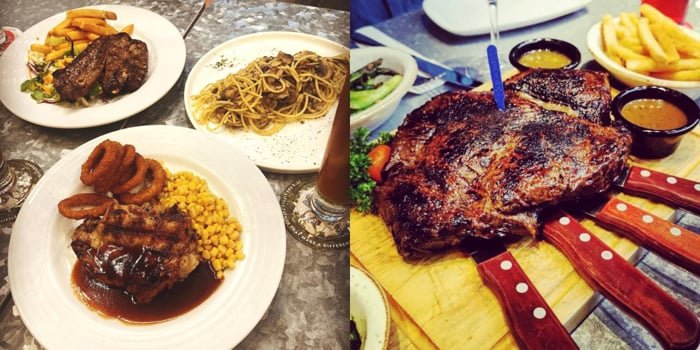 The selection of side dishes is drool-worthy and enticing. There are fries, baked potatoes, or mashed potatoes. As well as spiced pumpkin, macaroni and more.
Moreover, prices for food and drinks are reasonable and the portions are generous During peak hours, the queue is long. While waiting, you can scan the QR code to get a queue number.
And browse around the mall until you receive a notification. Please note that all guests must be present before getting a seat.
4. Shabu Sai
Shabu Sai is another all-you-can-eat shabu and sukiyaki restaurant chain in Singapore. They're known for serving a variety of tasty soups to pair with meat and vegetables.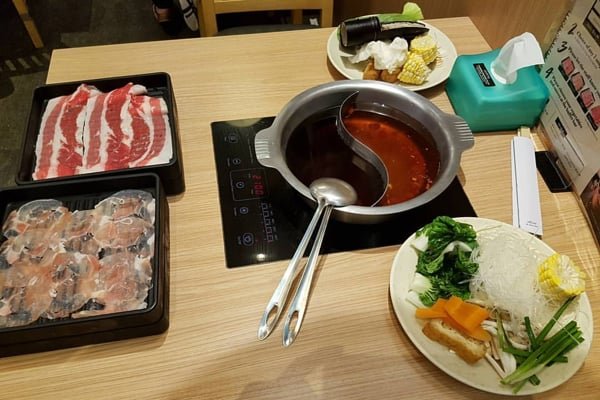 Their nutritious herbal soup with chicken and barley is endearing. It's cooked with Chinese herbs and has an herbaceous undertone that warms the stomach. They cook their black bean gobo soup with pork bones for hours. It has a meaty essence and invigorating herbs.
You'll also find a variety of lunch dishes. Including udon sets with toppings like beef balls, mushrooms, chicken, and more. There are delicious condiments and sauces. Such as sesame paste, cilantro, and soy sauce chili oil.
And at this affordable sukiyaki buffet, guests can top up the soup for free if they wish. Prices are lower on weekdays and this is when you get the most bang for your buck.
5. Hong Kong Sheng Kee Dessert (Tampines One)
Hong Kong Sheng Kee Dessert is actually a misnomer. Because there's more than sweet treats and desserts here! The menu has a variety of Hong Kong-inspired dishes, noodles, dumplings, and snacks. And other meaty delights to meet your Hong Kong food fix!
Wanton noodles are a must-try: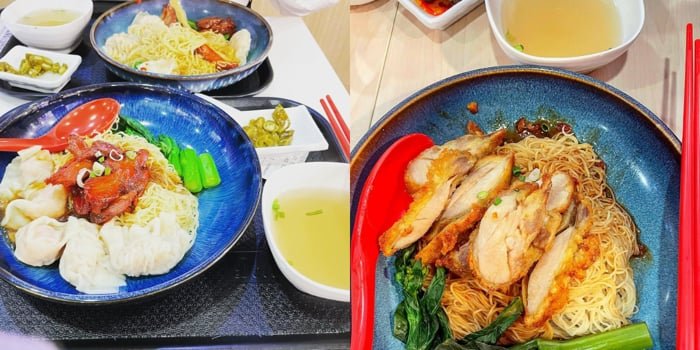 The wanton dumpling features whole shrimp alongside well-marinated pork. The soup, served with tender roasted sliced meat, is another highlight. They cook it from scratch without MSG.
Seating is somewhat haphazard and few. So this is not a place to linger long.
6. Dian Xiao Er
Dan Xiao Er is an award-winning duck specialist. Their novel recipe involves combining succulent roast duck with Chinese herbs.
The signature dish is an herb-roasted duck. It has crispy, thin skin that gives way to a rich infusion of juicy duck meat.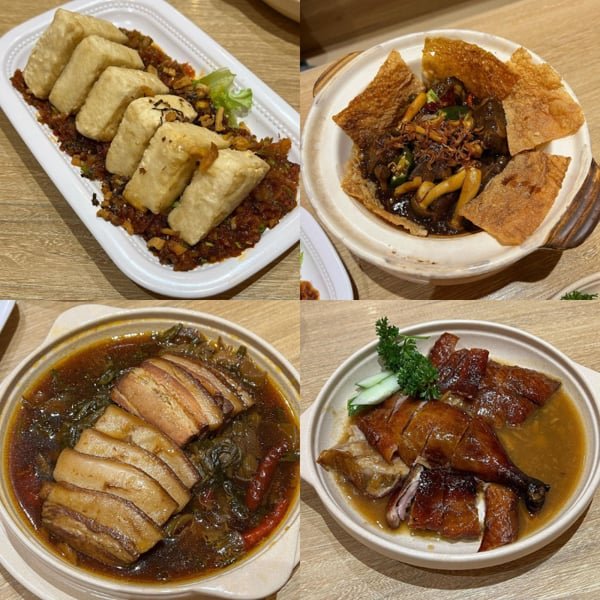 Note: Dian Xiao Er uses Cherry Valley Ducks for their traditional Chinese cuisine.
The thick fish maw thick soup and roasted Iberico Char Siew are other crowd-pleasers. Plus, wheatgrass tofu with seafood balances the meaty experience. It is lighter on the stomach.
Service is prompt and courteous. Almost every week, there are newly-crafted dishes. These rotate through the various outlets in Singapore.
7. The Sushi Bar – Tampines 1
The Sushi Bar serves authentic sushi, sashimi rolls, and Japanese staples. As well as a good selection of sake and Japanese beer.
Considering the freshness and quality of the sashimi, expect prices to be higher. But you pay for what you get, and the quality will blow you away! The sushi is of excellent quality and they do not skimp on serving chunky shrimp.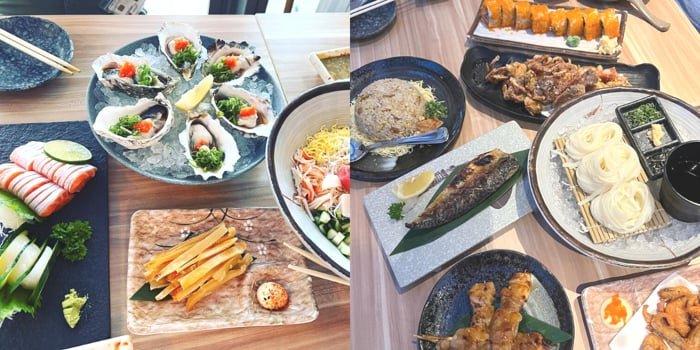 There are generous portions of crab roe and other seafood. Sashimi is well cut without reeking with a frozen aftertaste.
Seasoned fried foods are rather salty but otherwise tasty. Rolls are delicate and rather small compared to other Japanese restaurants.
So, if you're pursuing quality and not quantity, then The Sushi Bar is the place for you.
8. Pepper Lunch – Tampines 1
If you like your meals piping hot and spiced to your liking, try Pepper Lunch in Tampines 1. This renowned fast-food steakhouse in Asia offers a unique tepan concept. Diners can "cook" their meal on a hot grill.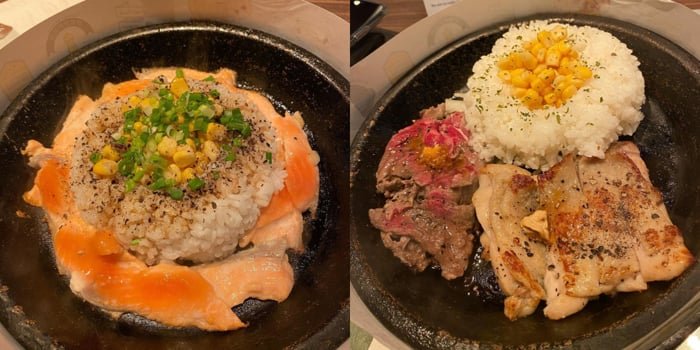 Pepper Lunch sets high-quality ingredients on a teppan for guests. These include pre-cooked rice, marinade, raw meat, and other condiments.
Guests can then stir-fry their food and season it with a variety of sauces. Unagi pepper rice and cheese beef risotto are hot favorites. And they are easy to make and do not need much cooking.
Portions are reasonable and in line with the price. But the pricing is still higher than other traditional Japanese restaurants.
9. Fish & Co. – Tampines 1
Fish & Co needs no introduction. This is an established restaurant that serves grilled and flambéed seafood. Dutch and New York Fish & Chips is a sterling choice here:
The dish features fish in a super crispy batter with a cheesy sauce that has hints of umami nuances. The fish is flavorful without being too drenched in oil.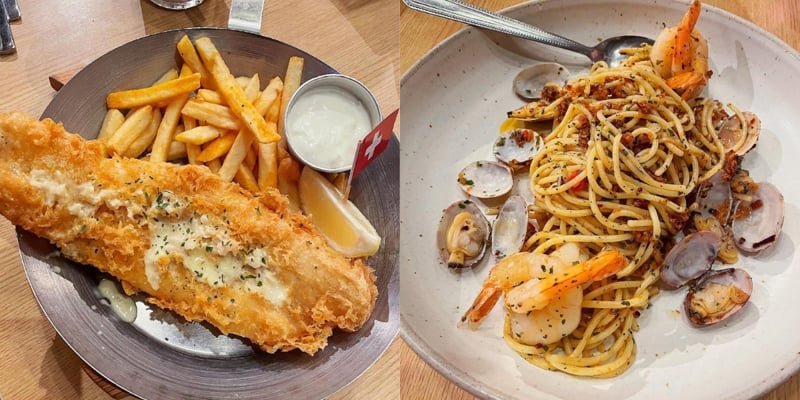 Cheese lovers can indulge in Danish Fish & Chips. This has a filling of high-quality mozzarella cheese for a fulfilling finish. Spaghetti with soft-shell crabs is another appetizing treat. Meanwhile, the seafood platter never disappoints.
The menu remains consistent. And the impeccable and courteous service staff draws a loyal crowd.
10. Sushi Express @ Tampines 1
Sushi Express impresses with its delicious menu. It is one of many Japanese eateries at Tampines 1 shopping center. It draws the crowd with reasonable pricing. Sushi starts at $1.50 a plate.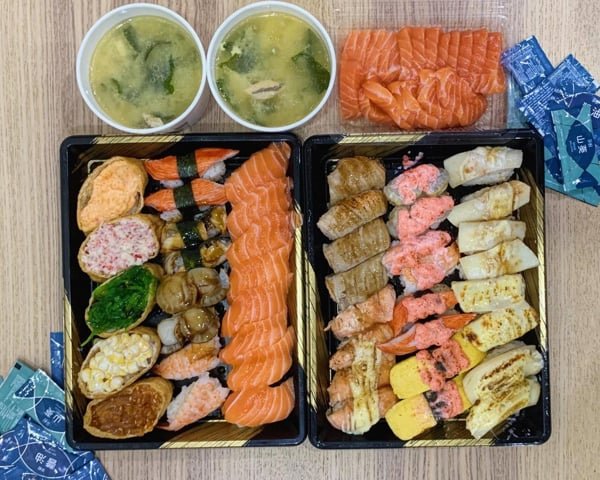 This fuss-free sushi belt restaurant offers good value, excellent selection, and efficient service.
The casual dining process begins when you secure a seat. Next, you'll grab your coveted sushi from the conveyor belt. After that, all you've to do is mix your sauces and wasabi and your sushi feast begins!
Considering the low prices, do not expect the best quality. But the sushi is fresh. Mealtime is 40 minutes per session, which is more than enough to enjoy your favorite dishes.
11. Fluff Stack At Tampines One
For light snacks, desserts, and all kinds of pancakes, make a beeline to Fluff Stacks. They have honeycomb croffles and dreamy soufflé pancakes. As well as buttery waffles and other similar items.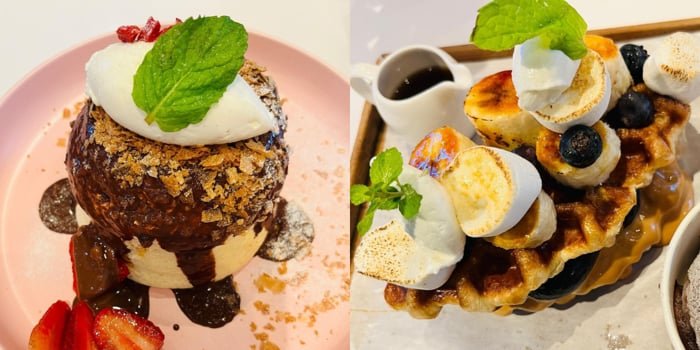 Their classic soufflé pancakes are divine. They have an airy and fluffy texture that jiggles with the slightest movement. And they pair well with the flavorful Earl Gray ice cream that accompanies them.
Croffles are another buttery delight here. They serve them warm and with aromatic cinnamon sugar on top.
Classic Pancakes live up to its reputation as one of the best pancakes in town. Their feather-light texture goes best with fresh whipped cream and maple syrup.
For drinks, try the Gold Thai Milk Tea or the Rose Thai Milk Tea.
Conclusion
Finding what to eat at Tampines 1 Mall is not as difficult as it seems. As there is no shortage of good food options here.
Tampines One Mall is one of the best one-stop malls in the city too. It has easy access to the MRT train and bus. So it is a perfect hangout after work or on weekends.
Related: