Our Tampines Hub Food – Convenient And Tasty Options For The Family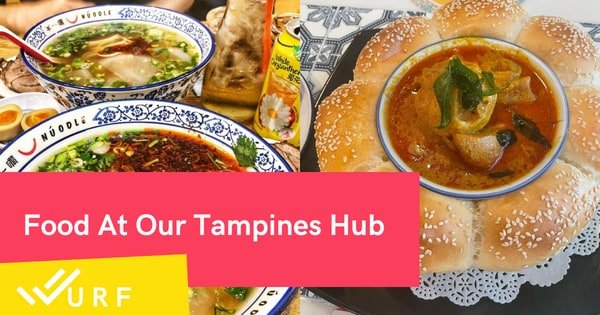 What is there to eat at Our Tampines Hub? Our Tampines Hub food consists of many Muslim-friendly eateries.
But there's also Japanese, Indonesian, Middle-Eastern, and Mexican cuisine if you want something other than local food.
Have a look at these options to get you started:
1. Nuodle Flagship @ Our Tampines Hub
Brisk service, tasty food, reasonable prices, amiable staff, and a cushy dining interior are reasons to patronize Nuodle Flagship @ Our Tampines Hub.
Lunch and dinner crowds should be expected when dining here.
Their meat skewers, beef noodles, la mian, and beef dumplings are the go-to orders here. There's also a sweet but flavorful butter chicken which comes as a set meal.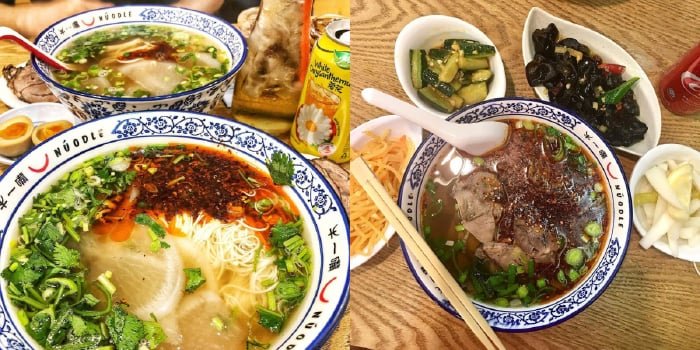 Note: La mian noodles are handmade here
But although this is a Chinese restaurant, it's halal too. They even have some plant-based dishes that don't taste that way!
2. Guzman y Gomez – Our Tampines Hub
Tacos are the best sellers at Guzman y Gomez at Our Tampines Hub but there's also other appealing Mexican staples like quesadillas, burritos, enchiladas, nachos, and fajita on the menu.
Fries are an optional side you can get with your main here.
Service is generally dependable here. But it's not cheap to dine here even if the portions are fair.
The Our Tampines Hub outlet is clean and well-lit with a stylish interior and tables of many sizes to accommodate different groups.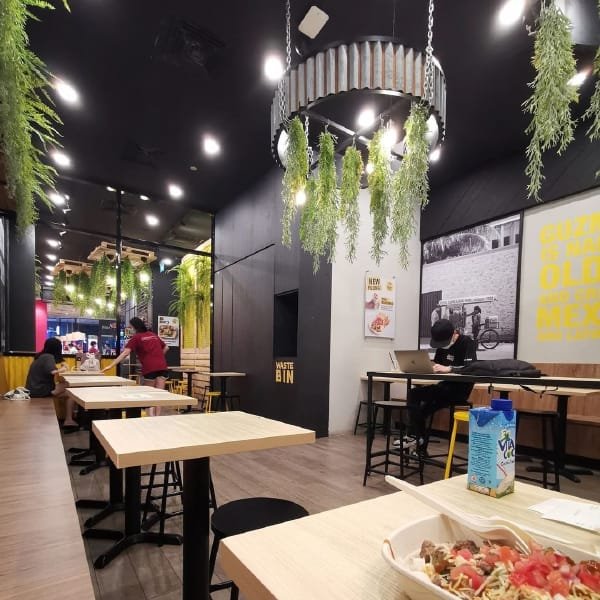 3. Ramen Hitoyoshi
At this ramen specialist at Our Tampines Hub, you get to customize your own bowl of ramen to your liking – including how salty or oily you want it, how rich you want the broth to be, and the type of noodles you prefer.
Tonkatsu ramen is a top choice here although they also have a decent chashu ramen.
There are different toppings you can get too (e.g., seaweed, onsen egg, etc). And optional sides you can order like gyoza.
A free-flow side dish of sweetcorn with beansprouts is served with the ramen (don is an alternative if you don't want noodles).
The eatery is in an inconspicuous corner and you'll probably spot it from the line in front of it on weekends.
For the price and attentive service, there's nothing much to complain about at Ramen Hitoyoshi.
Note: Not a pork-free establishment
4. Rumah Makan Minang – Our Tampines Hub
Authentic tasting Indonesian nasi padang style dishes like botok botok, beef rendang, tahu telor, sambal cuttlefish, fish berlado, etc are available at Rumah Makan Minang.
Assam fish sells out quickly here.
However, like many other restaurants, this outlet of Rumah Makan Minang has also reduced portions and increased prices in order to cope.
Catering is possible but it might take you a while to get a hold of them on the phone.
The restaurant is at the basement floor of Our Tampines Hub and just beside a bowling alley.
5. Tenderfresh Classic @ Our Tampines Hub
For halal western food, a visit to Tenderfresh Classic at Our Tampines Hub is rarely disappointing:
Because of their reasonable pricing, wide menu variety, and comfortable dining environment, this outlet of Tenderfresh Classic is extremely popular at dinner time.
Fried chicken is their signature. Apart from this, they have roast chicken wings, grilled fish, mushroom spaghetti but also, intriguing pasta fusions like their prawn laksa pasta!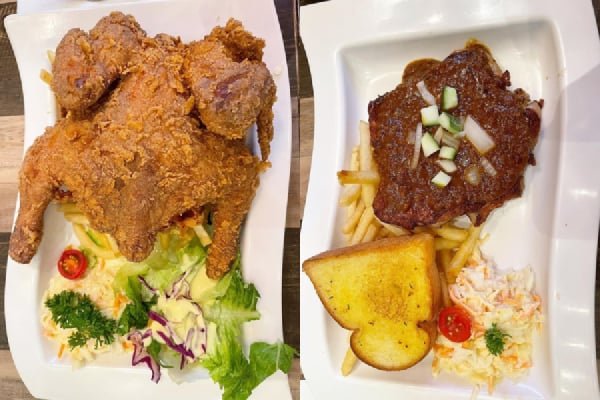 To be on the safe side though, order their chicken dishes like the satay chicken chop with fries. Dishes that feature meat other than chicken can be stingy on portions.
While the food is better than average, drinks are not that great (don't go for the coffee) and pricey too.
This is also not the place for vegetarians as there are very few options available.
6. Old Chang Kee Coffee House
Takeaways orders are just as many as dine in customers so you might want to steel yourself for the breakfast and lunch crowds at Old Chang Kee Coffee House.
This outlet has wonderful service, even when understaffed.
However, while the place is air-conditioned, it can be really noisy at peak times. And they don't have an efficient ventilation system so you may come out smelling like the food.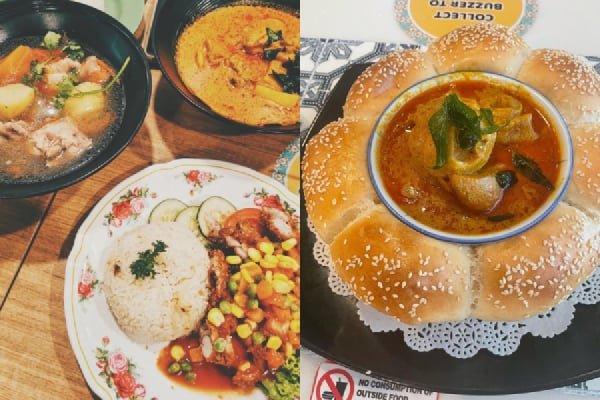 While here, you should definitely order the blue pea nasi lemak, curry chicken with bread, bee hoon, toast, etc. Laksa is a common request here but beware of long preparation times if you choose to order this.
Note: Coconut milk is not noticeable in their food
Old Chang Kee Coffee House is not inside Our Tampines Hub but just outside the east entrance.
7. Qi Ji Our Tampines Hub
Popiah is the clear star at Qi Ji Our Tampines Hub. Other items on the menu are a hit and miss:
Sayur lodeh and prawn laksa are not bad. Lontong, mee siam, and mee rebus are good but portions are stingy. You don't get much ingredients with them.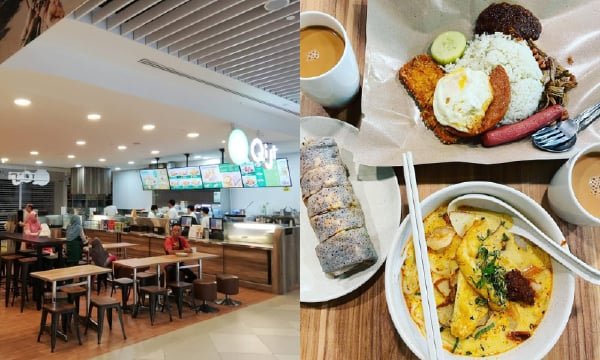 As a halal eatery with fair prices (for the most part), Qi Ji Our Tampines Hub does struggle to keep up with their numerous delivery orders so it's best to go somewhere else during peak times.
They do have a quite lot of seats though. And it doesn't feel very cramped since the restaurant doesn't have any walls!
8. Merely Ice Cream
As the name implies, this is a simple but quaint ice cream shop and not a restaurant. But we'll count it under Tampines Hub food too because:
They have really fantastic ice cream (and many flavors besides). And you can choose to have your ice cream with waffles or not. The waffles have a slight crisp on the outside.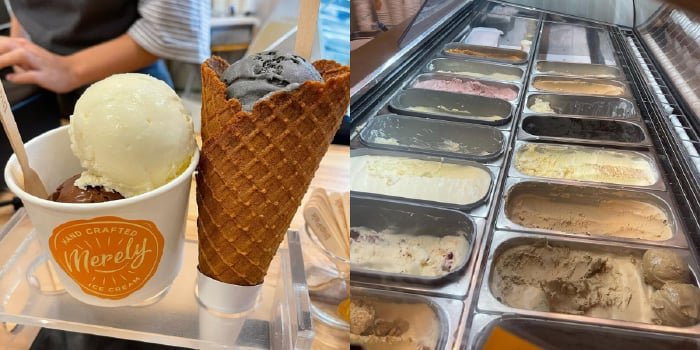 Not to mention, their serving sizes are pretty generous!
Flavors to get include Valrhona chocolate, salted butterscotch, black sesame, pistachio, etc.
9. Tipsy Penguin
Only open for dinner, Tipsy Penguin has a live band playing late at night. You can listen to them while sipping on a draught beer. The band do take song requests too.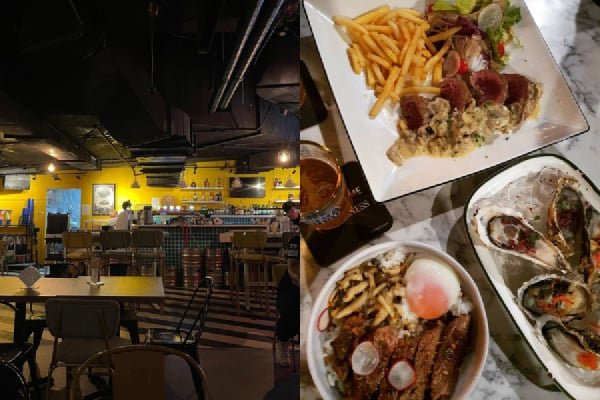 Because of how loud it can get here however, this is not the place for conversation when the band is on.
As far as food goes, there are fresh oysters on the menu, a really awesome mac and cheese, and cordon bleu! The food is delicious but don't expect large portions here.
Staff have a keen eye for keeping drinks refilled (applicable to plain water) and the service here is just all-round praise worthy.
10. Al Mahboob Rojak
Rojak is certainly a credible top seller at Al Mahboob Rojak. And it's affordable too. Plus, they're heavy on the gravy serving. The gravy features chunks of peanuts.
You can bet that most of the people in the queue are there for the rojak. Sometimes, waiting times can be long. There is a perpetual lunch crowd from coming for the Indian style rojak and air-conditioning!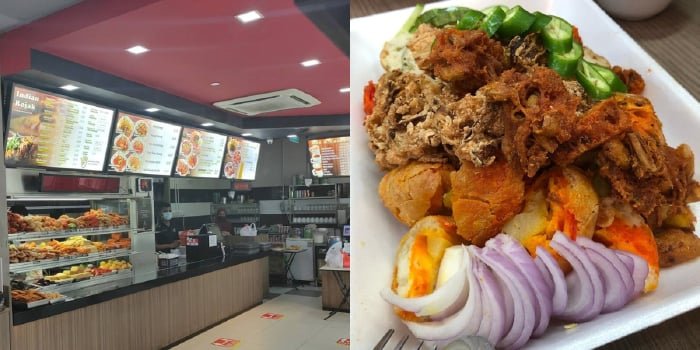 That said, other items on the menu can't really compare to their rojak:
For example, the mee goreng is oily, nasi goreng bland, and the mutton soup (bread costs extra) is very watered down.
However, they do have a decent mee kuah.
11. Abu Mubarak Mandi Rice Restaurant
Fancy finding a Yemenite restaurant at Our Tampines Hub!
Abu Mubarak Mandi Rice Restaurant is helmed by a friendly crew. This eatery is most notable for their flavorful mandi rice. The combo platter includes both chicken and mutton.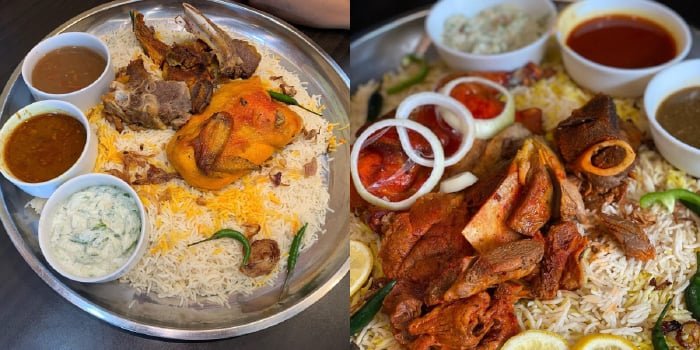 Their hummus and kunafa are delightful too. The lamb shank is tender but can have a strong lamb smell.
And hence, this the place to go for affordable Middle Eastern cuisine of sizeable portions!
Note: Prices have increased
Verdict
Don't say there's nothing to eat until you've tried all of these options for Our Tampines Hub food!
True, you're not going to find any fancy steakhouses or fine dining venues here but these options are good in their own right!
By the way, there's also Captain Kim Korean BBQ & Hotpot Buffet (one of the best venues for Korean food in Tampines) which is close to Our Tampines Hub.
Related: