7 Tampines Korean Food That Will Satisfy Your Craving 2023
We'll be frank – there aren't many impressive Korean restaurants in Tampines. There is a general lack of Korean restaurants in the area (so if you're going to open one soon, let us know).
But what are you going to do when you feel like having Korean food but don't want to go so far from your neighborhood?
Thankfully, there are still some decent Korean restaurants in Tampines where you can have a Korean BBQ dinner, fried chicken, ramyeon and other Korean eats.
7 Korean Food At Tampines, Singapore
1. Seorae Korean Charcoal BBQ (Tampines Mall)
Right inside Tampines Mall is Seorae Korean Charcoal BBQ and true to their namesake:
This Korean barbeque restaurant offers a nice experience if you've never had an authentic Korean BBQ using charcoal before.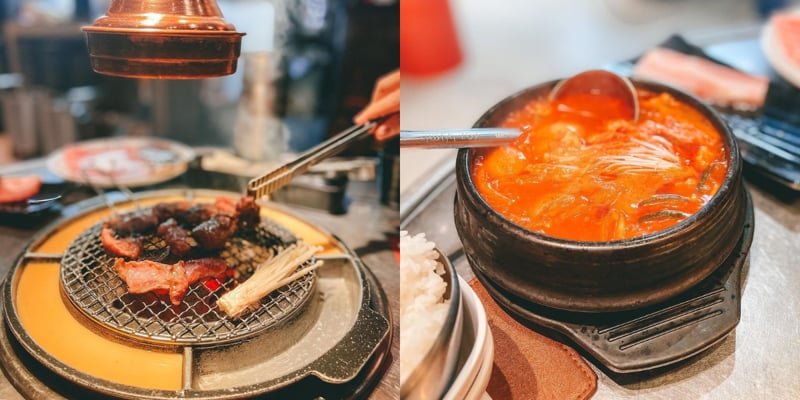 Note: The staff will also guide you on how to cook your meal.
It is pricey though (it is easy to spend $100 for just 2 pax) even if you do get steamed eggs and the quintessential free-flow side dishes too.
And if you like your grilled meats thin, that's how they prepare it here. Portions also vary from dish to dish. Their stews are good if you don't feel like having BBQ.
The awesome thing is that you won't come out smelling like what you ate! As they have a very efficient extraction system in place.
Note: Don't order the skewers – they are oily and not very easy to cook
Address: 4 Tampines Central 5, B1-02 Tampines Mall, Singapore 529510
Opening Hours: 11:30am to 10pm
Contact: +65 8139 9675
2. NeNe Chicken @ Our Tampines Hub
For fried chicken, NeNe Chicken @ Our Tampines Hub sure takes their sweet time to prepare it but to some, the wait is worth the freshness and taste of the food.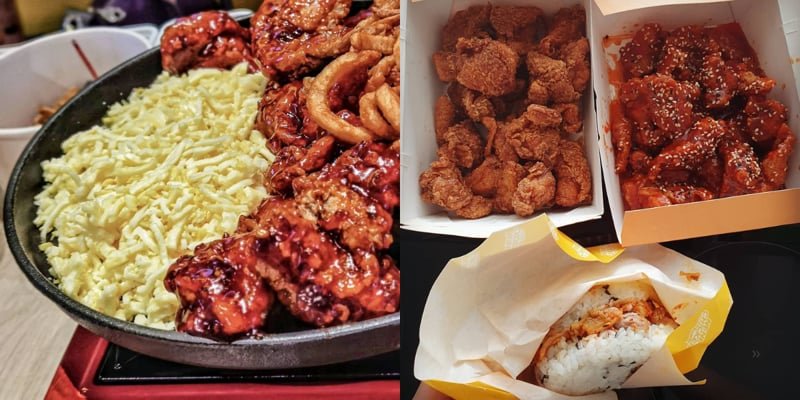 You could be waiting at least 30 minutes even during non-peak hours.
The japchae is a little underwhelming but their specialty is fried chicken although they also have fried onion rings and tteok-bokki.
They don't have much seating which might be a good thing since they perpetually seem to be understaffed or struggling to fulfill online deliveries.
Address: Our Tampines Hub, 1 Tampines Walk, 01-81 Our Tampines Hub, Singapore 528523
Opening Hours: Daily from 11am to 10:30pm
Contact: +65 6574 7296
Related: More food at Our Tampines Hub
3. Captain Kim Korean BBQ & Hotpot Buffet
A crowd is not an unusual sight for this Korean restaurant in Tampines:
Captain Kim Korean BBQ & Hotpot Buffet is a halal certified Korean BBQ restaurant that is efficiently run despite the hectic pace. But you can always make a reservation beforehand to beat the queue!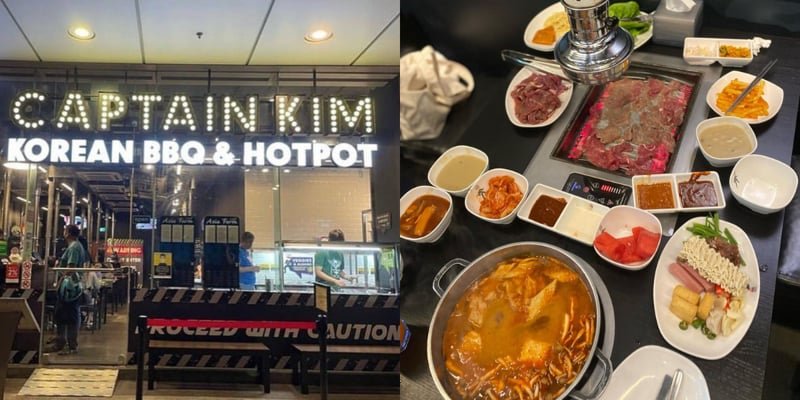 We might add that the taste is not authentically Korean but it's acceptable for the price.
And overall, the mains and marinated meats are better than the desserts. There are more options during dinner too.
On weekends, it costs ~S$35 per pax for the buffet hotpot.
Address: NTUC Income@Tampines Junction, 300 Tampines Ave 5, Singapore 529653
Opening Hours: Daily from 11:30am to 3pm, and again from 5:30pm to 10pm
Contact: +65-6260 4247
4. 4Fingers Crispy Chicken
Avoid busy holiday periods if you can (e.g., Friday evenings). Otherwise, on regular days, the fried chicken wings here are tasty.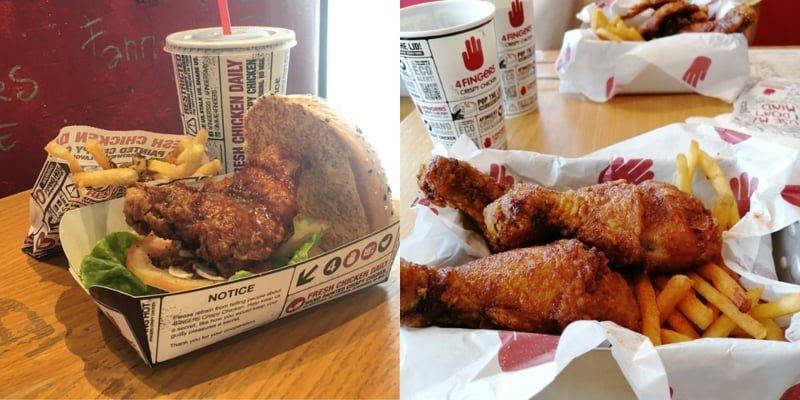 Many choose to make their order online and then pick up the ready meals.
Because the walk-in queuing system is oftentimes a mess despite the friendly staff doing what they can under the circumstances.
It is admittedly kind of pricey for the portion of you get (including rice).
Address: 10 Tampines Central 1, 01-39/40, Singapore 529536
Opening Hours: 10:30am–10pm
5. Seoul Garden Tampines Mall
Ambiance has room for improvement but Seoul Garden Tampines Mall is still a decent place to have halal Korean BBQ at your own pace with a group of friends.
If you've been here before, they now have an ala carte menu rather than buffet-style dining.
Note: Soup is not free-flow
Marinated meat and salmon cuts are the highlights here. In tandem with the price, the portions and quality of the ingredients meets expectations.
However, you're better off having a Korean BBQ meal rather than ordering individual dishes as the latter leans toward a bland taste.
And while the service is slow (I.e. understaffed), the staff is amiable.
Address: 4 Tampines Central 5, #04-01, Singapore 529510
Opening Hours: 11:30am–10:30pm
Contact: +6567861339
Related: Top 10 Tampines Mall Food
6. O'Brew Culture
This small corner with limited seating is usually solely run by a passionate barista by the name of Parker who is also hearin-impaired.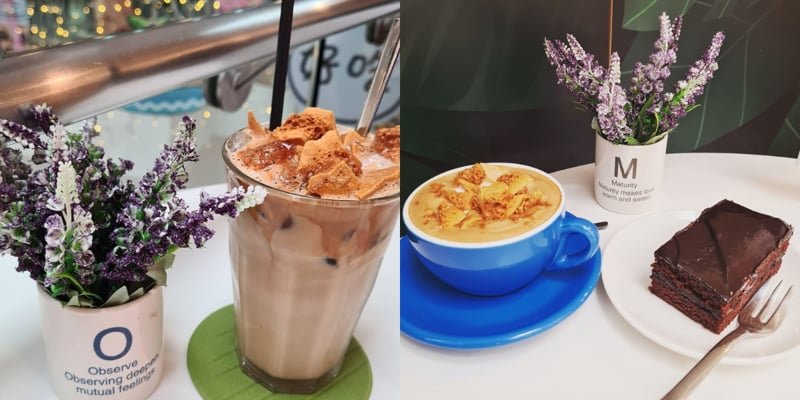 From here, you can have Dalgona coffee with delightful toppings of sweet honeycomb, hojicha dalgona, hojicha latte, ice mocha, cakes, croissants or donuts in a clean and comfortable setting.
If there are no more seats, you can also opt to takeaway.
Address: 10 Tampines Central 1, #02-K02, Singapore 529536
Opening Hours: 10am–9:30pm
Contact: +65-8777 1033
7. Gangnam Bingsu (Closed)
Ok, so this one's not exactly a Korean restaurant but this stall at the Tampines Mart food court has delectable milky Korean desserts!
The bingsu (shaved ice) has a creamy consistency and ample helpings of toppings!
Flavors on offer include strawberry, chocolate, matcha, etc. And a bowl of bingsu will only cost you ~S$11 max!
As a bonus, the staff is very friendly and sincere.
Address: 9 Tampines Street 32, #01-01, Singapore 529286
Opening Hours: 12pm to 9pm
Verdict
Korean food in Tampines leaves much to be desired. The Japanese food scene in Tampines is far better when it comes to variety as well as authentic tasting food.
So unless you really have to have some Korean food in Tampines, then it's best to find Korean food elsewhere. The choices in Tampines are mainly limited to chain stores.
Which is not a bad thing, it's just not very interesting if you're looking for something unique. Alternatively, Tampines Mall has food to try too.
Read more: