5 Tampines Vegan Food That Will Satisfy Your Craving 2023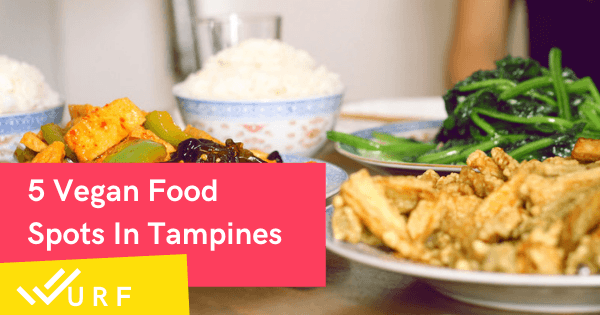 It's getting easier to be vegetarian and vegan in Singapore. However, there are still only a handful of good vegetarian and vegan restaurants in Tampines.
Vegan restaurants are still a rarity in this area and many of the vegetarian restaurants and stalls we have listed cater to the Buddhist community who are typically vegetarian on the 1st and 15th days of the lunar calendar.
So we'd keep this list in mind (or save this page) for easy reference in the future!
5 Top Vegan Food In Tampines
1. Red Apple Vegetarian 红苹果素食
Red Apple Vegetarian is off to a promising start:
This new vegetarian restaurant on Tampines Street has some appetizing spicy dishes (including banana leaf rice and tom yam) and Western cuisine (e.g., burgers and spaghetti) as part of their expansive vegetarian menu.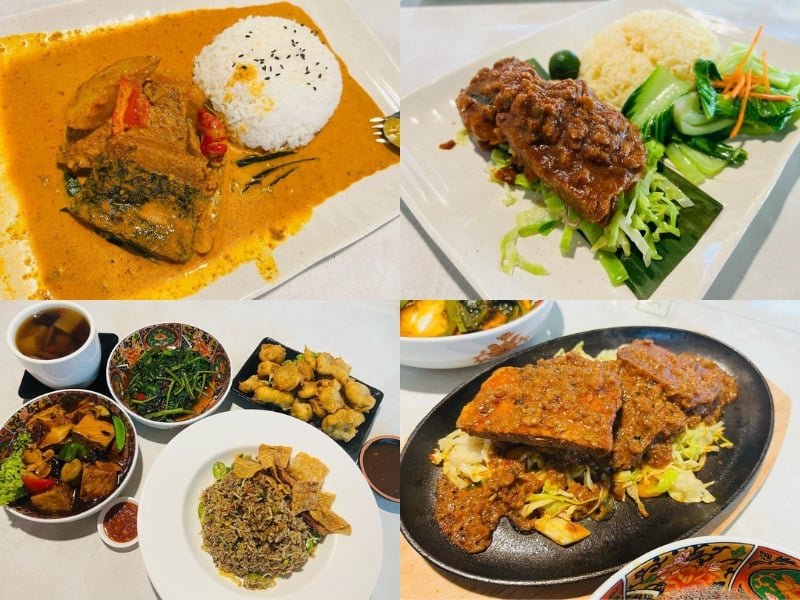 Indoor seating in the form of booths is limited but there are some tables outside too. Note that this eatery does not have air-conditioning. There is however, soft jazz music in the background and ambient lighting.
Because servings are not generous, food (and drinks) can come off as pricey here. But food is on the whole, tasty.
Note: Customers are expected to help themselves (i.e., self service) with drinking water and cutlery.
Mind that the restaurant sees many people during the first day of every lunar month. And it is possible for some food to be sold out by lunch time.
Address: 835 Tampines Street 83, Tampines Palmwalk, #01-02, Singapore 520835
Opening Hours: 11am–8:30pm (Closed on Tuesdays)
Contact: +65-66550001
2. Chee Wei Vegetarian @ 610 Tampines North
With such early opening hours, you can try Chee Wei Vegetarian @ 610 Tampines North if you feel like having local cuisine for breakfast.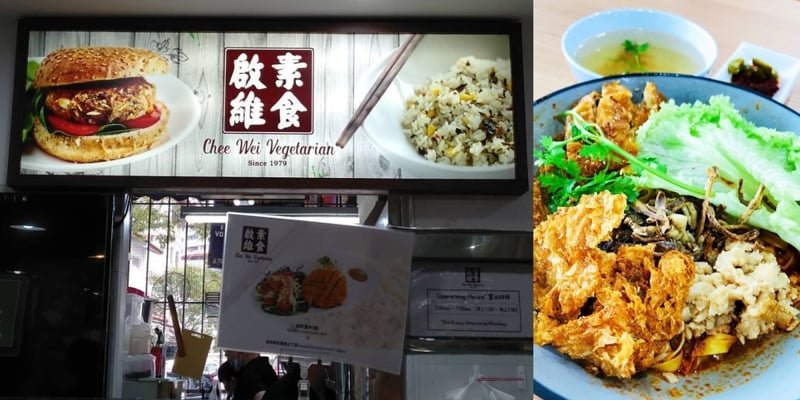 Popular orders here are their vegetarian mee siam, mee rebus, minced pork noodles (i.e., minced mushroom omni noodles) and chicken rice. They do have burgers as well.
This is not the first branch of Chee Wei Vegetarian. The original branch is at Potong Pasir.
As for the environment, this is a typical hawker stall setting in a residential block. There are some tables right in front of the stall if you want to dine in rather than takeaway your food to go.
Address: 610 Tampines North Dr. 1, #01-01, Singapore 520610
Opening Hours: 7:30am–3pm
Contact: +65-97475776
3. Zi Zai Vegetarian (Tampines)
Long opening hours make Zi Zai Vegetarian (Tampines) a reliable place to get vegetarian food for most of the day.
But service leaves room for a lot of improvement – they've yet to settle their online payment system (at the time of writing) and struggle to keep with up orders.
You could be waiting 30 minutes or longer for your meal.
However, prices are very affordable. The menu is quite broad too. Dishes that you can get here include a mock-meat version of belacan fried fish, Hokkien mee, kway teow, and assam laksa.
They also have prata and vegetarian fish curry, and a very spicy mala hotpot.
Our last word on Zi Zai Vegatarian is to avoid peak hours and you could have a pretty nice meal here.
Ratings: 4.0/5 from 907 Google reviews
Address: 801 Tampines Ave 4, Singapore 520801
Opening Hours: 8am to 10:15pm
Contact: +65 6781 1820
4. Vegetarian Stall 谢必安素食
At this humble vegetarian stall in Tampines, mushroom minced meat noodles on Sunday mornings are recommended.
In fact, the morning menu features different noodles and porridge depending on which day of the week you visit.
The food here is good, and is neither too salty or oily. You can select a variety of different Chinese main dishes from the menu at lunch time.
However, recent price hikes give cause for concern since the portions are still the same. Before that, it was not uncommon for food to sell out by 11am.
Ratings: 3.9/5 from 43 Google reviews
Address: 828 Tampines Street 81, Singapore 520828
Opening Hours: 7am to 8:30pm
Contact: +65 9006 4438
5. Yuan Man Vegetarian
Early risers can go to Kopi House 1990 to find this vegetarian stall in Tampines:
Yuan Man Vegetarian has tasty and affordable food served by a friendly couple. There's a quite a great variety of food on offer too.
If you see a long queue on Sundays, it's the vegetarian chicken rice that is highly sought after! Peak hours are usually between 9am to 12pm.
Ratings: 4.1/5 from 35 Google reviews
Address: 820 Tampines Street 81, Singapore 520820
Opening Hours: 6am to 9pm
Contact: +65 9488 5622
6. Ren Xiang Vegetarian Food
419 Coffee Shop has one reputable vegetarian stall you can try:
Ren Xiang Vegetarian Food is often busy at lunch times. Here, you can order vegetarian laksa, bee hoon, or rice with separate dishes. The portions are ample and prices attractive.
Hence, try to avoid coming here whenever it's the 1st or 15th day of the lunar calendar unless you're prepared to wait.
Note: They don't open for dinner
Ratings: 4.3/5 from 27 Google reviews
Address: 419 Tampines Street 41, Singapore 520419
Opening Hours: 6am to 3pm (Closed on Tuesdays)
Verdict
Tampines vegan food is lacking but if you don't feel like cooking, you can still visit these vegetarian restaurants and stalls instead.
With the closure of Botanict however, there aren't really any high quality options for vegan food in Tampines at the moment.
Read more: