7 Best Thai Food In Tampines 2022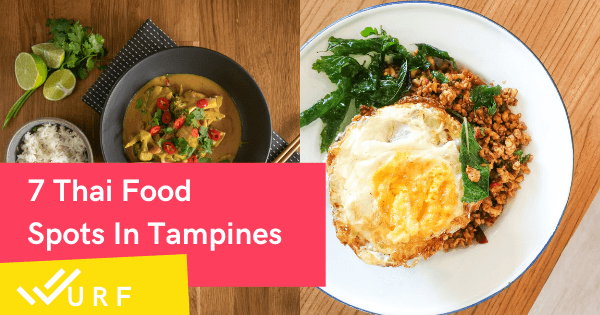 Tampines Thai food has some decent eats among chain stores and family-fun establishments.
Whether you want dishes, Mookata steamboat, Thai desserts, or awesome tom yam soup, there are places to get them at almost all hours of the day.
Scope out a new favorite with this list of the best Thai restaurants in Tampines!
Top 7 Thai Food In Tampines
1. Chok Dee Thai Food Mookata
While not open for lunch, Chok Dee Thai Food Mookata is the place to go if you want to know where to get Mookata steamboat in Tampines.
The soup base (either pork bone or tom yam) they use is delicious and makes up for the slightly stingy portions. There is also a wide selection of marinated meats and dipping sauces (chili sauces are great) to choose from.
Moreover, the owner and staff are both very welcoming too. And they can keep up during busy hours too due to an efficient ordering/ payment system in place.
On that note, it's still a good idea to make a reservation before coming here. Or risk standing in a queue for a table.
Ratings: 4.3/5 from 184 Google reviews
Opening Hours: 3pm to 11:30pm (Closed on Tuesdays)
Contact: +65 9343 4969
2. Soi Thai Kitchen
Fancy having Thai food late at night? Soi Thai Kitchen has exceptionally late closing hours every day.
There is the quintessential tom yam seafood soup (as well as a clear version). And other notable Thai dishes like mango salad, pad thai, Thai-style kangkong, and green curry.
But just note that this Thai restaurant in Tampines is not halal and there are dishes like basil pork. And the general taste of the dishes is sweeter than some would like.
However, prices and portions are very reasonable and service is speedy.
Ratings: 4.0/5 from 579 Google reviews
Opening Hours: Daily from 11am to 2:15pm, and again from 5:30pm to 1:30am
Contact: +65 6784 2421
3. 99 Thai Taste
Heaping portions are served at 99 Thai Taste. A pity that the taste can be inconsistent. Some dishes are a hit and miss.
Because of the low prices however, they do take on a lot of online deliveries so expect a wait if you decide to come during typical lunch or dinner hours.
Popular dishes include fried basil pork, a robust tom yam soup, deep fried chicken, pineapple fried rice, stir-fried glass noodles, etc.
And 99 Thai Taste is only a quick walk from the nearest MRT!
Ratings: 4.0/5 from 73 Google reviews
Opening Hours: 11am to 9:30pm
Contact: n/a
4. Sanook Kitchen – Tampines 1
If there's 2 of you, there's a value set meal that will interest you at Sanook Kitchen. Plus, this Thai restaurant in Tampines is halal.
Note: Sanook Kitchen is a chain restaurant too.
So long waits and slow service are not uncommon during peak hours.
However, the clear tom yam soup, mango salad, seafood hotpot (enough for 3 pax), basil beef are worth a try.
Although in general, the taste caters to local taste rather than authentic Thai food. Some dishes are not as spicy as they could be.
Note: Let them know if it's your birthday and you might just get a free red ruby dessert too!
Ratings: 4.2/5 from 131 Google reviews
Opening Hours: 11am to 10pm
Contact: +65 6509 6708
5. Saap Saap Thai
Tom yam is unfortunately lacking taste at Saap Sapp Thai, but there's no arguing that this is an affordable place to get Thai food in Tampines.
Thus, waiting times do get considerably long during peak hours.
Try the beef noodles, mango sticky rice, or the dry version of the crispy chicken noodles if you're not sure what to order.
Note: They are more generous with meat than they are with veggies
Ratings: 3.8/5 from 337 Google reviews
Opening Hours:
Sunday to Thursday (11am to 9pm)
Friday to Saturday (11am to 9:30pm)
Contact: +65 9366 0322
Related: Options for food at Our Tampines Hub
6. Jiak Mookata SG – 494 Tampines Street 45
Jiak Mookata SG have excellent portion sizes, fast service, and a good soup base for their steamboat sets. For a family of 4, it can cost S$40.
While the marinated meats are nice (try the black pepper), you may notice that there's no beef on the menu though. Although they do also have bento sets in addition to Mookata steamboat sets.
And it is possible to have your Mookata set (including the stove which you have to return) delivered to your home too.
Note: Disposable cutlery will be provided for home deliveries.
If you choose to dine in, you'll find that they're not just generous with portions:
Because the staff is really amiable and responsive as well. Therefore, this family business shows a lot of promise for those searching for Tampines Thai food.
Ratings: 4.7/5 from 18 Google reviews
Opening Hours: 4pm to 11:30pm
Contact: +65 9146 5435
7. Gin Khao Safra Tampines
Both food and prices are agreeable at Gin Khao Safra Tampines and even on evenings (weekdays), you can still get a table fairly easily so we'd suggest this place if you want Thai food in Tampines along with a quiet dining environment.
Furthermore, the staff is friendly even if it can they're not super attentive. On off peak hours, it can still take 20 minutes before you get to try the food.
But besides the expected Thai dishes, they do have some interesting items on the menu – like coconut chicken soup or watermelon fried rice! You can also choose your preferred spiciness for the tom yam soup.
And at the time of writing, the base steamboat set only costs less than S$10!
Note: They don't serve alcohol
Ratings: 4.5/5 from 105 Google reviews
Address: 1/A Tampines Street 92, Singapore 528882
Opening Hours:
Monday to Thursday (12pm to 3pm and again from 5pm to 10pm)
Friday to Saturday (12pm to 10:30pm)
Sunday (12pm to 10pm)
Contact: +65 6226 0959
Verdict
Tampines may not be full of good Thai food but there are a handful of places that you can safely rely on for tasty Thai dishes either for dining in or via delivery.
Many of these Thai restaurants in Tampines have late closing hours too so you can enjoy your meal without rushing!
Read more: