Bugis Thai Food – 10 Spicy And Delicious Options To Try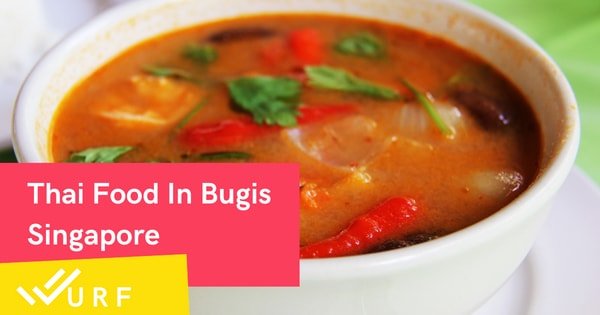 Bugis Thai food options are plenty and therefore this area is a great starting point of exploration if you're tired of your usual go-to Thai restaurant!
We've included a mix of chain restaurants, upscale restaurants and some homestyle Thai restaurants too.
Ready to see our recommendations?
1. Ah Loy Thai
You can't go wrong with Ah Loy Thai for all the classics like pad Thai, green curry, pineapple fried rice, basil fried pork or prawns, tom yum, etc.
This place has attractive pricing too. Portions are fantastic for sharing among a group.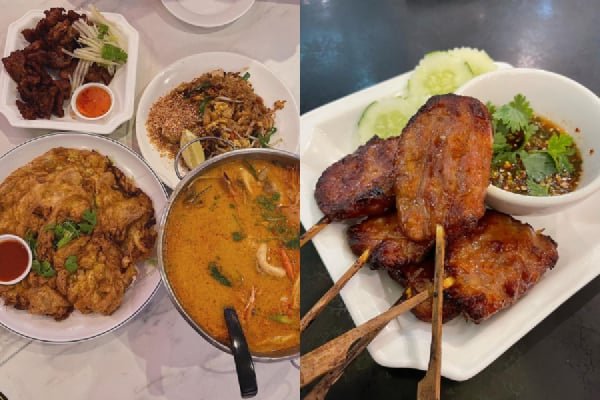 However, the food can take a while to come (up to 30 minutes). And some dishes are a little on the oily side. Service is not consistent – the elderly staff is friendly but sometimes it can feel like they're rushing you.
Still, Ah Loy Thai always attracts a weekend crowd. And it's best to go expecting a long queue ahead.
2. Pratunam PLUS by Soi Thai Soi Nice – Bugis+
Pratunam PLUS by Soi Thai Soi Nice – Bugis+ has a bright and colorful exterior that is spacious too.
Apart from popular items on the menu (e.g., basil pork rice, tom yum, prawn donut, skewers, omelette fried rice, etc), this family-friendly Thai restaurant also has kid-friendly items on the menu like wanton noodles or omelette rice.
In general, the food here lacks authenticity as flavors are tuned to local preferences (e.g., the tom yam for example, is more sour than spicy).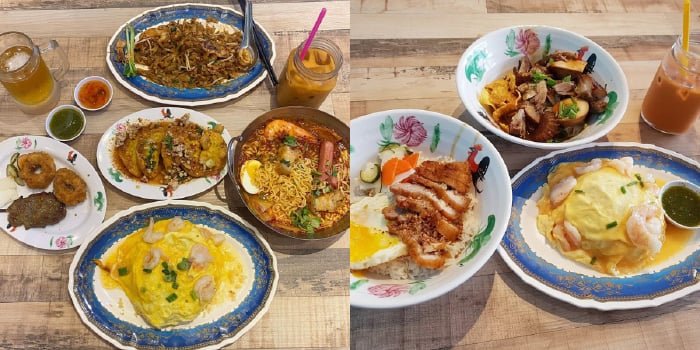 One exception is the Thai milk tea which is not too sweet. Speaking of drinks, these can be pricey but they do have beer here.
On the whole, the dining environment, prawn donuts, and milk tea are the best things about Pratunam PLUS by Soi Thai Soi Nice. The food is just average although they do have decent selection of Thai street food.
Staff is friendly but service can be slow depending on how busy the restaurant is.
3. Sawadee Thai Cuisine
Sawadee Thai Cuisine boasts an elegant but small interior that's conducive for business lunches and dinners. Staff is amiable too.
Naturally, prices are steeper at this upscale joint. Food is authentic-tasting albeit their use of MSG is apparent and some dishes are not as spicy as they should be.
Go-to orders include tom yum soup, red duck curry, otah, fried sea bass, crab spring rolls, papaya salad, etc. They do have a nice selection of starters and desserts.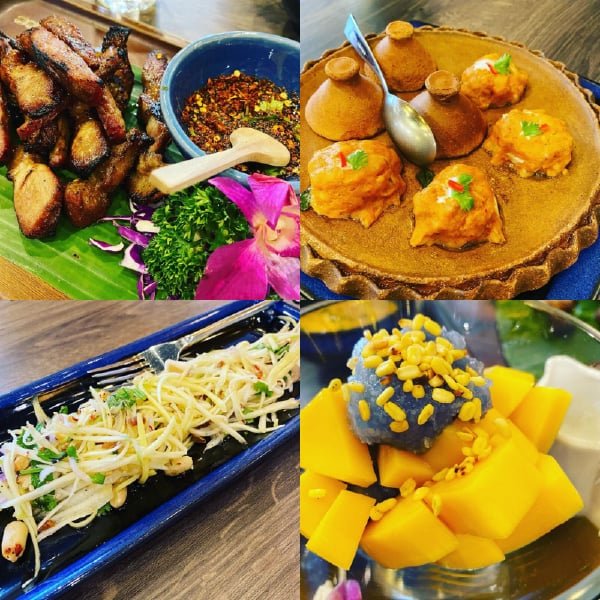 On a separate note, if you're vegetarian, it's nice to know that there's a section in the menu for vegetarian options.
PS: Do yourself a favor and order their delightful mango sticky rice for dessert!
4. Koh Nangkam Restaurant & Catering Service
Koh Nangkam Restaurant & Catering Service can definitely stand to improve when it comes to their serving times.
So you may want to skip this place altogether if you're not prepared to wait 30 minutes for your food (this applies to non peak days too).
Nor is the food really exceptional in taste too which is a pity as it used to be pretty good. Pandan chicken and the clear tom yum soup are decent.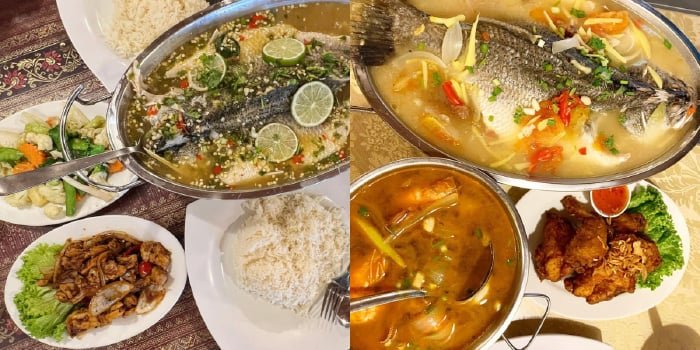 However, if you're looking for a halal venue for Bugis Thai food, Koh Nangkam Restaurant & Catering Service is an option. Plus, it has a comfortable dining environment.
Note: Orders are taken outside the restaurant before seating.
5. Soi Aroy@Sim Lim Square
Soi Aroy@Sim Lim Square is not easy to spot even when you're inside the building:
But this simple and small Thai restaurant serves excellent red ruby dessert, basil pork and green curry besides a decent Thai milk tea, collagen pork soup, and creamy tom yum noodles!
Interestingly, they have grilled pork cheek here albeit in small portions and of varying texture – sometimes, it's rubbery and sometimes it melts easily in the mouth!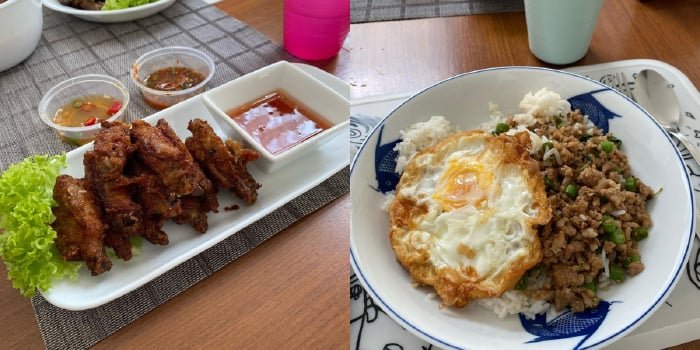 The restaurant is run by a young friendly couple who offer reasonable pricing for their food, and satisfying service besides.
6. Zenso Thai
Convenient, comfortable, and relatively affordable if you are anywhere near Dhoby Ghaut, Orchard Road or Somerset:
This Thai restaurant close to Bugis is easy to get to even though it's not in a mall.
However, Zenso Thai only has average-tasting Thai food – some dishes may come off as too oily or salty.
But the staff is efficient and proficient in English. Besides this, the menu is also in English.
If you're here, safe orders are green curry (chicken or beef) or clear tom yum soup. Their portions overall, are usually generous.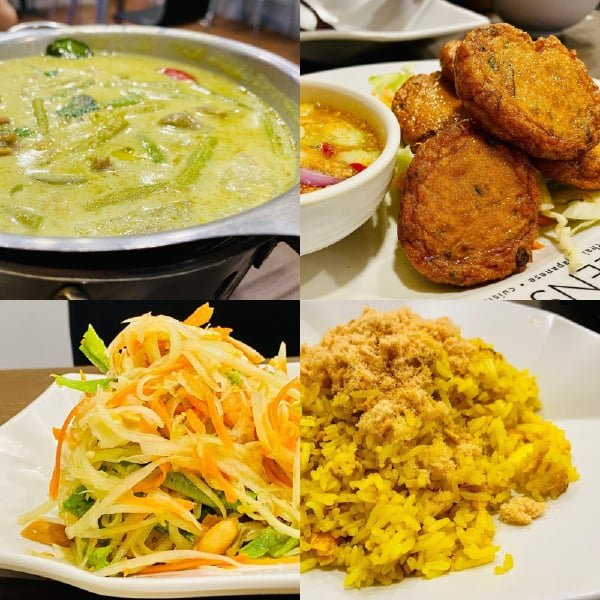 Vegetarians have their share of the menu too as there are many tofu variations of classic Thai dishes.
7. Yhingthai Palace Restaurant
Yhingthai Palace Restaurant is where you should head to if you want quality Thai food. Especially seafood dishes (like prawn tom yum soup) and exquisite desserts (mango sticky rice).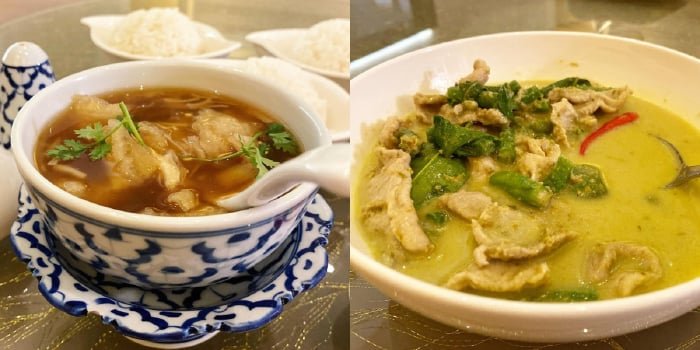 PS: Other must-try dishes here are their olive fried rice!
Of course, this along with the fetching dining environment and proactive staff means prices are higher here.
Some would say it is overpriced but Yhingthai Palace Restaurant is still going strong after decades of operation.
8. The Original Boat Noodle
The Bugis Junction outlet of The Original Boat Noodle is a go-to halal option for many in the area even with the price hikes (i.e., it now costs $1.80 to $1.90 per bowl rather than $1.50).
If you have not been to any branch of this Thai chain restaurant before, the portions for the boat noodles are small but they have many flavors to try (including the ever-popular tom yum).
Other than boat noodles, they have dishes like deep-fried chicken skin and Thai omelette rice.
The inside of this branch resembles a hipster café with grunge and industrial elements.
With all that said, we wouldn't go out of our way to dine here and would only recommend this place as a backup when you can't find anything else near to eat around Bugis Junction.
9. Jai Thai Purvis Street
Vegetarians will be satisfied with their options at Jai Thai Purvis Street. And because pricing is moderate, this Thai restaurant has sizeable lunch crowds.
Service is noticeably slower during busy periods. They have both indoor or outdoor seating.
Worthy orders at this simple but tidy venue are the clear tom yum soup, mango salad, green curry, spring rolls, prawn cakes, pineapple fried rice, etc.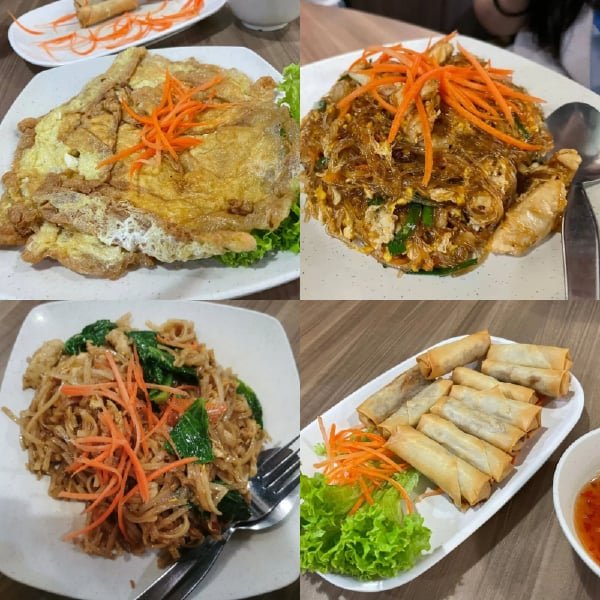 Note: Milk tea is kind of sweet.
10. Thai Gold Food
Thai Gold Food is a small Thai restaurant that is under Thai folks. But surprisingly, dishes like the green curry and tom yum soup (although the clear tom yum is decent) often fall under expectations.
What you do want to order here is the garlic pork, papaya salad, black olive fried rice, pad thai, pandan chicken, Thai milk tea, etc.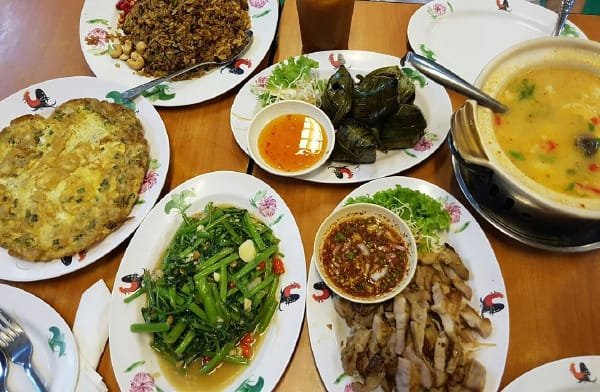 Because the prices are reasonable, Thai Gold Food typically sees a hefty dinner crowd. And being across from a university campus, it's common to see students eating too.
Another thing that Thai Gold Food has going for it is their speedy service.
Note: Staff speak Thai.
Verdict
Bugis Thai food is available in different price ranges and ease of accessibility.
Some of these Thai restaurants cater towards the local palate while others keep their cooking style authentic to Thai cuisine.
PS: Instead of Thai food, you can try other Bugis food while you're in the area.
Related: 9 Wonderful Hot Pot Restaurants To Try In Bugis