9 Wonderful Hot Pot Restaurants To Try In Bugis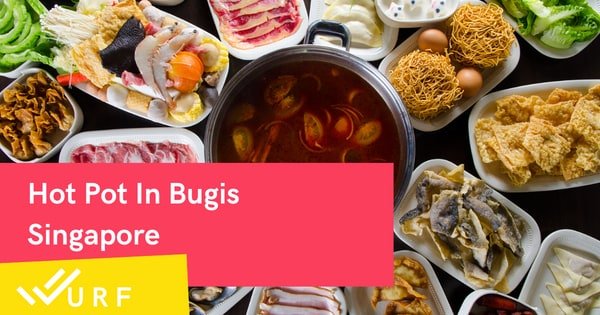 Bugis has an appealing selection of hot pot restaurants to choose from. Many of these eateries offer BBQ as well as hot pot.
Most are Chinese-style hot pots (think mala hot pot) but there are a few specialty hot pot restaurants in the mix too.
Just check these options out!
1. Bugis BBQ And Hotpot 武古士烤涮
Bugis BBQ and Hotpot 武古士烤涮 at Bugis Cube is a buffet-style hot pot restaurant that is open for lunch as well as dinner. Their closing hours are very late (~2am)!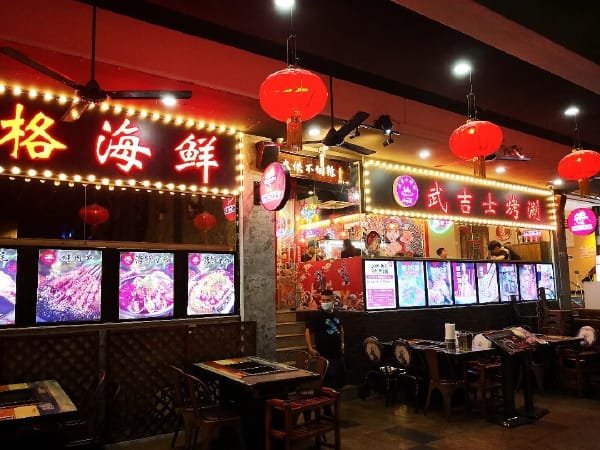 Staff is friendly and generally alert. Despite having a queuing system though, waiting times can be long.
This is especially so on the weekends and around dinner time (7 to 9pm) as the eatery is very accessible (even to those who drive here) with plenty of parking available.
Prices have recently increased. So a group of 4 pax can expect to spend around $140 here. This restaurant does stand out for food presentation and cleanliness though.
Freshness of food is a hit and miss.
On another note, there is a choice of having hot pot and BBQ here. Must-try soup bases are the spicy pork bone soup as well as the mushroom tom yam soup. And if you have to top up on soup, there will be additional charges.
Interestingly, there is xiao long bao here and this is worth ordering! Another unique item they have on the menu is the "meat doll" but this is subject to availability.
Opening Hours: Daily: 11:30am–3pm, 3:30pm–2am
Contact/WhatsApp: +65 63383405 / 83999127
2. Xiao Long Kan Hotpot
Best known for their buttery spicy mala soup base which is very authentic to Sichuan cuisine, Xiao Long Kan Hotpot looks the part too with its traditional Chinese décor. Complete with antique wooden benches!
The dining environment is very comfortable which is why Xiao Long Kan Hotpot is exceptionally busy at dinner time. Service can be very good but at peak times, it can feel a little hectic to dine here.
On a separate note, because you can order half portions, it's possible to try many dishes here. However, it's still better to bring a big group along rather than just 2 pax as they don't have small portions for their soup bases.
Apart from the unique dining setup and the mala soup base, other highlightsof dining at Xiao Long Kan Hotpot are the crispy belly pork (xiao su rou) and glutinous rice cakes!
Note: Their ventilation system is not great and you will come out smelling like the food
Opening Hours: Daily: 11am-6am
Contact: +65 6909 6458
3. Xian De Lai
Xian De Lai is pretty consistent with service. Staff will refill drinks, explain the menu and get you started on your BBQ setup (if you choose to get this together with your hotpot, it only costs an additional $3).
The buffet style restaurant has separate costs for soup (~$8) and the food quality is average but portions are on the generous side which makes pricing reasonable overall.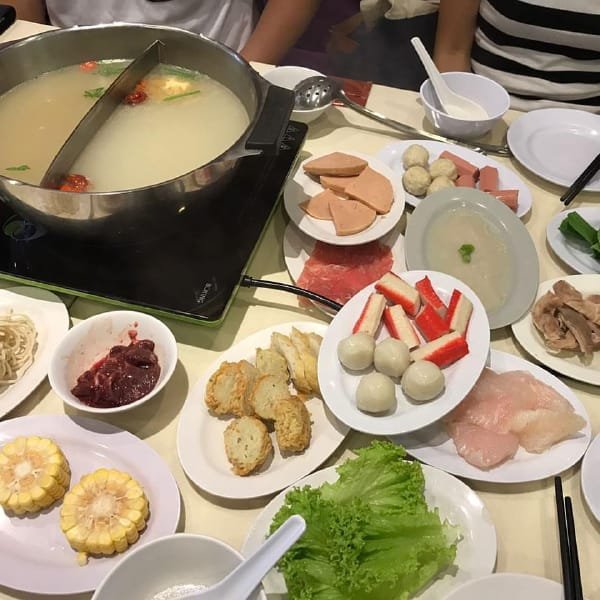 Plus, you get free ice cream!
There are a wide assortment of broths (including a spicy Sichuan soup base), sauces and ingredients to choose from. Prawns and thin beef slices are highly recommended. As are the fried man tou.
One common complaint about this place however is that it isn't very cool inside the restaurant (i.e. air conditioner is not well-maintained).
Opening Hours: Daily: 10:30am–4am
Contact: +65 6336 7505
4. 海底捞 Haidilao Hot Pot @Bugis+
Infamous long queues and wait times (regardless of whether you made a reservation) plague the otherwise commendable service at the spacious Bugis branch of Haidilao Hot Pot.
Because the staff is on the whole, friendly, patient, and attentive. The clean and well-lit contemporary setting is another key highlight of dining at Haidilao Hot Pot @Bugis+.
Booth style seating offer some privacy between tables.
Foodwise, there are flavorful soup bases in addition to a satisfying selection of fresh ingredients and sides. Occasionally, they serve fresh fruit served as appetizers, extra snacks or ice cream for dessert.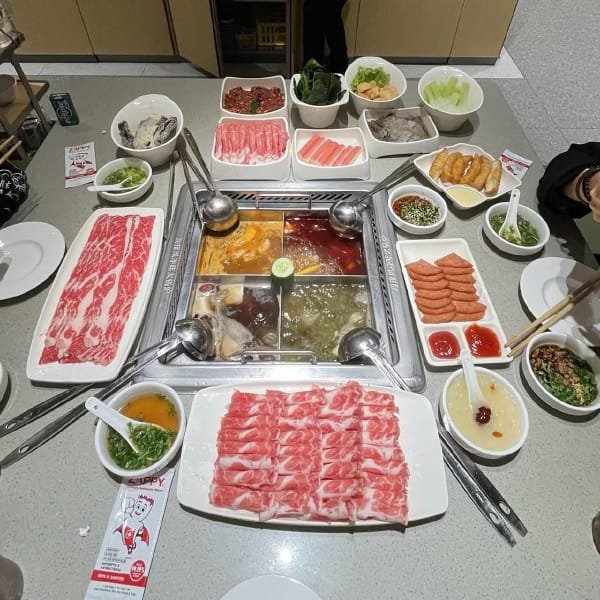 Furthermore, their unusually late (or early) opening hours makes Haidilao Hot Pot @Bugis+ a reliable go-to stop after a late-night karaoke session!
Their peak times however are between 6pm to 9pm. For a group of 3 pax, it's easy to spend more than $150 here.
Opening Hours: Daily: 10:30am–6am
Contact: +65 69086166
5. Yunnan Ah Ma Shi Hotpot 阿玛士云南菌汤火锅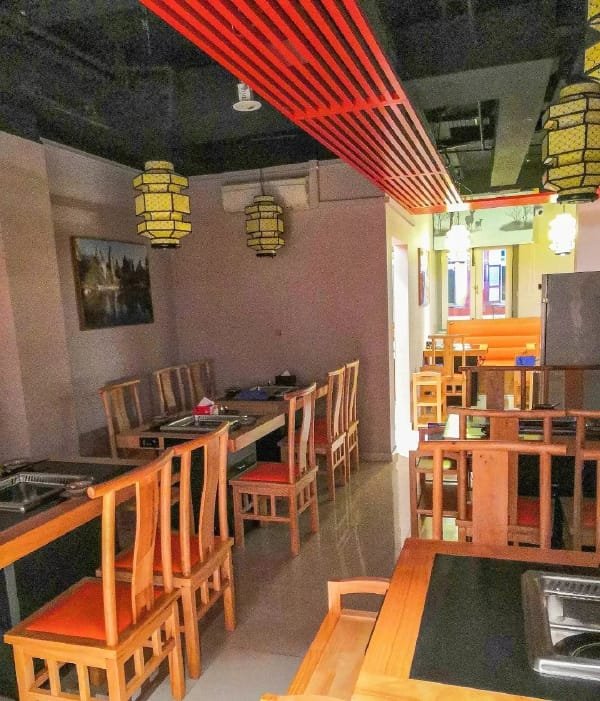 Also a highly frequented dinner spot on the weekends, Yunnan Ah Ma Shi Hotpot 阿玛士云南菌汤火锅 has a fetching interior which we can only describe as a modern interpretation of traditional Chinese décor.
Note: This hotpot restaurant in Bugis is along a street of other hotpot restaurants. Thus, finding parking is not an easy feat.
They have some unique soup bases – try the pork bone, or mushroom soup base. They have a decent tom yam soup base too but the tomato and chicken soup are a little too sweet for our liking.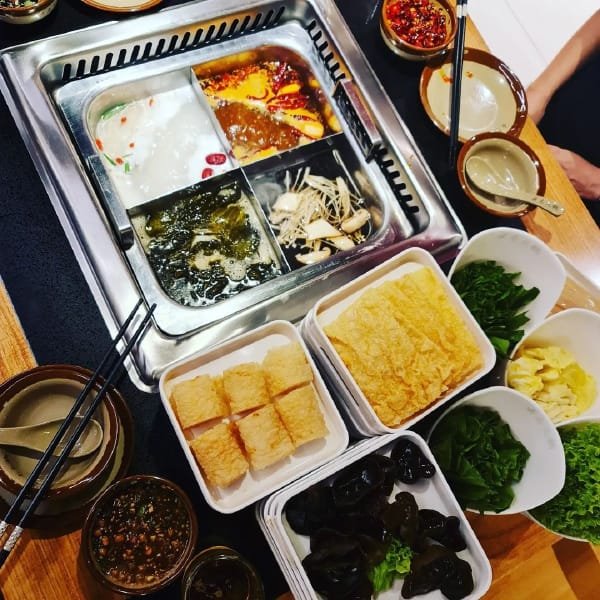 The soup is additional charge ($8) so in total, it costs ~$40 to $50 per pax to dine here (including GST and the extra $2 for free-flowing drinks).
If you pay for their premium pricing ($55/pax), you can get free-flow wagyu beef too. Staff is friendly but many do not speak English (the menu is in English though)
As a word of caution, try not to come here if you see that it's a full house and service dips considerably during these times and they may impose a 2-hour dining restriction per table.
Weekday nights make for a much better experience and you will be able to sit on the second floor too!
6. 潮爷火锅 Hippot
Compared to the neighboring hot pot restaurants, pricing at Hippot is higher.
However, with the Eatigo app, you can get considerable discount for dining at Hippot (e.g., ~$30+ per pax). So the price ends up being $40 per pax. Just be sure to be there by your allocated time slot.
The premium package (Buffet B) is worth having since it comes with free-flow drinks (either milk tea, smoothies or plum tea), seafood, and grilled meat skewers! While the base package (Buffet A) does not come with any drinks.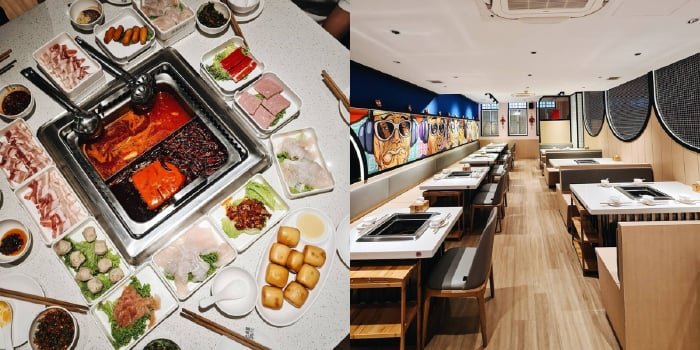 Either package you choose will have ice cream for dessert.
They don't have many soup bases at Hippot but their signature flavor, fish maw is uncommon and worth trying. If not, the buttery mala or tom yam soup base are other alternatives.
Hippot is well staffed and can keep up with the dinner crowds (most of the time). The dining environment is not the most spacious, but it's comfortable and attractive.
7. Xiangcao Yunnan Original Ecology Hotpot 香草香草云南原生态火锅 @North Bridge Rd
Although most come here for dinner, the lunch pricing is affordable too. If you are coming here for dinner, it's best to make reservations ahead to avoid a long wait.
Note: There may restrict dining times on busy days
Their soup bases are delicious (mala, mushroom, tom yam, tomato, herbal, etc). Of these, the mushroom soup base goes well with their signature wild mushroom platter. However, the tomato and mala soup bases are great too.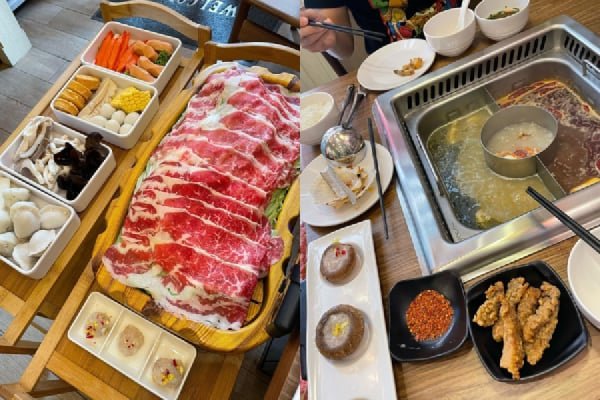 Prawns and beef slices are other items off the menu that are worth ordering.
Aside from their soup bases, Xiangcao Yunnan Original Ecology Hotpot has fresh ingredients and a small but welcoming and aesthetically-pleasing environment that is conducive for small meetups with friends and family.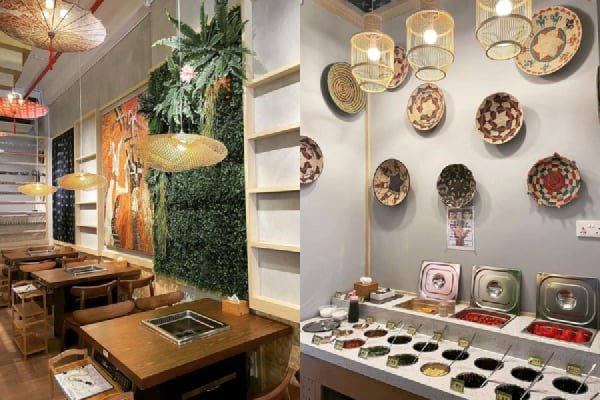 Before their move, Xiangcao Yunnan Original Ecology Hotpot was housed in a 2-storey building but now, they are limited to just 1 floor of seating.
Pricing at Xiangcao Yunnan Original Ecology Hotpot includes free flow drinks. Service however, can vary according to how busy the restaurant is.
Opening Hours: Daily: 12–11:30pm
Contact: +65 66358243
8. Ting Yuan Hotpot Buffet
Ting Yuan Hot Pot Buffet is another hot pot restaurant in Bugis, Singapore where you can get fish maw soup base on top of other typical soup bases.
They are proud of their homemade tomato soup. We really prefer the tomato and fish maw soup to the mala soup base.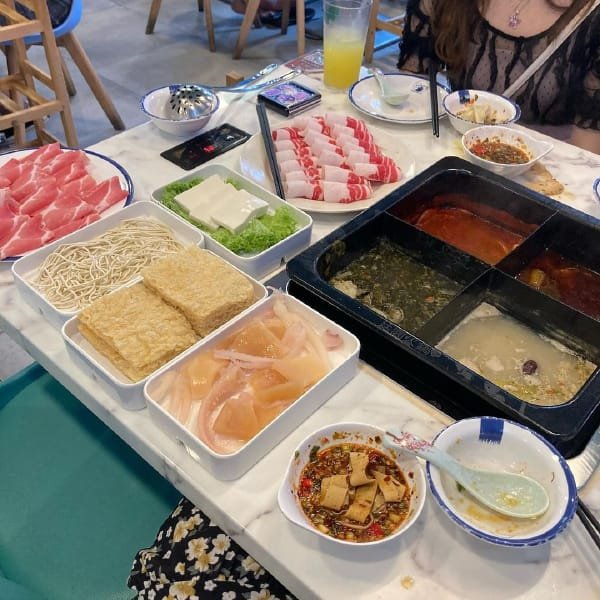 Other ingredients worth mentioning are their homemade pork balls and mantou! There may be some large and fresh prawns too. Pork meat slices here are usually thicker and will require some chewing.
Excluding the price for soup bases ($8 for up to 2 bases or $10 for 3 or 4 soup bases), it can be as low as ~$26 per pax if you come here on a weekday (even during dinner).
Note: Despite their claims, service tax of 10% is applicable here
Drinks like water chestnut or lime juice are free flow and included in the pricing. Service is usually reliable and most of the staff is friendly.
Because many customers feel that dining here equates to good value-for-money, you may want to reserve a table on peak days and times.

Menu: Mala pot 麻辣香锅, Hot pot Buffet, Dumplings
Opening Hours: Daily: 11:00 AM – 1:00 AM
Contact: +65 6338 4755
9. Chaoniu Hot Pot
What's exceptional about Chaoniu Hot Pot is their service but also their unusually wide selection of varied beef cuts (e.g., beef cheek). Including how lean or fat the meat is.
They serve high quality meat albeit in small portions. Their signature set called the Beef Feast is valued at $158.
Naturally, it's quite pricey to dine here at this Chaoshan beef hotpot restaurant in Bugis. Expect to pay around $90 for 2 pax for hotpot. Overall, the pricing is similar to dining at Haidailao.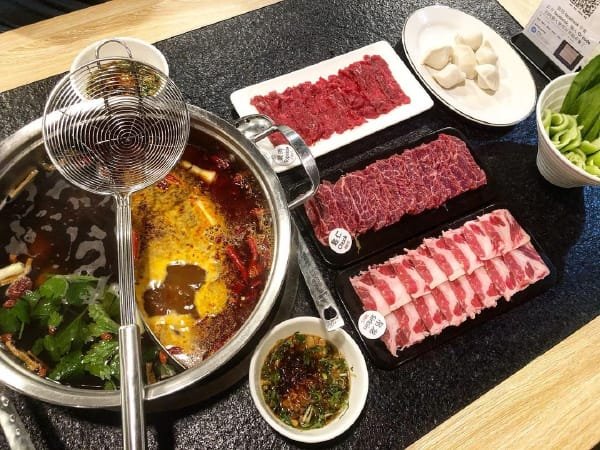 Steamboat soup bases (like the clear beef broth) at Chaoniu Hot Pot for the most part, are bland with the most flavorful option being the oxtail soup base. They do have a collagen soup base too.
However, knowing how to read Chinese is entirely necessary when it comes to their menu.
On a separate note, dining interior of Chaoniu Hot Pot matches the price point. It is modern and elegant with many tables.
Specialty: Premium cuts of beef served hotpot style with the Chaoshan culture
Opening Hours: Daily: 11:00 am – 11:00 pm
Contact: +65 6909 8783
Conclusion
And there you have it, hot pot restaurants in Bugis that have plenty reason why you should visit them.
These restaurants stand out for many aspects and these include a wide variety of ingredients, special ingredients and soup bases, dependable service, or a comfortable and pleasing environment!
Related: 10 Spicy And Delicious Thai Food To Try In Bugis