9 Top Dog Cafes To Visit In Singapore For A Barking Good Time!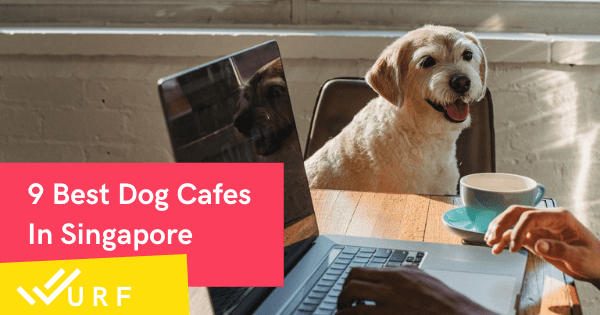 What better way to spend time with your pooch and ensure they have a social life and room to run than visiting a dog cafe in Singapore?
Sure, you can go to a park but a dog cafe offers a wholly different experience that you should try at least once!
We have listed 9 of the best spots that you can bring your dog to! Or meet dogs if you don't have one of your own (yet).
9 Best Dog Cafes In Singapore 2022
There is quite a number of dog cafes in Singapore. Some are dog friendly cafes where customers are allowed to bring their dogs while they dine in.
On the other hand, a dog petting cafe will have their own dogs that you can pet and interact with.
Whichever you choose, expect a lot of energy (and noise) and some mess!
Dog Friendly Cafes
We do love a cafe that lets owners bring their dogs out for socialization and fresh air. Singapore has a couple of really great cafes that don't mind if you bring your dog along.
However, not all dog-friendly cafes allow to let your pet off the leash so we'll be sure to highlight the ones that do.
Many of these dog friendly cafes have mops readily available too so you can be responsible for your own pet too.
1. Sun Ray Cafe
Sun Ray Cafe was one of the first dog friendly cafes in Singapore. They've been around since 2010.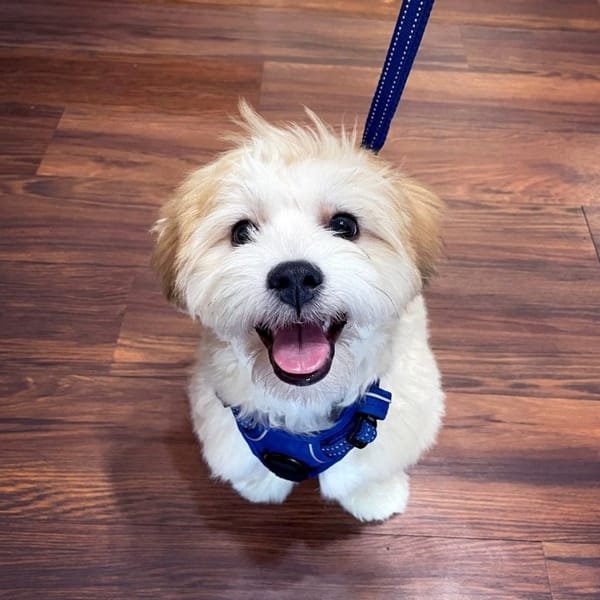 Robust cappuccino, carrot cake, western style breakfast and artisan fusion food like Chili Crab Pasta, Beef Shakshuka or Masala Eggs with Ham & Bacon on Brioche will surely interest humans.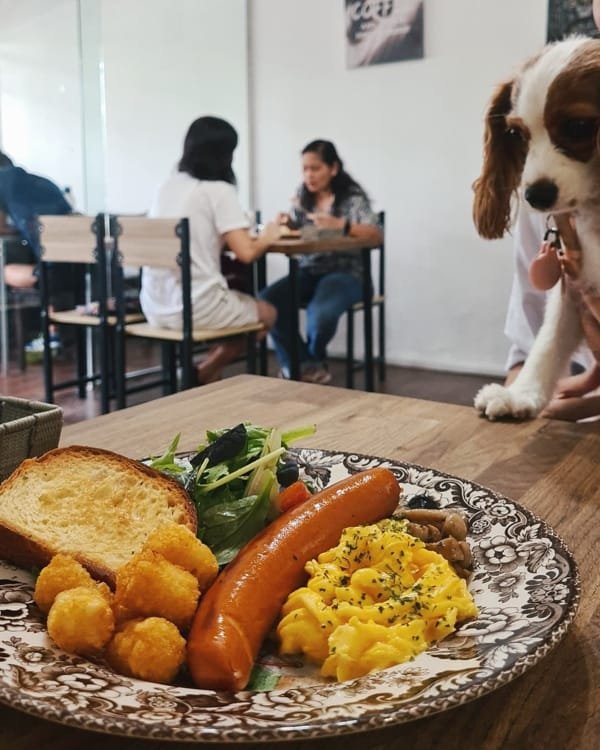 Their beverage menu is quite extensive as well. With vegan options available too. There is also food for the dogs on the menu.
Notes:
Waffles with ice cream is just average
Payment is through TabSquare and credit card
And if you prefer to dine away from the chaos and mess, there is a separate dining area for hygienic purposes, which we can appreciate.
Altogether, the amiable staff, reasonable prices, an air-conditioned environment, chill atmosphere, long opening hours, and the recent renovation easily draw in a crowd which peaks around 10am.
Ratings: 4.3/5 from 948 reviews on Google
Address: 79 Brighton Cres, Singapore 559218
Opening Hours: 8:30am to 9:30pm
Contact: +65 8909 8458
2. Menage Cafe
Menage Cafe is one of the best dog friendly cafes you can patronize in Singapore.
They have a clean environment, great service from approachable staff, affordable pricing and food for both humans and their dogs!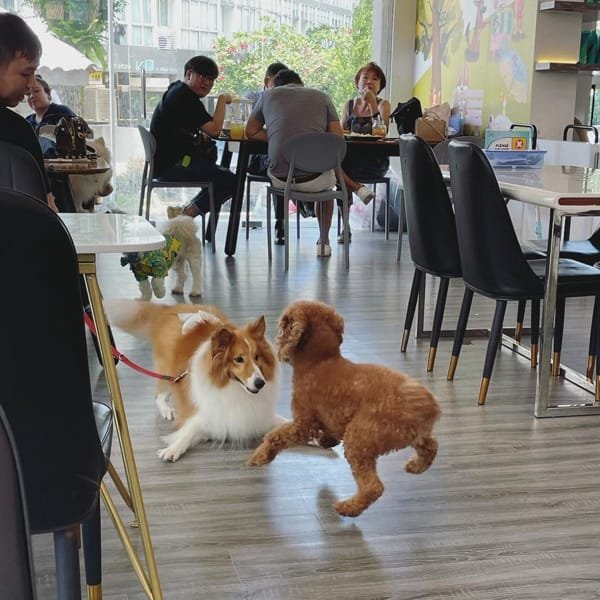 Do try their roast chicken for two! And the prawn laksa pasta! They do feature a decent selection of Western and Asian food on the menu. With items that would also appeal to your pup! Like meatballs!
You will likely be back if you live around the area. Reservations are necessary for the weekends.
However, this place is a little small for larger dog breeds. And since there isn't much room to hide, a timid dog might find it overwhelming.
It can get pretty hectic here since dogs are frequently unleashed. So the Menage Cafe is definitely more for dogs than conversations with friends!
Note: Other pets like cats and birds are also allowed in this cafe
Ratings: 4.4/5 from 261 reviews on Google
Address: 6 Sin Ming Rd, #01-01/02, Singapore 575585
Opening Hours: Weekdays (12pm to 10pm), Saturdays (10:30am to 10:30pm), Sundays (10:30am to 10pm), Closed on Mondays
Contact: +65 9669 8372
3. Wooftopia Pet Cafe
If space is a concern for your dog, Wooftopia Pet Cafe has ample running room for dogs! Along with enough water for the dogs when they work up a thirst from all the excitement.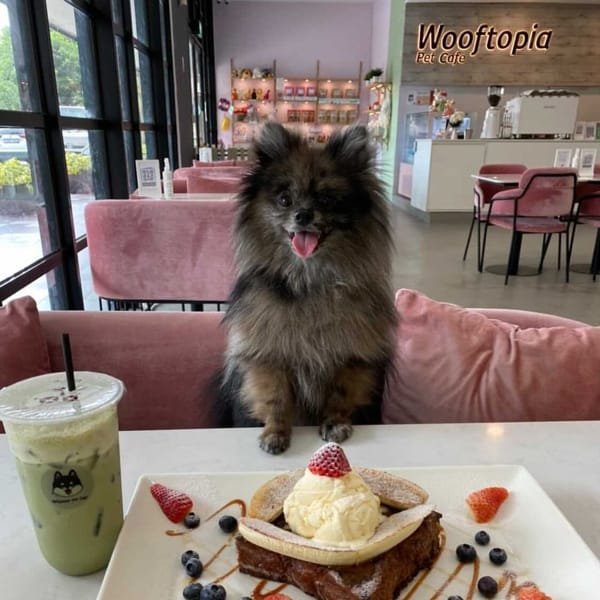 As such, this place is a lively hub (even on weekdays) for dogs to associate with other dogs (and their respective owners) as they are free to roam off the leash in an open environment.
For humans, it's worth noting that the western food they serve (e.g., lasagne, mushroom risotto, pasta, carbonara, burgers, fish & chips, salad, etc) is pretty good even if they are in smaller portions.
More importantly, there's no trouble with parking here.
However, it's especially crowded on weekends and reservations are highly recommended.
Moreover, if you're sensitive about cleanliness and strong odors, it's best to avoid weekends altogether so that the staff can keep up with the mess and stress levels!
Ratings: 4.1/5 from 156 reviews on Google
Address: 200 Turf Club Rd, 01-29, Singapore 287994
Opening Hours: Weekdays (12pm to 9pm), Weekends (11am to 9pm), Closed on Tuesdays
Contact: +65 6966 8818
4. I.N.U. Cafe & Boutique
This is not a roomy establishment and seats do fill up quickly. But I.N.U. Cafe & Boutique has been around for a long time. The staff is attentive and the owners are ardent dog lovers.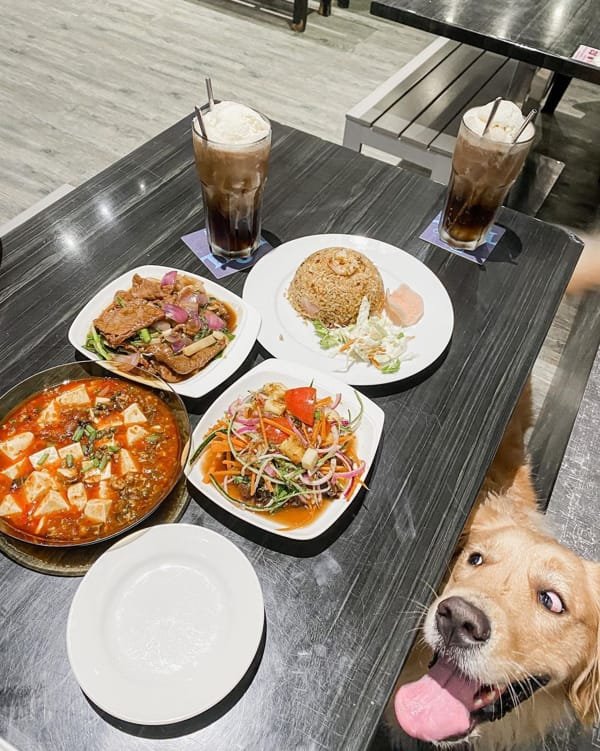 So it's not surprising that they have items on the menu for both dogs and their owners.
Humans can get Chinese dishes like bak kut teh and waffles with ice cream while dogs can get an assortment of cooked food (e.g., steak) too.
That said, the human food is a bit pricey relative to the dog food. And customers are expected to clean up after their pets.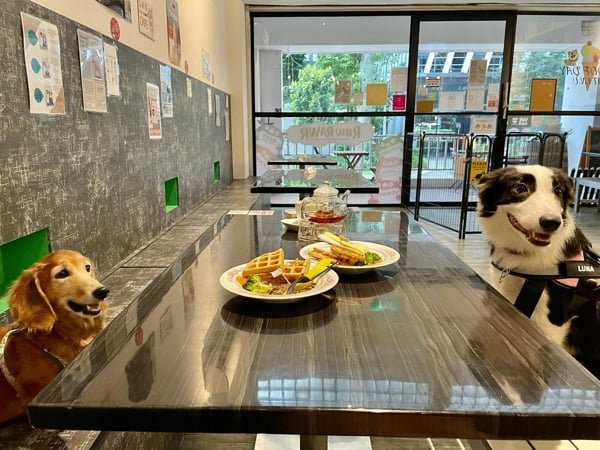 However, I.N.U. Cafe & Boutique is still a popular dog friendly cafe to visit in Singapore if you want your dog to run around with other dogs in an indoor environment!
Note: Temporarily closed
Ratings: 4.3/5 from 214 reviews on Google
Address: 530 Balestier Rd, #01-07 Monville Mansions, Singapore 329857
Opening Hours: Closes at 8pm
Contact: +65 8189 8092
Links: Facebook
5. The Urban Hideout
What stands out about this secluded dog friendly cafe in Singapore is the taste of the food and drinks! They're pricey but you will likely not be disappointed with your order:
Crowd-favorites include their herb rosti and waffles with gelato (pistachio and earl gray flavors are awesome). But curry chicken, eggs Benedict, roasted spring chicken, and smoked salmon croissant are also popular items on the menu.
Any of which, would be perfect for brunch! They have seating for 20pax maximum which does fill up during the weekends.
And because diners are allowed to bring their dogs indoors, do expect a lot of barking when you visit.
Lastly, we hope you don't visit on an empty stomach because service can be slow. Even though the staff is extremely accommodating and friendly!
Ratings: 4.7/5 from 112 reviews on Google
Address: 60 Springside Walk, 01-05, Singapore 786020
Opening Hours: Weekdays (12pm to 10:30pm), Weekends (10:30am to 10:30pm), Closed on Mondays
Contact: +65 8879 9722
6. W39 Bistro & Bakery
As long as you sit outside, you're welcome to bring your pet along for dining at W39 Bistro & Bakery. Which many dog owners do on weekends!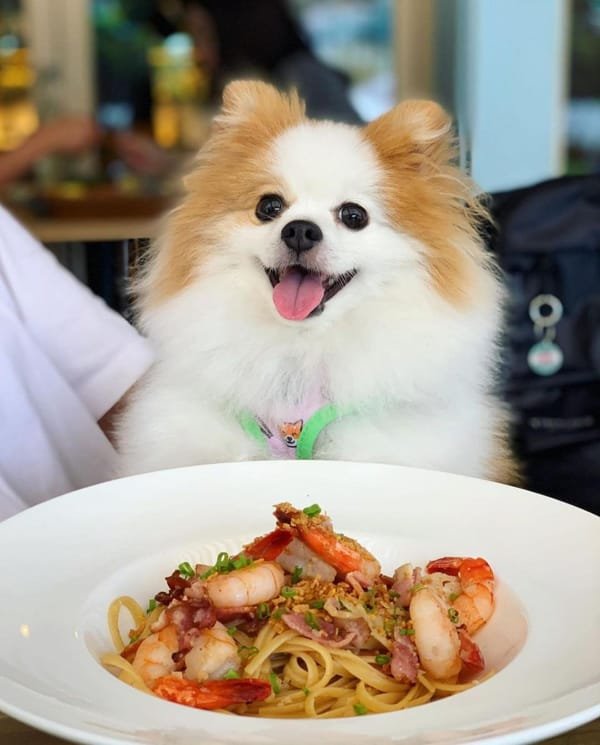 However, due to its location in a residential area, parking is a hindrance here.
They have really commendable coffee, fresh cakes, attentive service, a beautiful environment, and a broad menu with local and Western dishes including Mexican food (e.g. Pulled Pork Quesadilla).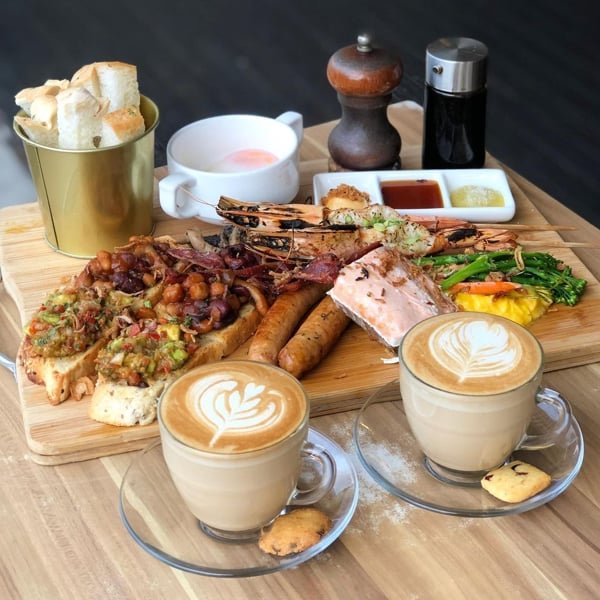 If you live in the area, you might find yourself coming back especially since it's near the West Coast dog park (~8 minutes' drive away).
Note: Prices are on the high side; the lunch set with cake will set you back for S$30
Ratings: 4.2/5 from 659 reviews on Google
Address: 39 Jln Mas Puteh, Singapore 128637
Opening Hours: Weekdays (11:30am to 9:30pm), Weekends (9am to 9:30pm), Closed on Mondays
Contact: +65 9646 5372
Dog Petting Cafes
7. Cookie & Cuddle
For a dog petting cafe in Singapore, Cookie & Cuddle is relatively quiet. They have 3 small and adorable resident pooches you can interact with – Cookie, Kiki, and Cuddle respectively. You can also bring your dog to meet them!
While you can't have dinner here since they close at 6pm, the fare is suitable for lunch or tea with light eats like grilled cheese sandwiches, honey butter toast, cookies, savory bakes, and Dogiyaki – the Biscoff version is worth a try!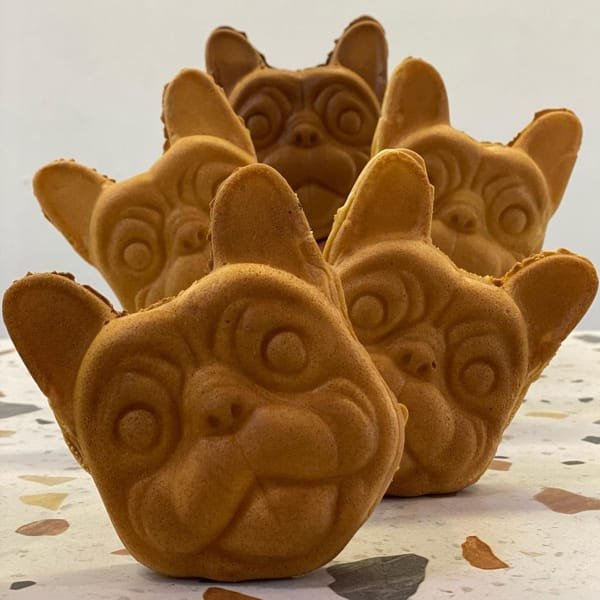 They also have ice cream to go with their child-friendly (and very clean) environment.
As for drinks, they have a selection of tea and rather excellent coffee that are sure to satisfy. What's more, the service from the polite and sincere staff will leave no room for complaints.
Make reservations and check out the menu on their website.
Ratings: 4.8/5 from 57 reviews on Google
Address: 432 Race Course Rd, Singapore 218678
Opening Hours: Weekdays (12pm to 6pm), Weekends (10am to 6pm), Closed on Mondays
8. What The Pug Cafe
As the name suggests, you can play with the pack of resident pugs at this dog petting cafe in Singapore.
The environment is incredibly clean (no odors at all) and the passion that the owner Zach, and his staff have for dogs is evident.
By the way, you are expected to remove your shoes and sanitize your hands before interacting with the dogs. And they only allow small groups to visit at a time.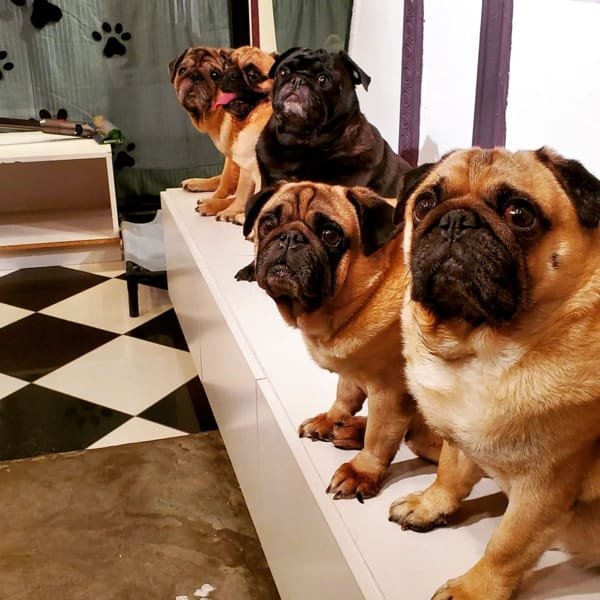 They have passes for single visits for 45 minutes priced at S$20 (including a polaroid and a drink) as well as an all-day pass (7 visits maximum). The latter will give you enough time to get to know all the dogs and listen to Zach's anecdotes about them!
Note: 50% of the profits goes to SPCA
Try to visit on a weekday as weekends are often packed.
Ratings: 4.8/5 from 20 reviews on Google
Address: 80 Haji Ln, Singapore 189271
Opening Hours: 12pm to 8pm (Closed on Mondays)
Contact: +65 6293 3350
Links: Instagram
9. TWO X FOUR Cafe
Delicious food and an Instagram opportunity for your dog awaits at TWO X FOUR Cafe. You might have seen photos of dogs with angel wings on your Instagram feed lately.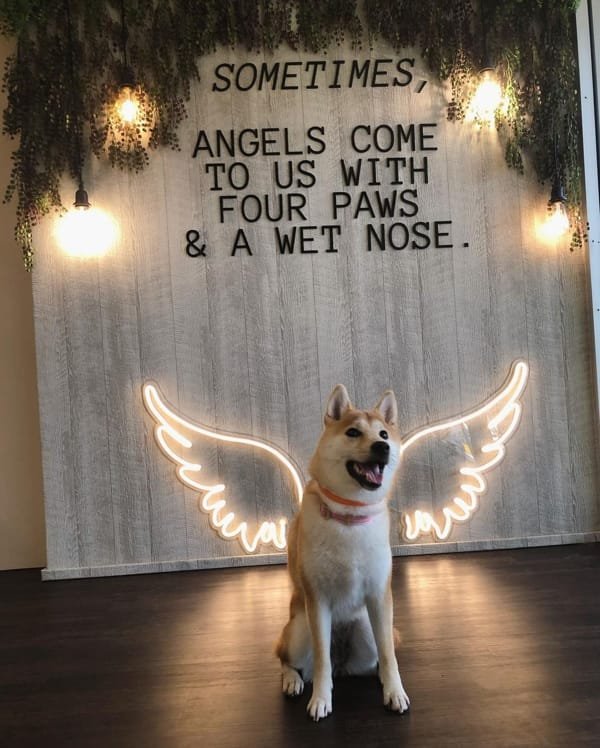 This newly opened and family-run dog petting and dog friendly cafe in Singapore is within the Pandan Valley Condominium estate – convenient if you live in or close to Holland Village.
They have one resident dog, a Frenchie by the name of Daisy.
There are 2 floors in this comfortable cafe although it is still kind of cramped for larger dog breeds. To compare, Menage Cafe and Wooftopia have more room to explore than TWO X FOUR Cafe.
The limited menu consists of Western food (try the barramundi and acai bowl) and desserts which dogs can partake in too. Patient staff and friendly owners will make your day!
Note: Avoid peak hours unless you don't mind spending time to look for parking
Ratings: 4.7/5 from 22 reviews on Google
Address: 2 Pandan Valley, #01-210 ACACIA COURT, Singapore 597626
Opening Hours: Monday to Thursday (12pm to 7pm), Fridays to Sundays (11am to 9pm), Closed on Wednesdays
Contact: +65 9129 6401
Verdict
Did any of these best dog cafes in Singapore pique your interest? You can save them for a rainy day when there's nothing to do. Or when you both could do with some socializing and a change of scenery!
For first-timers, it's certainly high time to take advantage of the availability of so many dog-friendly places in Singapore! Regardless of whether you own a dog or not!
Read more: